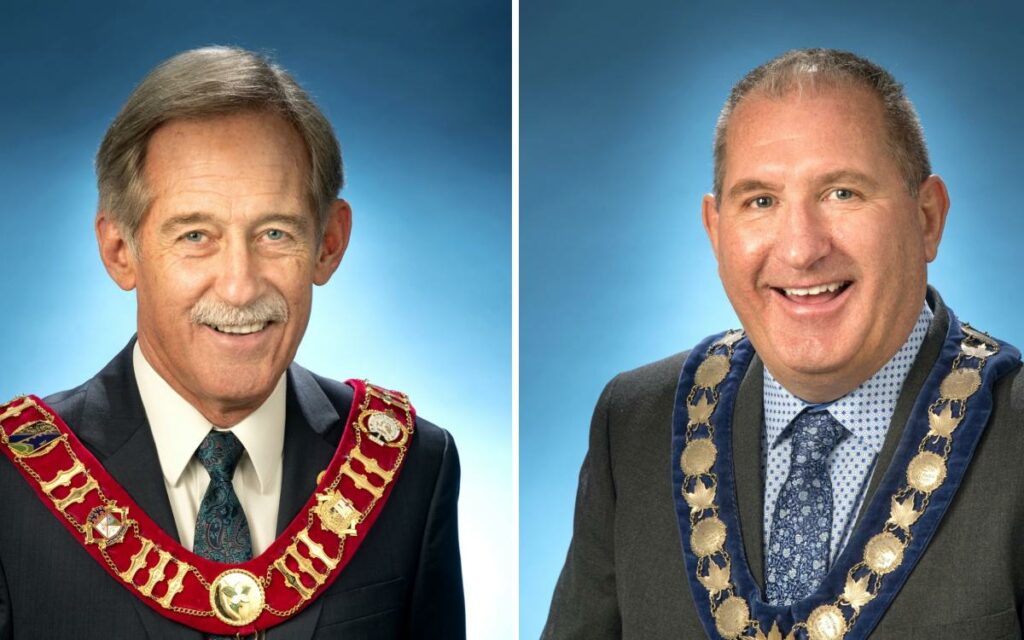 On Wednesday, May 31, it was announced that Niagara's two urgent care centres in Fort Erie and Port Colborne would shift from operating 24/7 to exclusively running 10:00am to 10:00pm. Pictured are mayors of Fort Erie and Port Colborne Wayne Redekop (left) and Bill Steele. Photo credit: Niagara Region
Earlier this week, Niagara Health announced that, starting next month, operational hours at its Fort Erie and Port Colborne urgent care sites would be cut in half. 
As president and CEO Lynn Guerriero described on Wednesday, Niagara Health is facing "unprecedented" staffing shortages and the region's three emergency departments in St. Catharines, Niagara Falls, and Welland need additional support to maintain operational capacity. 
"This decision was not easy, and I understand it is unwelcome news for some," the CEO said. 
"After looking at all our options, reducing late night and early morning coverage in the Fort Erie and Port Colborne (urgent care centres) was deemed the absolute least disruptive way to address the challenges we are facing". 
Effective July 5, Fort Erie and Port Colborne will move from operating 24/7 to running exclusively between the hours of 10:00am and 10:00pm.
Mayor of Fort Erie Wayne Redekop said the municipality is "deeply concerned" by the change.
"While we understand that Niagara Health faces some very real health human resource shortages within its emergency departments, urgent cares and other health and diagnostic services, these service reductions significantly affect every Fort Erie resident."
As Redekop and his mayoral counterpart to the west Bill Steele both pointed out, a significant portion of their respective communities – 8,000 people in Fort Erie, 10,000 in Port Colborne – don't have a family doctor and rely on urgent care centres and emergency departments as their first point of contact for healthcare services. 
Without a sufficient number of local options, closing the urgent care centres 12 hours a day, according to the mayors, will simply push the problem downstream and further "overload" the region's emergency departments. 
"It's important for residents in our communities to continue to have access to quality healthcare close to home," said Mayor of Port Colborne Bill Steele.
"I am adamant that Niagara Health keep this service interruption to a minimum and restore 24-hour coverage at both the Port Colborne and Fort Erie Urgent Care Centres as soon as possible."
Redekop blamed three decades of inaction and service cuts from the province for the current situation, saying it's time "to take meaningful action to address the worsening crisis."
"The residents of Fort Erie and Ontario deserve better," the mayor concluded.
"Unsurprisingly, communities and residents are generating passionate protests and reactions to these service reduction announcements. Niagara Health and the provincial government need to step up and meet the needs of residents, not remove more and more necessary services."
Niagara Health is the region's primary provider of healthcare, operating five sites in Fort Erie, Port Colborne, St. Catharines, Niagara Falls, and Welland.