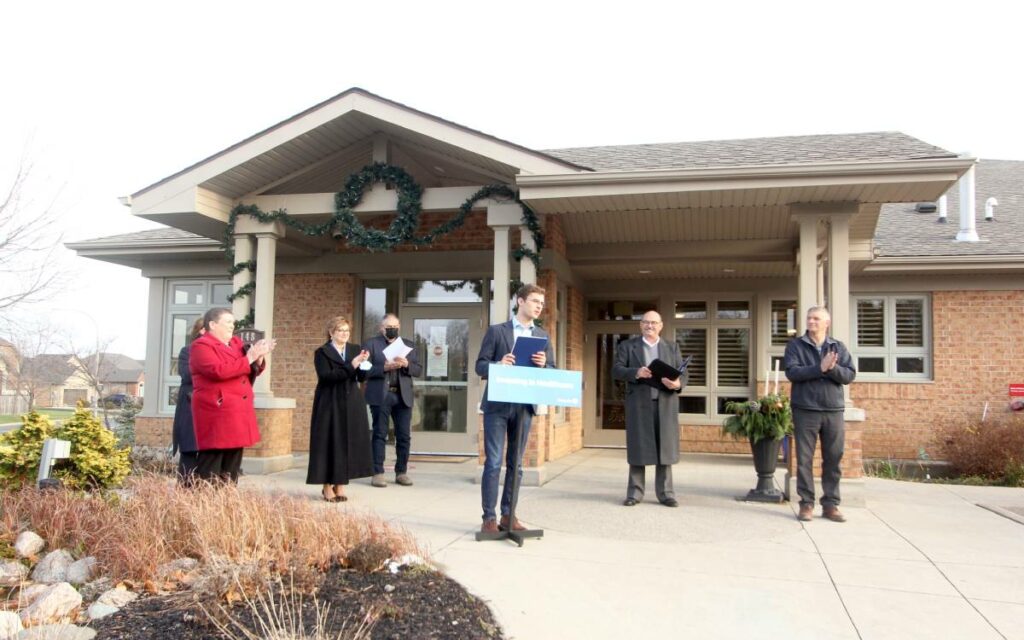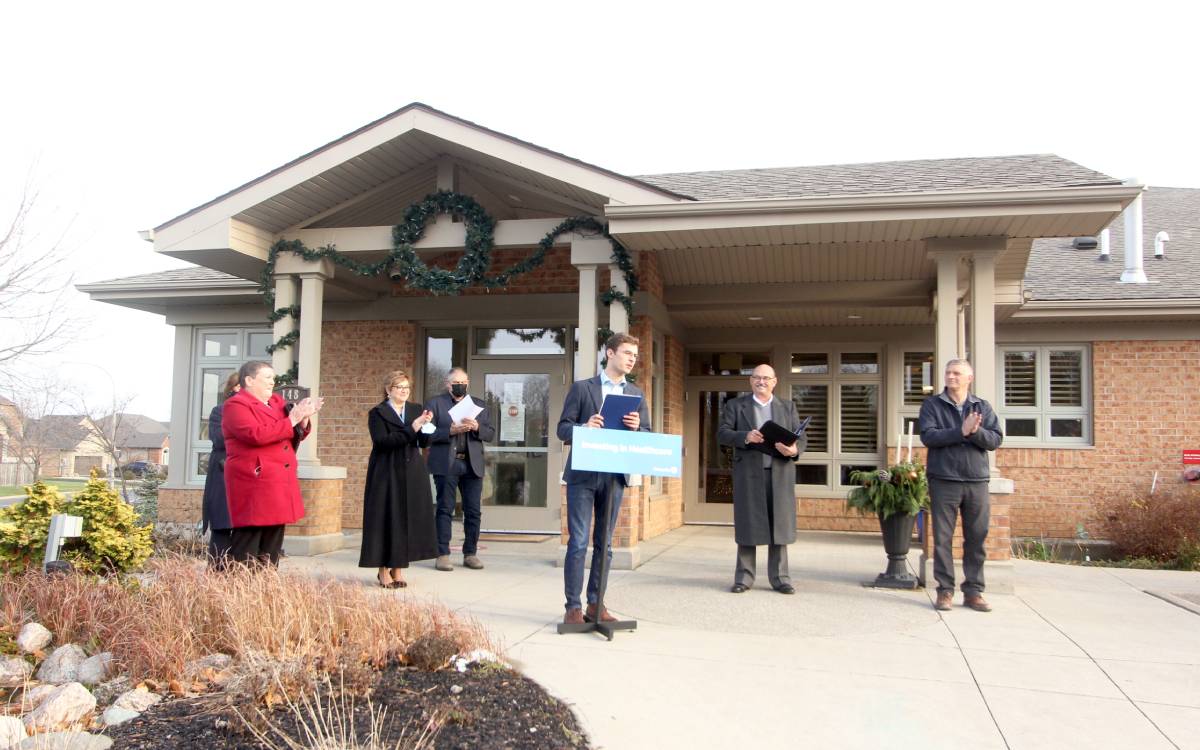 From left to right: Mayor of Lincoln Sandra Easton; executive director at McNally House Pamela Blackwood; Parliamentary Assistant to the Minister of Health Robin Martin; Mayor of Grimsby Jeff Jordan; MPP for Niagara West Sam Oosterhoff; board chair at McNally House Murray Bain; and Mayor of West Lincoln Dave Bylsma. Dec. 10, 2021. Supplied photo. 
Last Friday, Parliamentary Assistant to Ontario's Minister of Health Robin Martin joined MPP for Niagara West Sam Oosterhoff and other local officials outside of McNally House Hospice in Grimsby to announce a one-time $285,000 investment in the facility. 
The funding represents a 45 per cent increase in the province's annual investment in McNally House.
"Having recently introduced and seen the passage of the Compassionate Care Act, I have long been a passionate advocate of hospice care in Niagara and across the province," said MPP Oosterhoff.
"This new support reaffirms our government's commitment to high-quality palliative care in our region and the extraordinary work of the leadership and frontline team at McNally House."
Serving the Niagara West communities of Grimsby, Lincoln, and West Lincoln since 2008, McNally House provides 24 hour specialized palliative care in a residential setting, free of charge, to people living with a life-limiting illness, as well as those in their life circle.
"We are grateful to the government for addressing the unique financial pressure created by the COVID-19 pandemic, many of which will be ongoing," said Pamela Blackwood, executive director at McNally.
"The increase in staffing needs, infection control measures and the impact on our ability to raise funds during the pandemic have all made these last twenty months very difficult. This one-time funding will enable McNally House to continue to provide high-quality compassionate care to meet the needs of our residents, their families, caregivers and those in our community who seek grief and bereavement supports."
The $285,000 investment in McNally House is part of the province's $23 million commitment to eligible hospice residences across Ontario in 2021. 
The funding will be used to address additional costs associated with COVID-19, including the procurement of personal protective equipment. The $23 million is in addition to the province's annual investment of over $74 million per year in palliative care, ensuring all eligible hospices received a minimum increase of 30 per cent this year.
"As part of our plan to end hallway health care, our government is building capacity to create an integrated health care system centred around the needs of patients, families and caregivers, including compassionate end-of-life care," Deputy Premier and Minister of Health Christine Elliott said in a statement.
"This funding will help Ontarians receive the respect, dignity and care they deserve at every stage of their lives, while ensuring the province's hospices have the tools they need to continue to provide high-quality care throughout the COVID-19 pandemic."