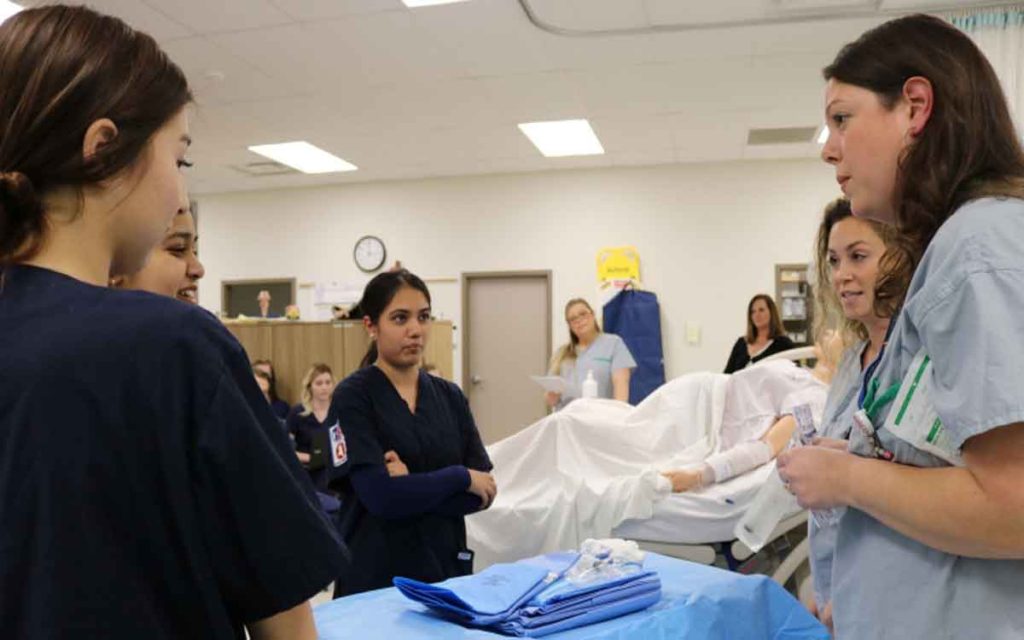 There was a time when trying to get a medical student to come to Niagara to receive clinical training was nearly impossible. Rundown and outdated hospitals, uncertain healthcare restructuring and no formal affiliation with any medical school made clinical teaching within the walls of a Niagara hospital seem like a pipe dream. Times have changed.
Today, the Niagara Health System averages just over 1,900 clinical and clinical support student placements a year and those students come from a whopping 96 different post-secondary institutions. More than sixty are Ontario schools, 18 are Canadian colleges and universities from outside of the province and 11 are American. Of the 1,900 students, 1,700 are clinical students with the remainder being students studying in support areas like bio-medical engineering, health information management, human resources or business. Nursing accounts for the highest number of clinical placements.
Zuher Ismail is the Niagara Health System's Director of Interprofessional Practice, Ethics and Research and says the training that the NHS provides to students benefits not just the health system but Niagara as a whole. He said one of the biggest benefits to a more sophisticated clinical teaching program has been physician recruitment. "Whether it is in the healthcare sector or other areas, typically, where a student does their internship is often where they end up working," said Ismail. He said in the past it was difficult to attract clinical students to Niagara for a variety of reasons but probably the two biggest were a lack of more formal affiliations with medical schools and a lack of brand awareness when it comes to the NHS. "At one time the NHS was very internal," Ismail explained.
The NHS now has a close affiliation with the Michael G. DeGroote School of Medicine at McMaster University. A Niagara Regional campus was established at Brock University in 2012 although the partnership had existed prior to that. The 9,400 square foot space allows students to have a home base in Niagara, something they didn't have prior to the establishment of the facility at Brock. The academic portion of the program is delivered at Brock's Family Health and Bioscience Research Complex where students and faculty have access to two clinical skills rooms with an observation space; three tutorial classrooms, a computer laboratory, a lecture hall, and an anatomy lab. All rooms are equipped with the state-of-the-art technology, allowing full interaction between campuses.
Ismail said clinical students receive training at the three large NHS hospitals – St. Catharines, Niagara Falls and Welland. "There needed to be a hub and ownership around how to get medical students in Niagara. Now with the affiliations with Brock and McMaster we have that," said Ismail. The St. Catharines hospital is home to a dedicated academic wing that hosts a simulation lab, meeting rooms and a library, all designated to clinical teaching.
The reputation of clinical teaching in Niagara has improved greatly in recent years and the proof is in the number of students requesting to come to Niagara for their hands-on learning experience. "For the third year in a row, all 29 medical students from McMaster matched to a residency program in the first round," said Ismail. Essentially that means the NHS was their first choice. "Students receive excellent training and mentorship from our physicians, nurses and staff but they also get to live the Niagara experience," Ismail explained. The students will complete rotations lasting between two and six weeks in specialty areas like family medicine, obstetrics and gynecology, paediatrics, emergency medicine, surgical and psychiatry.
Clinical students also receive training at West Lincoln Memorial Hospital in Grimsby and Hotel Dieu Shaver Health and Rehabilitation Centre in St. Catharines.