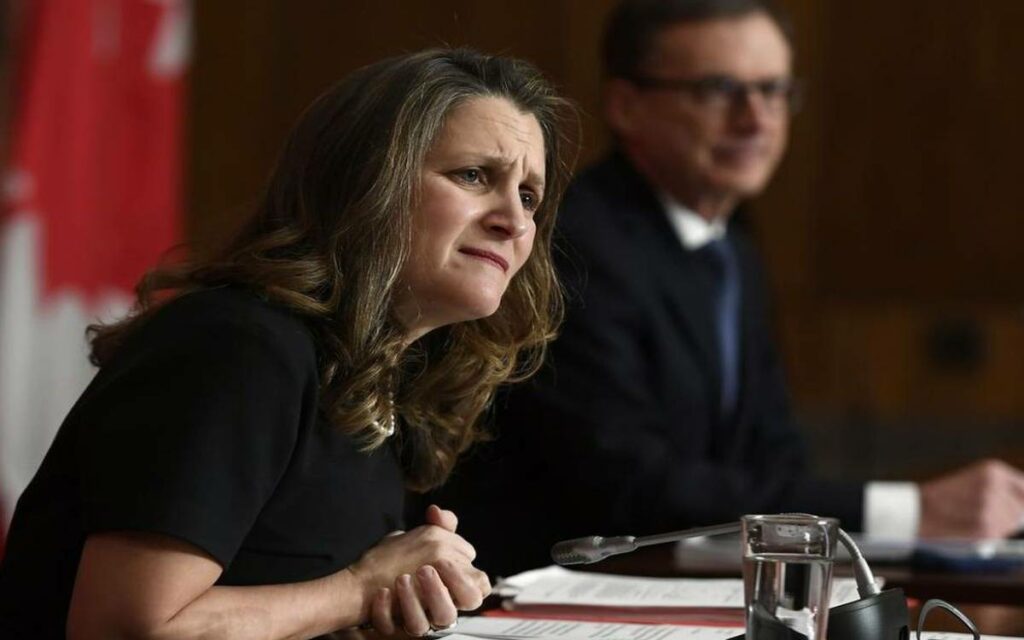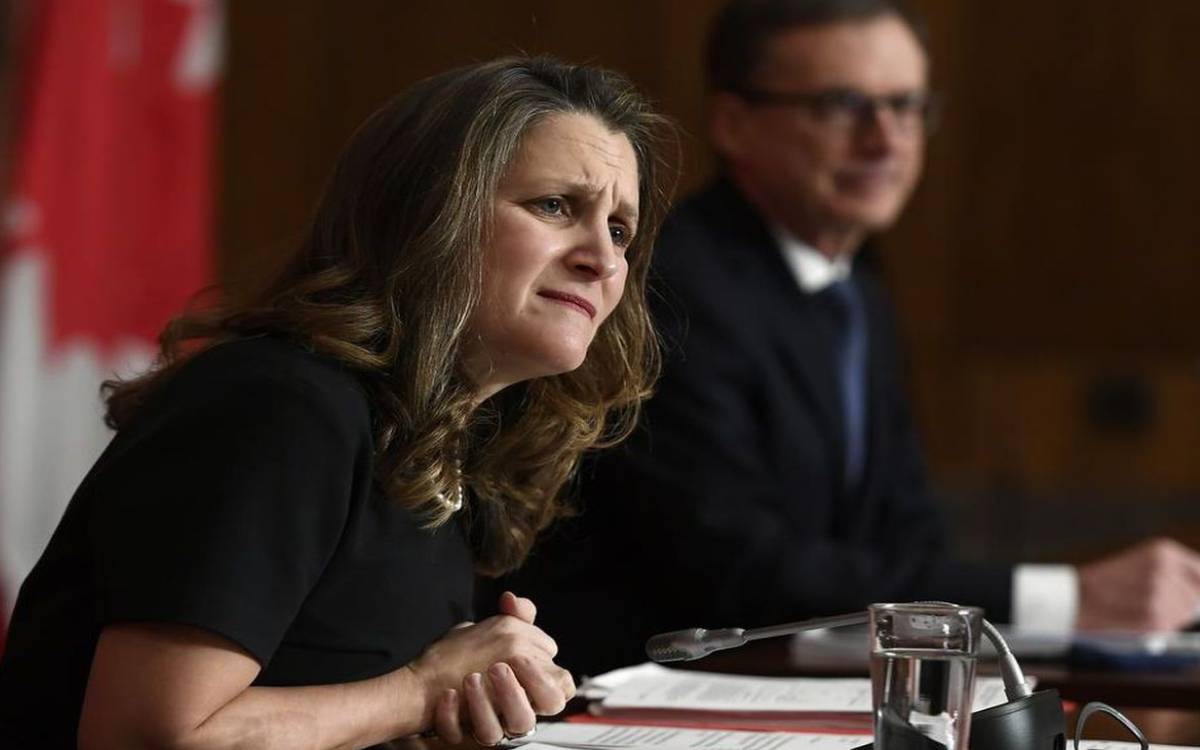 The Trudeau government's lack of fiscal discipline, spurred on in no small part by Minister of Finance Chrystia Freeland (pictured), contributed to the OECD's recent projection that Canada will be the worst performing economy of its 38 members through the next three decades. Photo credit: The Canadian Press/Justin Tang
This week, Canadians got a glimpse of the Trudeau government plan to guide the country through our pandemic recovery period. Finance Minister Chrystia Freeland provided a fiscal update that emphasized the government is prepared to spend however much it needs to meet short term COVID related issues. Freeland stated the government is delaying sharing the details of its approach to reset the country's economy until the spring budget. 
Canada's finance minister reported that the projected budget deficit for this fiscal year is lower than expected and is now $144.5 billion. This new bottom line is a result of tens of billions of dollars of new tax revenue for Ottawa — tax money on pandemic support payments that were generously given to individuals and businesses through the initial waves of COVID in 2020. 
Freeland reported that almost $30 billion of the government's new tax windfall will be spent on enhanced payments to provinces as they brace for the fallout of the Omicron variant. The money is to be spent on things such as purchasing rapid tests, tax credits to improve air quality in workplaces, and implementing proof-of-vaccination programs.
None of this new spending relates to improving Canada's health system – on providing necessary support for province's hospitals and long-term care homes, or on any of the $25 billion of health care promises made by PM Justin Trudeau during the election campaign. 
In fact, the finance minister's fiscal update – which carried a price tag of $71 billion of new expenditures – did not mention any of the $78 billion of promises made by the Liberals on the hustings.
In her post-announcement interviews, Chrystia Freeland schooled those who thought she would address the Liberals' priority issues that had prompted the mid-summer election call. She explained, "This update is what it says on the title page: It is an economic and fiscal update. This is not the master plan for the Canadian economy going forward. That will be in the budget."
So, to recap the government's forecasted expenditures: Freeland's April 2021 federal budget had a $101 billion price tag attached, this update presents $71 billion of additional spending, and the government intends to introduce another $78 billion of promised programs and services in four months hence. 
The federal government's fiscal plan is unaffordable and it is irresponsible, claims the Canadian Taxpayers Federation (CTF). The organization was quick to attack the finance ministers' update. CTF federal director Franco Terrazzano was critical of the government's unbridled spending that has resulted in a national debt of $1.2 trillion. He pointed out that government debt will have a serious impact on future policy options and Canadians' prosperity. 
"Years of borrowing means taxpayers will lose out on nearly $200 billion by 2027 just to pay for interest charges on Canada's debt. That's money we can't use to hire more nurses or lower taxes because it's going to bond fund managers to service the government's debt," said the CTF head.
"The cost of living is soaring and Canadians should be worried about how the government is going to pay for its unprecedented spending and hundreds of billions of dollars in new debt. The feds need to stop dishing out cash we don't have and pouring fuel on the inflation fire. Freeland needs to hit the brakes on this government's runaway spending train." 
In the House of Commons, Freeland was taken to task for her spending by Conservative Party leader Erin O'Toole. 
"Our country is drowning in the rising waters of debt that is being fueled by inflation and by ideological policies that are driving away investment and making Canada one of the last places people will come for their economic recovery."
O'Toole summed up the fiscal plan as another Liberal statement of "empty promises, massive debt, higher taxes and no real economic plan."
MP Pierre Poilievre, the Conservative finance critic, homed in on what this spending means for individual Canadians. 
"A half-trillion dollars of inflationary deficits mean more money chasing fewer goods driving higher prices. Housing and gas are up a third, so youth can't afford to get to work or buy a home. And families can't afford the extra $1000 it will cost to feed themselves next year. Instead of reversing this high-cost, high-inflation agenda, today the government announced yet another $71 billion of inflationary spending, costing nearly $5000 for every family in Canada."
Two separate economic reports recently released provide reason to worry about the Trudeau government's spending. Juxtapose Freeland's fiscal plan with the Statistics Canada consumer price index (CPI) data that indicates the official inflationary number is 4.7 per cent year-over-year. That "official number" Canadians are told is the highest rate of inflation in 30 years. The Statistics Canada release noted that inflation is running higher than wage increases, "which means the purchasing power of Canadians has diminished."
The Organization for Economic Cooperation and Development stated in an international press release that inflation is the prime concern for the global economic outlook in 2022 and 2023. The OECD commented: "The main risk, however, is that inflation continues to surprise on the upside, forcing the major central banks to tighten monetary policy earlier and to a greater extent than projected." (That translates to hikes to interest rates in the near future.)
This global body also had a grim outlook for Canada. The OECD predicts that of countries in the advanced world, Canada will be the worst performing economy over the next decade. In fact, the OECD projects Canada will be the worst performing economy of its 38 members through the next three decades to 2060. It cites Ottawa's current monetary policy and lack of fiscal discipline as contributing factors to the country's dismally low GDP growth projection.  
Still, in interview after interview this week, Finance Minister Freeland provided reassurances that Canada's economic future is promising and Canadians need not worry about inflation as it is only transitory.
Two in three Canadians do not believe this. Bloomberg News released a Nanos Research poll that revealed 63.5 per cent of Canadians are unconvinced Ottawa's policy makers – from Chrystia Freeland to Bank of Canada Governor Tiff Macklem – will be able to rein inflation back to pre-pandemic levels. 
Essentially, it will come down to fiscal discipline surmises Scott Clark, a former deputy minister of finance. This week Clark gave Freeland some unsolicited advice in a media interview. He was remarking on the massive government debt and the prospect of an additional $78 billion of promises in the spring budget, "You just have to say: 'We can't do this right now'. You have to set priorities. No-one is going to hate her for that — she's just doing her job." But then, Clark frankly assessed, "I don't think the government has the willpower to do it."
Given the government's fiscal update and the OECD forecast for our Canadian economic future, Clark's assessment seems accurate. It is hard not to conclude that Chrystia Freeland is fueling an inflation fire in a house that is burning down.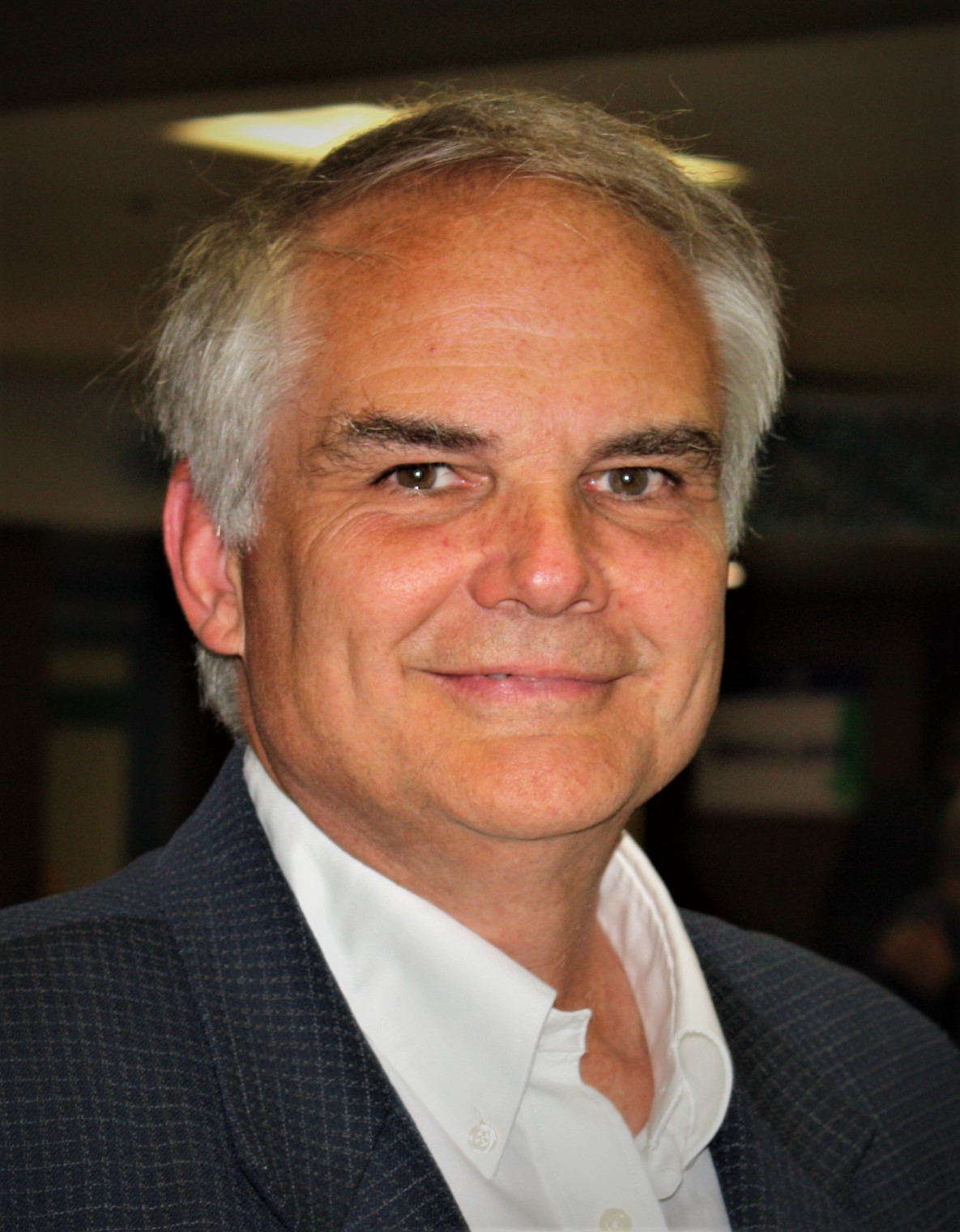 Chris George is an advocate, government relations advisor, and writer/copy editor. As president of a public relations firm established in 1994, Chris provides discreet counsel, tactical advice and management skills to CEOs/Presidents, Boards of Directors and senior executive teams in executing public and government relations campaigns and managing issues. Prior to this PR/GR career, Chris spent seven years on Parliament Hill on staffs of Cabinet Ministers and MPs. He has served in senior campaign positions for electoral and advocacy campaigns at every level of government. Today, Chris resides in Almonte, Ontario where he and his wife manage www.cgacommunications.com. Contact Chris at chrisg.george@gmail.com.