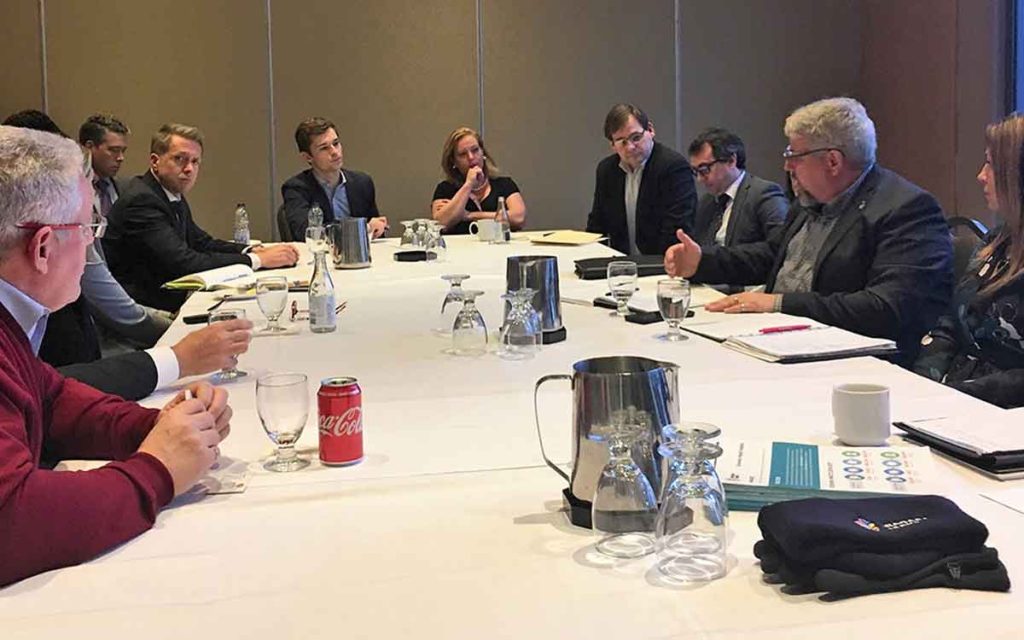 Flanked by Niagara West MPP Sam Oosterhoff (left) and former Niagara Falls MPP Bart Maves (right), the Hon. Lisa MacLeod listens as eighteen business leaders and social agency providers share ideas and insight.
As part of a swift circuit around southern Ontario last week — which included tours and talks at women's shelters, disability treatment centres, and community kitchens — the Hon. Lisa MacLeod sat down with local community leaders and employers from across Niagara to discuss getting more people into the workforce.
In November, Minister MacLeod announced social assistance reforms that, over the next year and a half, will "restore dignity, encourage employment, and empower the province's most vulnerable to break free from the poverty cycle".
Some of the changes that her ministry plans to make include: streamlining administrative processes related to job-finding, changing the legal definition of "disability" to mirror the federal government's description, and increasing the monthly amount qualified recipients can take home before affecting their social assistance.
Each change is ultimately geared toward helping those most in-need, while getting more people off government aid and into the workforce.
Thus, the goal of the Niagara roundtable was to gain insight into local labour shortages, the availability of work, and challenges related to recruiting and retaining talent.
According to all of the individuals in attendance, there is plenty of work available; employers simply cannot find enough people to fill available positions.
John Pellegrino, vice president of construction development and technology at Hospitality Resorts, said that companies across the tourism sector — from hotels to restaurants — "face labour shortages at all levels".
A recent transplant from Montreal, Pellegrino called the myriad work opportunities in Niagara "eye-opening".
Dolores Fabiano, executive director of the Niagara Falls Chamber of Commerce, explained that "across the board, our biggest issue is labour shortages."
"I get employers calling me begging for workers", said Fabiano.
The plethora of job openings provided a juxtaposition with Macleod's ministry's situation, where more than a million people in Ontario still rely on the welfare system.
Where's the disconnect?
Many of the participants said they have set up interviews with able-bodied social assistance recipients to fill the job openings: some don't show up, while others don't want to work too many hours for fear of earning too much money (that then eats away at the benefits they can collect).
Others acknowledged that there are some legitimate issues stopping certain recipients from taking full-time positions, such as the availability of evening child care, flexible and after hours transportation, and even nearby affordable housing.
A number of participants proposed bringing in foreign-born staff to solve the problem.
Janet Madume, executive director of Welland Heritage Council and Multicultural Centre, said there are plenty of new immigrants already here who want to work, but "they have the additional problems of too long a wait to obtain a work permit from the government and a lack of willingness to recognize foreign education credentials."
However, although more economic immigrants could certainly help narrow the labour gap, recruiting externally would hardly reduce the amount of people collecting government assistance in Ontario.
The primary aim of Minister MacLeod's recent regulatory changes is to decrease the number of individuals stuck in an unhealthy cycle of dependency by getting them into the workforce.
As the minister put it, "the best social program is a job."
According to Stats Canada, Niagara has the second highest regional unemployment rate in Ontario (after Thunder Bay) at 7.8%.
There is not a labour shortage, per se. The area has thousands of unemployed, able-bodied individuals capable of filling (in particular) low-skilled positions. The challenge, as many of the roundtable attendees pointed out, is recruiting and retaining such individuals.
"Getting the labour pools to and from employment areas around the region is a problem", said David Adames, CEO of the Niagara Parks Commission.
"What we have is a transportation issue."
Niagara currently does have a "regional" bus system. However, it is fairly limited: centred around major hubs and circumventing several municipalities in their entirety.
In order to overcome the region's mosaic geography, a far more robust transit network is needed.
But outside of transportation, as a handful of Minister MacLeod's guests explained, a major impediment to filling vacancies involves public perception of certain jobs.
Too many would-be employees think that, for example, the trades are "dirty", or that culinary work is menial. There are trades jobs in Niagara wherein it is not uncommon for the tradesperson to make six figures. Schools and parents must be more proactive in getting kids to understand that these jobs can be very lucrative and are not fields to be looked down upon.
According to more than one employer at Friday's roundtable, some people would rather just take the assistance over earning an honest wage; content to disregard the "any job is better than no job" maxim.
More than anything, a culture change needs to occur.