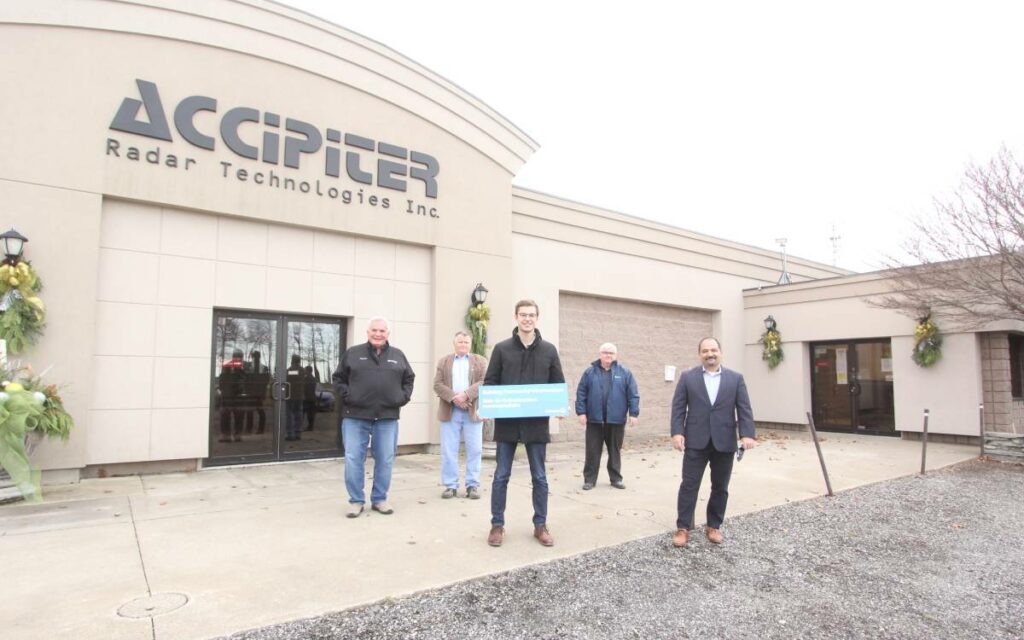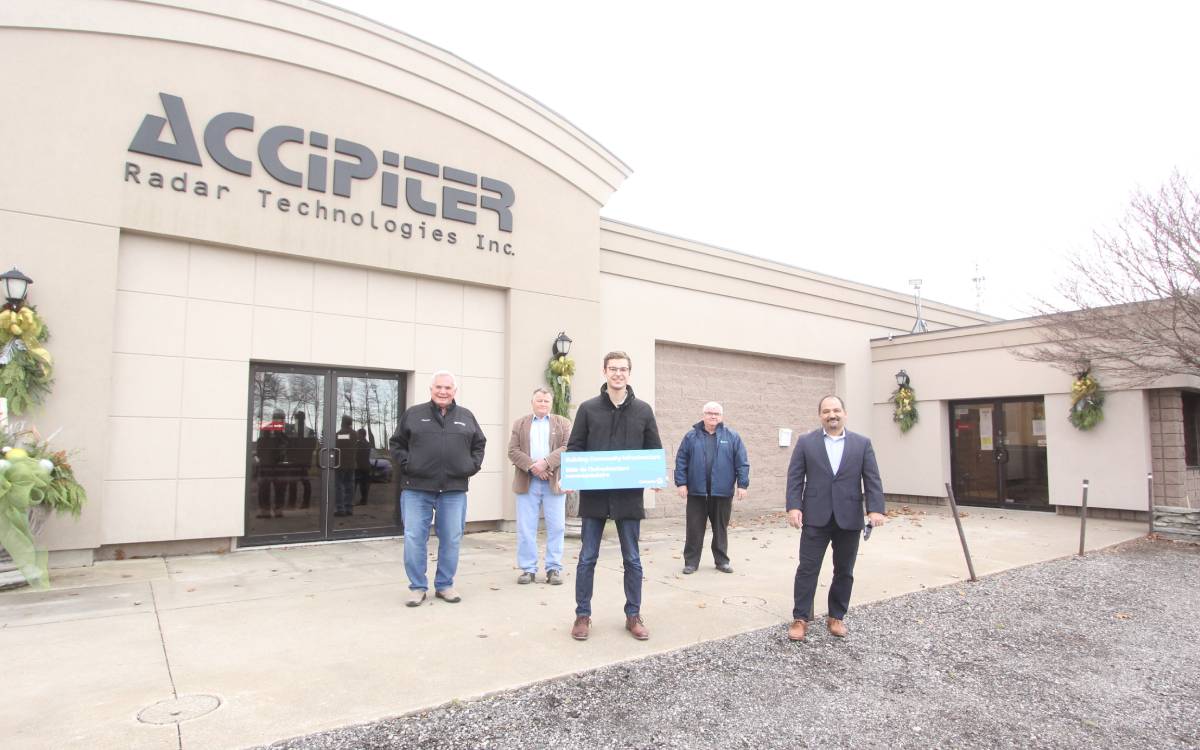 Local officials announced the initiative at Accipiter Radar Technologies in Fenwick, Dec. 16, 2021. Pictured from left to right: Wayne Olsen, councillor, Town of Pelham; Marvin Junkin, mayor, Town of Pelham; Sam Oosterhoff, MPP for Niagara West; Robert Foster, councillor, Niagara Region; and Dr. Tim Nohara, president and CEO of Accipiter Radar Technologies. Supplied photo.
Construction will soon be underway to connect 4,880 homes, farms and businesses in Fort Erie, Grimsby, Lincoln, West Lincoln, Niagara-on-the-Lake, Niagara Falls, Pelham and Wainfleet to reliable high-speed internet services.
According to a media release distributed by the province, the $17.9 million initiative to build three new infrastructure networks in Niagara will help ensure that farms and businesses in the region will have the ability to attract new customers, grow their business, create new jobs, and stay competitive in an increasingly digital marketplace. Families in rural areas will also be able to have confidence in knowing that connectivity will be available when they need it.
"Having access to high-speed internet service is vital for families and businesses in the Niagara Region and across the province," said Toby Barrett, Parliamentary Assistant to the Minister of Agriculture, Food and Rural Affairs, and MPP for Haldimand-Norfolk.
"They need these services to do their work – whether it's schoolwork or running a business. That's why I'm so pleased that our government is helping to build the critical infrastructure needed to build Ontario and support communities in Niagara Region."
The expanded fibre-optic service is supported by both the provincial and federal government, each committing $3.5 million. The contracts to expand broadband services were awarded by Southwestern Integrated Fibre Technology (SWIFT) Inc, a not-for-profit corporation initiated by local municipalities to address connectivity in unserved and underserved areas of Southwestern Ontario.
The provincial portion of the funding was announced Thursday by Niagara West MPP Sam Oosterhoff at Accipiter Radar Technologies in Fenwick.
"Since first being elected, I promised to advocate for investments in rural broadband," said MPP Oosterhoff. "I will keep working with my colleagues, the Minister and Parliamentary Assistants for Agriculture, Food and Rural Affairs, to invest in rural broadband in Niagara."
To date, more than $255 million has been invested by the governments of Canada and Ontario and the private sector via SWIFT, bringing high-speed internet to more than 58,000 under- and unserved households and businesses in Southwestern Ontario. 
"By drawing on the collective voice of municipalities, fast reliable Internet service will be brought to communities across Southwestern Ontario," said Lincoln regional councillor and SWIFT board member Robert Foster. 
"I am proud of this legacy. This is a great start, and I thank the Ontario government and MPP Oosterhoff for advocating for the expansion of rural broadband. I look forward, both as a SWIFT Board member and as a Regional Councillor, to the next steps to bring improvements across Niagara."
"The expansion of high-speed Internet to Fenwick is great news for our local families, farms and businesses," said Mayor of Pelham Marvin Junkin, who was also present at the announcement Thursday. 
"I am glad there will be shovels in the ground on this project very soon."
The new infrastructure is anticipated to be in place by December 2022. 
The Ontario government is investing nearly $4 billion in broadband infrastructure to connect every region of the province with access to high-speed internet by the end of 2025. According to the province, this proactive approach is the largest single investment in high-speed internet, in any province, by any government in Canadian history.