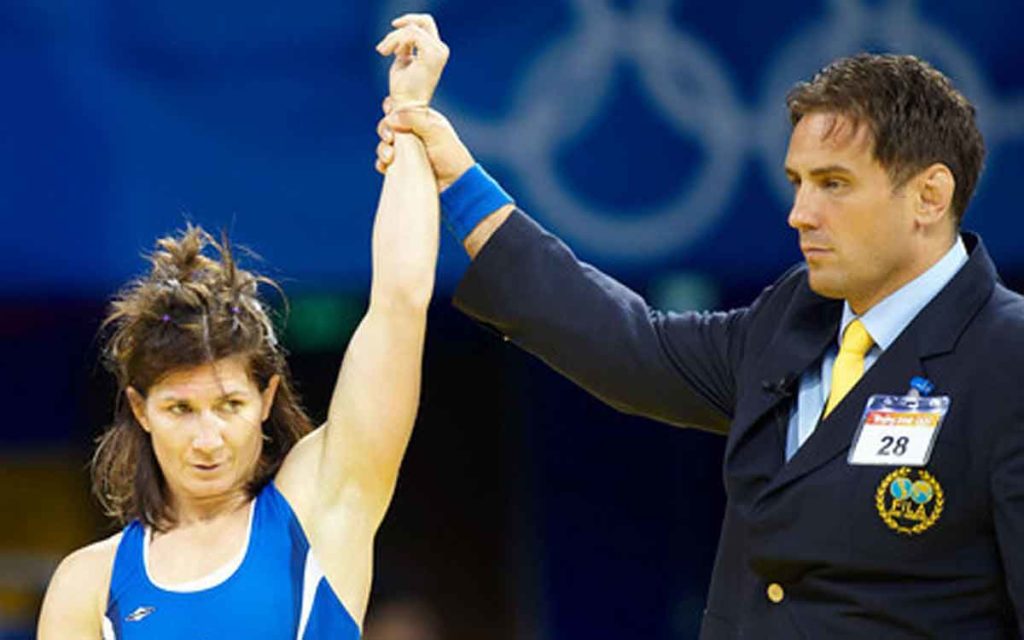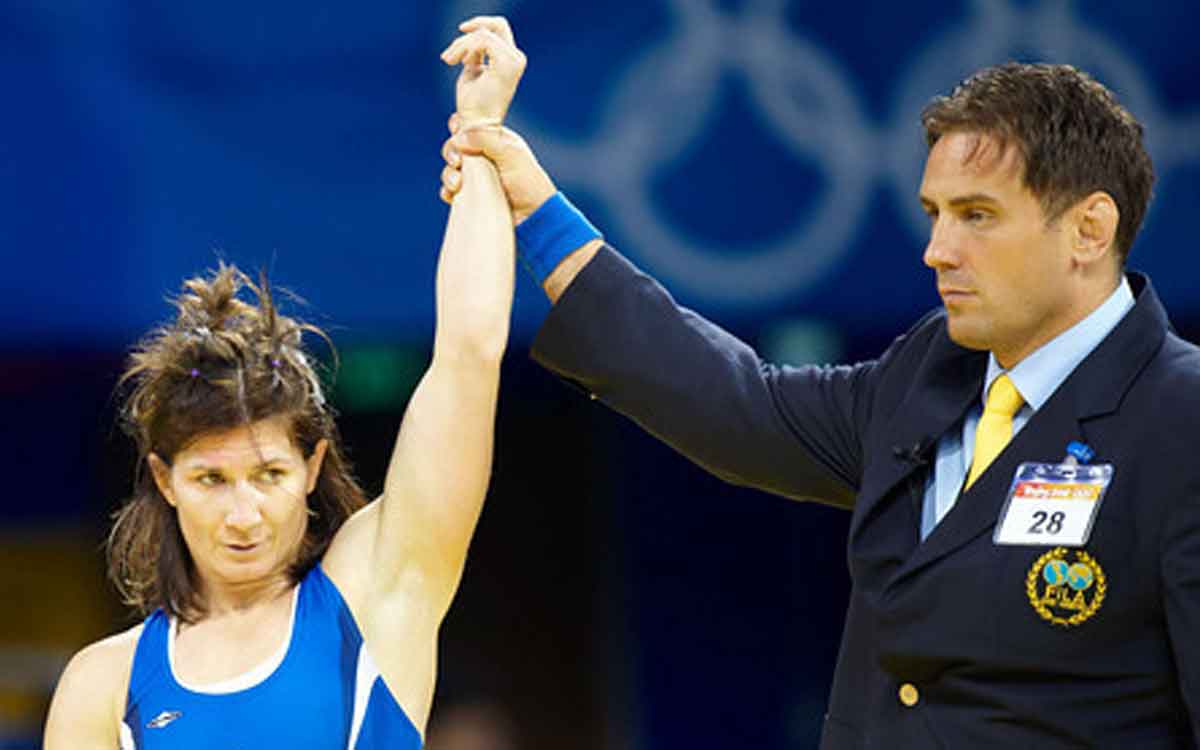 Tonya Verbeek, shown here being announced the winner at an Olympic wrestling match, will be inducted into the St. Catharines Sports Hall of Fame. Supplied photo from Wrestling Canada.
It's amazing to think Tonya Verbeek didn't start wrestling until she was sixteen years old while attending Beamsville Secondary School.
It was now colleague and fellow coach Dave Collie that brought women's wrestling to the high school.
Some almost 30 years later she'll take her place, rightfully so, in one of many halls of fame when she enters the St. Catharines Sports Hall of Fame next Wednesday November 20 at Meridian Centre in downtown St. Catharines.
Verbeek's bio on the Canadian Olympic website says it all:
"Tonya Verbeek is officially the most decorated Canadian wrestler of all-time."
A three-time Olympian, and two-time medalist – in fact her silver medal at the Athens Games in 2004 made her Canada's first-ever Olympic medalist in women's wrestling.
Verbeek calls that the highlight, and the hard fought journey to get there, of her career.
"I'm just very grateful," said Verbeek recently on the Niagara Sports Report on 610 CKTB.
"The opportunity wrestling has given me over the years, and the people who have supported me along the way. That's something as an athlete you look back and think about the struggles, the triumphs, all the ups and downs that sports provide you and the learning that goes a long with that about yourself."
Verbeek would admit there was likely more ups than downs in her illustrious career as more medals at the Pan Am Games, World Championships, and Olympic Games would follow for the 11-time National Champion.
Verbeek's connection to St. Catharines is her time at and with Brock University and the Brock Wrestling Club.
The now 42-year old Grimsby native holds a Masters of Education from Brock, and continues to coach there and nationally for Team Canada.
"Oddly enough I wouldn't say that I would have thought that individual sport would have been where I would land," Verbeek explained.
"I really enjoyed it when I first started. Something about it just made me really think about the physicality of what the sport is, and enjoying that part of it. (It was) super challenging mentally of course – the combination of the two clicked for me especially at 16-years old. It was a good outlet for you as a teenager.
I didn't think I would carry on with it for as long as I did, but I'm super grateful for what the sport did for me. "
Verbeek will be part of the coaching staff when Niagara hosts the Canadian Olympic Trials next month at White Oaks Resort and Spa, and will join Wanita May Dykstra (Track and Field – High Jump) Swede Burak (Rowing) Bill Schenck (Rowing) and Obie O'Brien (Hockey) as the 2019 inductees into the St. Catharines Sports Hall of Fame.
The following night the inductees will be part of the ceremonial face-off and drop the puck at the Niagara IceDogs game against the Erie Otters.
For more information on the St. Catharines Sports Hall of Fame visit scshof.com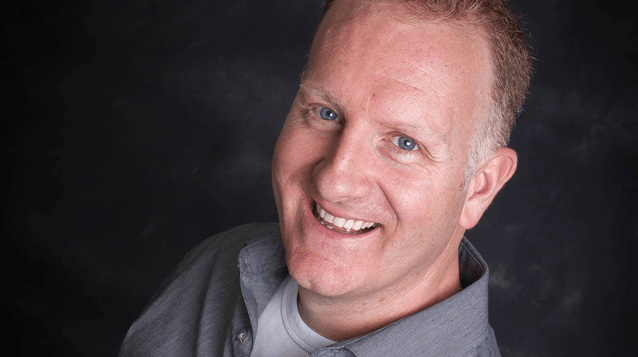 Rod Mawhood is a lifelong Niagara native who has had the pleasure of working in all three mediums – Radio, Print and TV – for over 20 years. His first announcing gig was with the then St. Catharines Stompers. Since then he's worked in radio and TV in Toronto, and currently is the announcer for the Niagara IceDogs and Niagara River Lions.
Rod also covers the Buffalo Bills for FOX Sports and the Buffalo Sabres for NBC Sports.