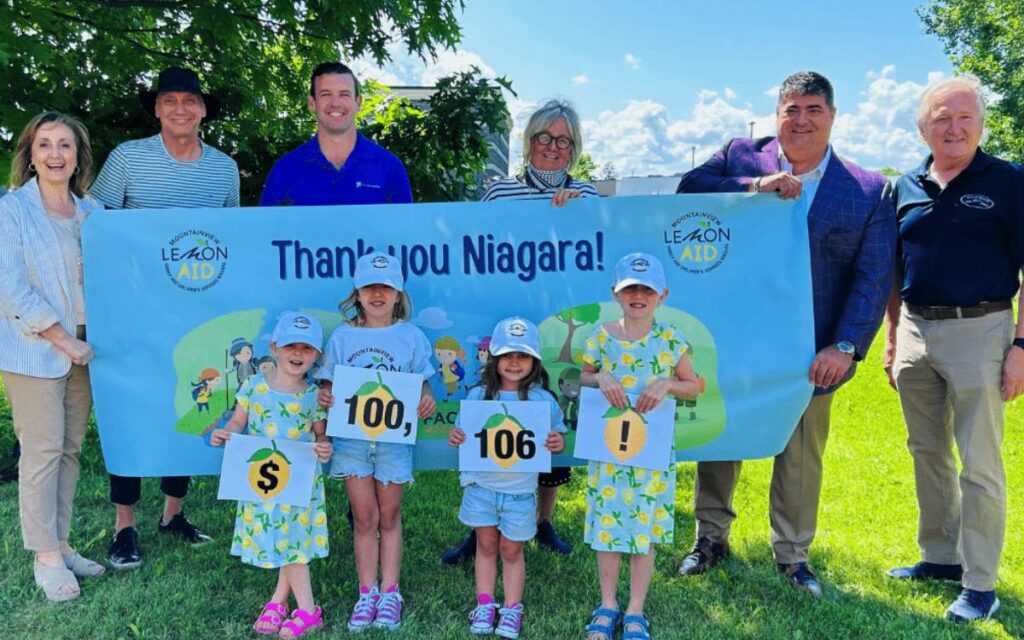 Funds will help send hundreds of local children to camp. President of the event's title sponsor Mark Basciano (second from right) was on-hand for a reveal party earlier this week, pictured here alongside Thorold mayor Terry Ugulini (right), St. Catharines mayor Mat Siscoe (third from left), and members of the FACS team. Photo credit: Mountainview Building Group
Thanks to the generosity of local homebuilder Mountainview Building Group and residents across the region, more than 330 youth served by Family and Children's Services (FACS) Niagara will be going to summer camp this year.
As announced by FACS on Tuesday, this year's Mountainview LemonAID Day raised more than $100,000 to support local children.  
The fundraiser, which took place on June 12 across the region, featured 100 registered lemonade stands. Fundraising teams ranged from families and kids to local schools, with some stands hosted by municipalities and organizations.
"We are so grateful to everyone who gave their time, energy, and effort to run a lemonade stand. From the feedback we received, children had fun and felt good about helping others," said Caroline Polgrabia, President of the FACS Niagara Foundation Board. "It was especially gratifying to see the event grow as this year's event was fully subscribed and the community raised more than $15,000 over last year."
In partnership with FACS, Mountainview launched its now annual LemonAID Day last year. Its inaugural effort raised more than $85,000. 
"We all have a role to play in building strong communities," said Mark Basciano, President of Mountainview Building Group. "We are proud to do our part to help make a meaningful impact on the lives of children in Niagara."
As the title sponsor of the event, Mountainview provided everything participants needed to run a lemonade stand, including the stand, hats, t-shirts, and much more, allowing 100 per cent of donations to go directly to helping children served by FACS attend summer camp. 
Tim Hortons also provided lemonade concentrate for the stands.
According to FACS, the organization expects to give approximately 500 children a summer camp experience this year. This includes weeklong day camps in Niagara, overnight camps outside the region, specialty camps to support children with complex special needs, supporting camping trips with foster parents and special camp-at-home baskets with sports equipment, games, and activities.  
"At any one time, FACS provides more than 600 families with ongoing services and support," said Anna Bozza, FACS Niagara Chief Executive Officer. "Seeing the smiles on the faces of the children we work with as they get to experience everything summer camp has to offer is inspiring. We are proud to help give them the chance to enjoy everything camp has to offer."
At a reveal event this week at the FACS office on Hannover Drive in St. Catharines, special awards for the top fundraising team and best decorated stands were also announced, with the Citrus Twists taking home the top prize, having raised more than $4,000.