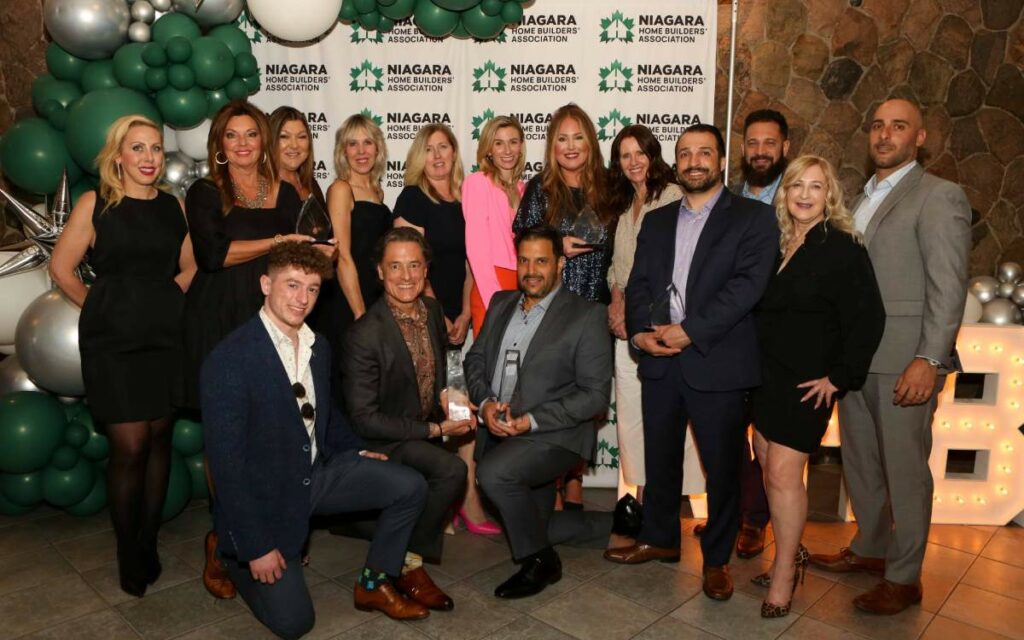 Held every other year, the Niagara Home Builders' Association (NHBA) hosted its 2023 Awards of Excellence gala at Club Roma in St. Catharines on April 14. Pictured is the team at Mountain Building Group. Photo credit: Mountainview
The Niagara Home Builders' Association (NHBA) held its biannual Awards of Excellence gala in St. Catharines last month. At the event, the association paid tribute to the diverse talents of its membership base and helped spotlight Niagara's ever-growing home building, renovation, and supplier community. 
A total of 29 awards were handed out to local industry members across five categories, including marketing, architectural design, room design, home renovations, and overall prestige.  
Mountainview Building Group, headquartered out of Thorold, cleaned up at this year's awards. The company won two of the four coveted prestige honours as Builder of the Year and Sales Team of the Year, also picking up the award for Best Website and two room design accolades for its "The Beaches, Penthouse Suite" project that garnered national recognition back in February.  
Mountainview won the NHBA's top distinction of Builder of the Year the last time the biannual awards were held in 2021. 
"We are extremely honoured to be consecutively awarded with the Builder of the Year award," said Mountainview president Mark Basciano. 
"This award is particularly meaningful to us, as the criteria includes not only quality in construction and design, but also in customer experience, and positive impact to the community – all top priorities at Mountainview, and things we are incredibly passionate about."
The 2023 Awards of Excellence featured over 85 entries from home builders, renovators, and suppliers across the peninsula. 
Judging was based on a scoring system formulated by a panel of experts from outside Niagara. 
"Mark Basciano and the team at Mountainview are truly some of the best in the business, not only locally but nationwide," said NHBA CEO Chuck McShane. "Nabbing our coveted Builder of the Year honour for the second consecutive time is a testament to the company's commitment to maintaining the highest of standards year after year. Like all of our members, Mark and his team continue to push the envelope and deliver top-notch quality homes for Niagara residents."
This year's two other prestige awards went to Grimsby's DeSantis Homes for Excellence in Sustainability, while Reliance Home Comfort was named Supplier of the Year. DeSantis also won for Best Social Media Campaign and Best New Home Showroom or Sales Centre.
Other multi-award winners included Lucchetta Homes, Rinaldi Homes, Kenmore Homes, Pinewood Homes, and Niagara Pines Developments. 
Hummel Properties, Silvergate Homes, DRT Custom Homes and Renovations, SAW Custom Homes, and Aristocrat Floors also all picked up an accolade across the marketing and architectural design categories.  
"A hearty congratulations to all of the 2023 finalists," added McShane. "This year featured some amazing projects from a wide variety of local builders. The local competition is so tight here in Niagara that any of our entrants could have been a winner. As I've said in the past, regardless of price point or project scope, our home builders in Niagara are second-to-none.
A big thank you to our executive officer at the NHBA Alicia Dimitrov-Lawrence for her efforts in organizing this year's Awards of Excellence. Last month's gala was one of the very best yet. 
We look forward to once again celebrating the great work of our entire membership in 2025."
Established in 1955 as the voice of the local construction and renovation industry, the Niagara Home Builders' Association is a not-for-profit organization representing more than 150 member companies, including home builders, developers, renovators, suppliers, trade contractors, manufacturers, and allied professionals.