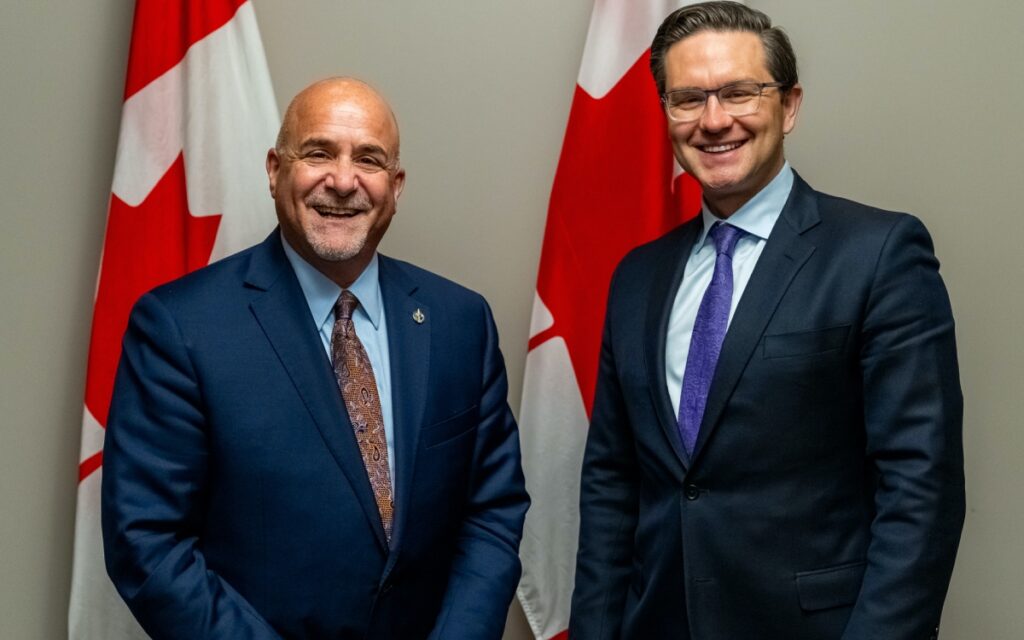 The two-time Conservative MP previously served as Special Advisor on Tourism Recovery and Shadow Minister for Manufacturing and Export Promotion. Pictured are Baldinelli (left) and new Conservative Party leader Pierre Poilievre. Supplied photo. 
Earlier this week, Conservative MP for Niagara Falls Tony Baldinelli was named the Official Opposition's Shadow Minister for Tourism by newly-elected Conservative Party leader Pierre Poilievre.
"It is an honour for me to be appointed Shadow Minister for Tourism by our Leader Pierre Poilievre," MP Baldinelli said in a statement Wednesday. "This is a role I am very familiar with, having served earlier as Special Advisor on Tourism Recovery, and after having worked 18 years in Niagara's tourism industry, with The Niagara Parks Commission." 
Prior to his initial election to public office in 2019, Baldinelli worked for nearly two decades in successive senior management positions with the Niagara Parks Commission. He was appointed Special Advisor on Tourism Recovery by previous Conservative leader Erin O'Toole in 2020, before then being named Shadow Minister for Manufacturing and Export Promotion under interim leader Candice Bergen late last year.
As the federal representative for the top leisure tourism destination in Canada, Baldinelli has been hyper-critical of the Trudeau government's approach to and lack of support for the tourism industry both during and after the pandemic. 
According to Baldinelli, Trudeau's "reckless" policies have set Canada's tourism recovery back years.  
"When COVID arrived in March 2020, the Canadian travel and tourism industry was hit first, it was hit the hardest, and as we expected, it will take the longest to recover," Baldinelli said. 
"Reckless federal Liberal policies, such as the ArriveCan app, only further delayed the tourism recovery we so badly needed and hoped for, by deterring international visitation to Canada this past summer, all while hurting Canada's international reputation as a globally renowned tourism destination."
Baldinelli replaces MP Michelle Ferreri as tourism critic, who moves to families, children and social development. 
In all, Poilievre named 51 critics and 20 additional associate shadow ministers. 
Other Conservative MPs tapped for prominent roles include Jasraj Singh Hallan (finance), Michael Chong (foreign affairs), James Bezan (national defence), Gerard Deltell (environment), Rob Moore (attorney general), and Mark Strahl (transport).
Though Poilievre did not give former leader Erin O'Toole a role, he did give two of his competitors from the leadership race important files. Scott Aitchson was appointed the Conservatives' housing critic, while Leslyn Lewis earned a spot as the Opposition's shadow minister for infrastructure.