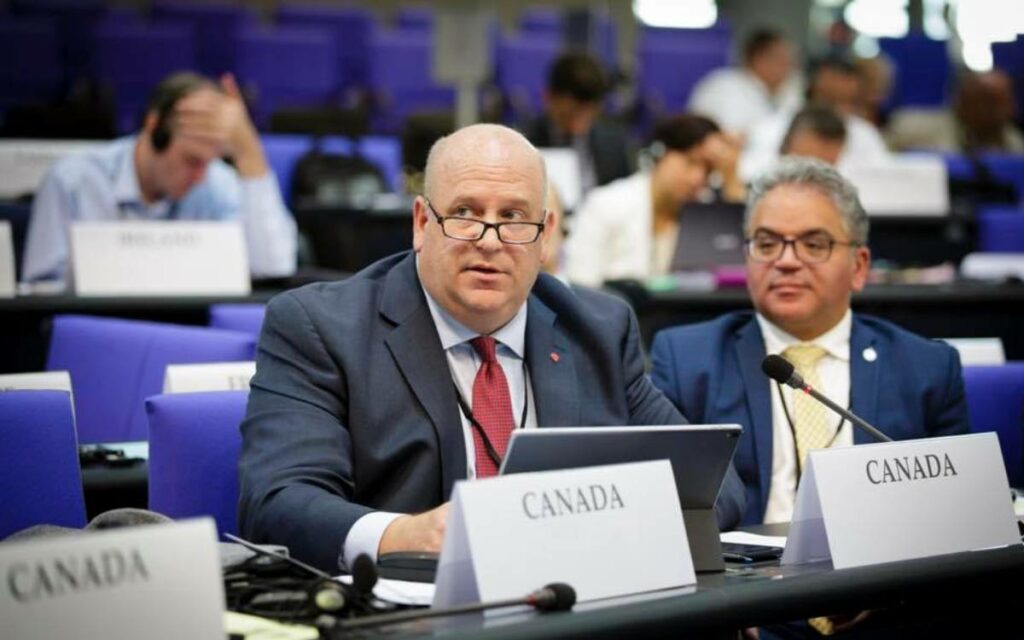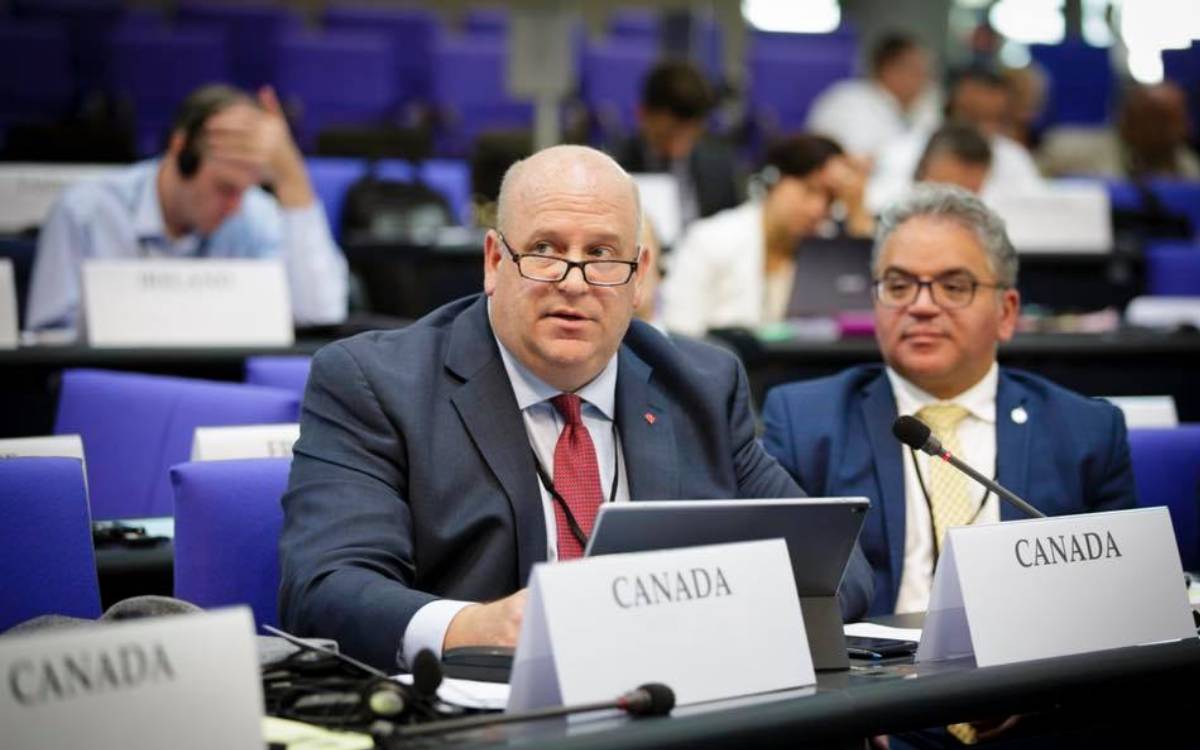 Niagara West MP Dean Allison (left), July 2018. Photo credit: Facebook/Dean Allison
"Mental health is a human issue, not a [political] party one. It touches the lives of Canadians and Niagara residents from all walks of life."
With this statement as a guiding principle, Welland-based social advocate Steven Soos has crafted a petition calling on the federal government to discuss a declaration of a state of emergency on mental health, which Niagara West MP Dean Allison has sponsored and pledged to deliver to Parliament.
"A recent poll indicated that 50 per cent of Canadians self-reported their mental health has worsened with the COVID- 19 pandemic," said Soos. "We're seeing skyrocketing rates of mental health issues, addiction, and related hospitalizations. Youth crisis help lines were accessed four million times in 2020, compared to 1.9 million in 2019."
Soos maintains that people need to understand the long-term impact of mental health issues on Canada's economy. "The Canadian Association of Mental Health (CAMH) has said that we lose $51 billion per year in health care costs, lost productivity, and reductions in health-related quality of life due to mental illness," he said.
This federal petition is Soos' second attempt at having a state of emergency declared. He and Niagara Falls councillor Wayne Campbell sold 11 of 12 local municipalities on the concept earlier in the year, with Lincoln the sole holdout. The request also failed at the Regional level, with councillors Rob Foster (Lincoln) and Tom Insinna (Fort Erie) drafting and receiving approval for what Soos considered a "watered down version" of his motion to invoke a formal state of emergency in Niagara related to mental health, addiction, and homelessness.
"I'm so proud of [Lincoln] councillors John Pachereva and Dianne Rintjem who supported my original motion," said Soos. "I will give Lincoln the opportunity to right that wrong. I will go back to Lincoln council, and speak to them about this federal petition." In fact, Soos plans to revisit all local municipalities to solicit support for his federal petition.
Soos still harbours resentment towards the two regional councillors who derailed his initial petition.
"Shame on them [Insinna and Foster] for choosing to reject a coordinated response to these issues," said Soos. "But now that the petition is at the federal level, we have some precedents to follow. In 2016, British Columbia declared a state of emergency on the opioid epidemic under their Public Health Act, and we have the Emergencies Act federally, which was implemented in 1985."
His goal is to bring mental health into the national spotlight, but Soos is perhaps most concerned about the damage close to home. "Suicide and self-harm in Niagara is higher than the provincial average, and over 14 per cent of our secondary students have indicated that they have seriously considered committing suicide. That's alarming," he said.
Soos has been candid about his aspirations for public office. He recently put his name forward to fill the vacant council seat in Welland, but was unsuccessful in his bid. Undaunted, he has focused on his online program True Politics, which hosts a variety of personalities and perspectives, drawing mostly on regional politicians and social activists for the homeless, unemployed, and substance-addicted.
Dean Allison, the member of parliament for Niagara West who is sponsoring the petition, said "It's a great opportunity to continue to raise awareness on the issue. I don't think that anyone would disagree that there's a mental health crisis. Every party in Parliament understands it…they're hearing it from their constituents. Will members have a problem supporting the wording? I don't know. But I think it's important, and we need to get on board with it. So let's just get it out there, regardless of who supports it, or who doesn't. We need to have the conversation."
Phone calls from Niagara businesspeople who are fearful of losing everything have been regularly received by Allison, and he is quick to point out the marginalized employees in service industries like hospitality and tourism, who haven't been able to work at all for the better part of a year.
I'm reaching out to the parliamentary health committee, trying to get something on the agenda around this issue," said Allison. "They may decide not to call it a national health emergency, but the whole point is that we need them to figure out ways that we can do a better job dealing with mental health."
Once the petition is officially approved, Allison said it will be made available online for a month, or whatever the established timeframe. Thereafter, it will be presented in the House of Commons.
Soos has sent his petition to Niagara MPs Vance Badawey (Niagara Centre), Chris Bittle (St. Catharines), and Tony Baldinelli (Niagara Falls), in addition to Allison. To date, only Allison has responded, and indicated support.
Pelham mayor Marvin Junkin is one political leader in Niagara who has thrown support behind Soos' petition.
"As a politician, I recognize that the lockdowns are necessary, to a point," he wrote. "I also recognize that they come with huge social costs, because of the isolation and loneliness they instill. The true cost may not be fully appreciated until several years from now. Soaring rates of drug overdoses and drug-related deaths, huge increases in child abuse cases and domestic violence…all these things point to citizens that have become mentally fatigued and are having an extremely hard time coping with the daily grind of existence in a pandemic. This group — and it is a very large group — needs our added assistance."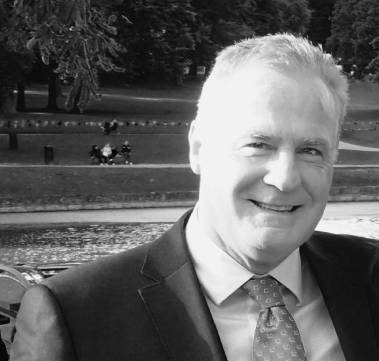 Don Rickers' career in education spanned over three decades, and included stints as a teacher, student recruiter, coach, boarding school housemaster, enrollment management director, and headmaster. He has travelled extensively and visited hundreds of schools around the globe, and served for almost ten years on the governing committee of the Association of Boarding Schools based in Washington, DC. Now a member of the Canadian Association of Journalists, his freelance articles have been featured in newspapers, blogs, and educational journals. A former national team lacrosse player, he holds a masters degree from Brock University, and is a member of the board of directors of the South Niagara Rowing Club. He resides in Fonthill.