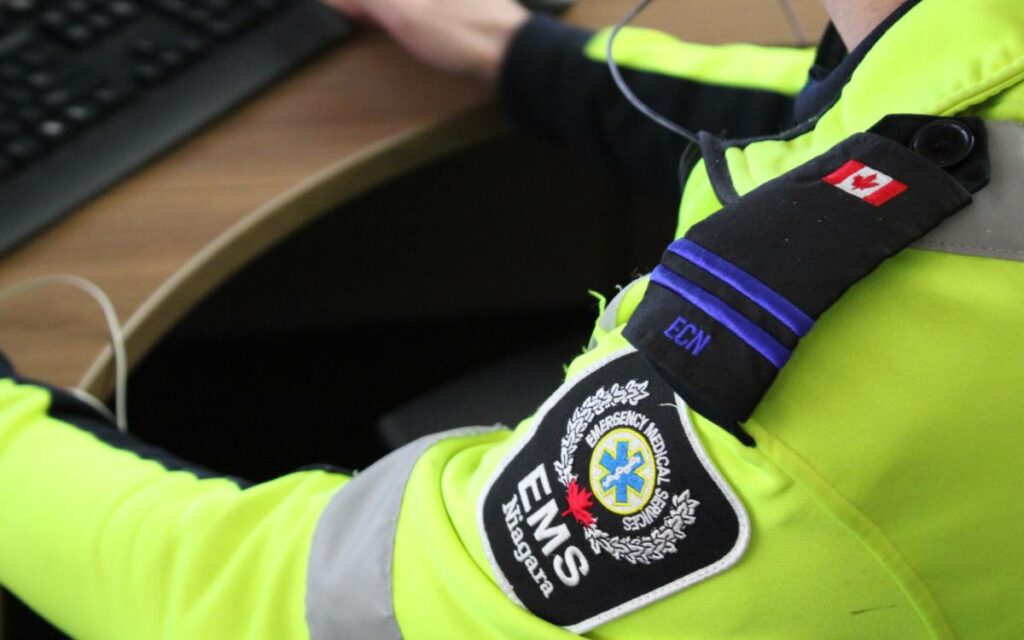 The Niagara Falls MPP rose in the legislative assembly last week to blast the Ford government, and by extension Niagara EMS, for allegedly telling an injured resident she would have to wait six-hours for an ambulance. Per the Region, EMS informed medical alert service provider Lifeline of the worst-case scenario, but in the end a paramedic arrived at the resident's home within 35 minutes. Gates failed to contact the Region prior to making his public comments. Photo credit: Twitter/Niagara EMS
In the Ontario legislature last Thursday, MPP Wayne Gates took to the pulpit to ask Premier Doug Ford about Niagara EMS response times. His questions were based on a story that a Fort Erie resident named Shirley, who fell and pressed her Lifeline alert button for help, was told that she had to wait six hours for an ambulance. He asked, "Is the Premier proud that, under his watch, residents who dial 911 have to wait six hours for an ambulance?"
Adding further, "…a taxi showed up at her house five hours later. The taxi was dispatched to take (the resident) to the hospital."
However, it appears that the NDP member for Niagara Falls had some of his facts mixed up. 
First of all, paramedic services (often referred to as EMS) are the responsibility of Niagara Region, not the province. The paramedic chief who oversees the operations of the municipal service reports directly to the local medical officer of health, and thereafter, report to Regional Council. The province provides 50 per cent funding to municipalities for EMS and establishes regulations on how the paramedic service should operate.
Second, the Fort Erie resident did not call 911, the resident called Lifeline – something Gates initially acknowledged, but then slipped up and disregarded in his direct question to Premier Ford stated above.
Third, and most importantly, according to information of the incident provided to The Niagara Independent, a certified paramedic arrived at the residence within 35 minutes of the call to assess the resident and determined it was not an emergency requiring immediate transport to the local emergency department. The possible six-hour wait initially conveyed to Lifeline represented the absolute worst-case scenario, one that didn't materialize.
Finally, per the Region, Niagara EMS did not dispatch a taxi to the home in lieu of an ambulance.
How did Gates get it all wrong? 
He didn't contact Niagara EMS or Niagara Region to get his story straight or express his concerns.  
After Gates' public display criticizing the municipal service, acting medical officer of health Dr. Mustafa Hirji wrote to regional councillors to explain what happened. 
"EMS was called by Lifeline. When the EMS is experiencing periods of high call volume, as was the case on the date in question, dispatchers advise callers of potentially extended response times when the patient's acuity and need for immediate care is low." In other words, the resident from Fort Erie was not experiencing a medical emergency that required immediate transport to hospital.
One of the problems with EMS is that a significant number of calls requesting paramedic services are not real medical emergencies. When paramedics arrive at a non-emergency call, they are taken away from other real emergency calls happening in the community. This is why the provincial government recently made an announcement at the Association of Municipalities of Ontario (AMO) conference to change regulations in order to improve health services.
According to Health Minister Sylvia Jones, "Community paramedicine—paramedics, in general, have been amazing partners throughout this pandemic; in many cases, assisting with vaccine rollout, ensuring that people were at home and able to be monitored safely."
Across Canada, EMS is expanding a program called "community paramedicine", where trained paramedics respond to residences on a non-emergency basis to provide home support. This model of care will prevent people unnecessarily being transported by paramedics to hospitals, thereby reducing the congestion at hospital emergency departments.
Regional Councillor Bob Gale, who ran against Gates in the recent provincial election as the Ontario PC Party candidate responded, "I don't appreciate the MPP for Niagara Falls criticizing our professional and dedicated paramedics and dispatchers. The problem is not our paramedic service, but off-load delays occurring at hospitals, which tie up our regionally operated paramedic resources".  
This Thursday, Niagara EMS is taking a staff report to Niagara Regional Council to address the issue of off-load delays. 
An off-load delay occurs when a paramedic crew cannot transfer their patient to hospital staff because there are no available hospital beds in the emergency department. According to the report, "In 2021, the highest year to date for offload delays, offload resulted in a total of 21,420 hours of lost productivity at a cost of $2.4 million. In the first six months of 2022, the system has already lost over 19,500 hours ($2.1 million) to offload delay; this has abated very little, and at current rates is projected to double by years' end."
The EMS service is recommending Regional Council approve funding for "two additional 24-hour ambulances and one additional 12-hour ambulance for the remainder of 2022 at an incremental cost of $1,005,466 for the balance of 2022". The service is also recommending that the Region communicate with the province to address off-load delays, which is the primary cause impacting local EMS response times.
To be sure, the provincial government is aware of the issue. According to Minister Jones, "(The province is) going to ensure that that 911 model of care is expanded further to other municipalities across Ontario, because we see it as one of the opportunities to make sure that when individuals like Shirley have a fall in their home, there is a community paramedicine program in place that can quickly assist them and get them back to their (daily living)."