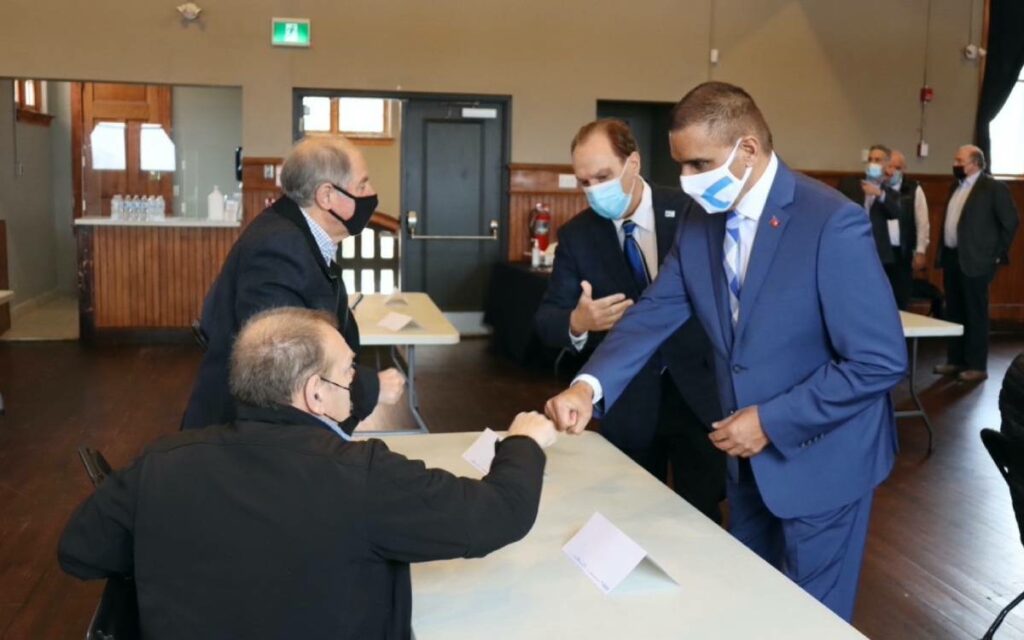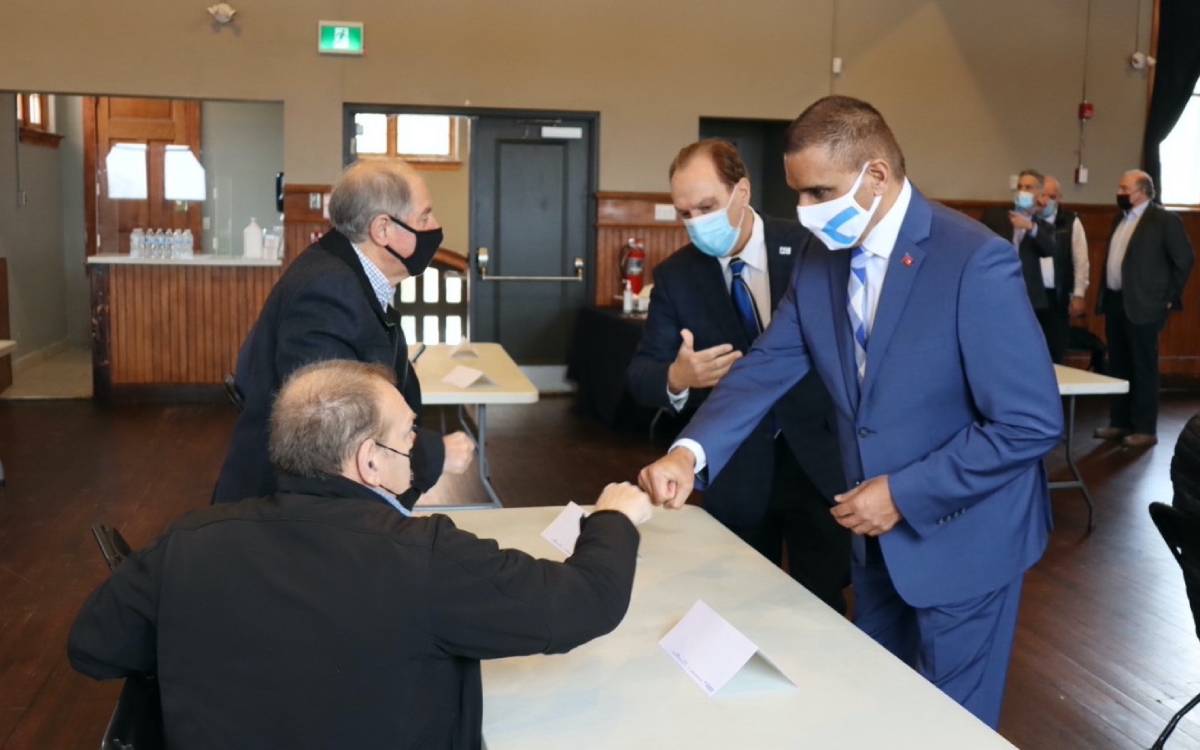 The province is providing faith-based and cultural organizations with funding to help deal with a rise in hate crimes. Minister Parm Gill (front right) and Councillor Sal Sorrento (back right) greet community leaders at the Niagara Folk Arts Multicultural Centre, Feb. 10, 2022. 
Last Thursday, St. Catharines city councillor and Ontario PC candidate Sal Sorrento hosted Ontario's Minister of Multiculturism and Immigration Parm Gill for a stakeholder roundtable at the Niagara Folk Arts Multicultural Centre.
Minister Gill was in the region promoting a new $25 million provincial grant program to help faith-based and cultural organizations protect their communities against hate-motivated crime. 
Around 20 local community leaders representing several religious and cultural groups were in attendance. 
"I was pleased to have this opportunity to meet with community and faith leaders in the region to discuss ways we can work together in our shared goals to fight hate and racism in our province," said Minister Gill after the event. 
"Through government programs such as the Anti-Racism and Anti-Hate Grant, and our recent investment of $25 million to support Faith-Based and Cultural Organizations protecting against hate-related crimes, we are taking strong action to fight discrimination in all its forms. We are committed to working in partnership with organizations, communities and faith leaders to create meaningful change to build a stronger, more inclusive Ontario."
The new Ontario Grant to Support Anti-Hate Security Measures for Faith-Based and Cultural Organizations will help eligible organizations cover expenses related to security and safety measures including enhancing security of their buildings and training staff on how to respond to hate-motivated violence.
Eligible organizations include charities and not-for-profit corporations that host, as a primary activity, regular gatherings of religious, spiritual, or cultural significance at least once a month, and that rent or own indoor facilities used for these gatherings. The government will provide up to $10,000 in one-time grants, based on the organization's revenue.
"What a pleasure and honour it was to have Minister Gill in St. Catharines speaking to our various faith based spiritual leaders and members of our multicultural communities," said host and St George's Ward councillor Sal Sorrento. 
"Minister Gill is a dedicated, passionate supporter of multiculturalism. I want to sincerely thank the Minister for the programs that he and the Ford government have organized for supporting multiculturalism in St. Catharines. They will help protect places of worship and culture from hate related crimes and discrimination."
According to Statistics Canada, incidents of police-reported hate crime "increased sharply" by 37 per cent in 2020. 
"This marks the largest number of police-reported hate crimes since comparable data became available in 2009," said Statistics Canada. "Police-reported hate crimes targeting race or ethnicity almost doubled (+80%) compared with the previous year, accounting for the vast majority of the national increase in hate crimes." 
In the first year of the pandemic, there were 2,669 reported hate crimes, compared to just 1,951 in 2019. 
The provincial grant will help affected organizations cover eligible expenses such as removing graffiti or the installation of motion detectors and CCTV cameras.
"I have appreciated Sal Sorrento's involvement in the community and advocacy for multiculturalism over the many years I have known him," said Tony Lipiec, former board chair for the Canadian Polish Society. "This is another example of how strong a leader Sal is in the community."
Also in attendance last Thursday was regional councillor from Niagara Falls Bob Gale.
"Faith-based and cultural organizations do incredibly important work to support and build our communities," said Gale.
"I am grateful to the Ford government for this grant, and it is my strong hope that soon the need to enhance safety and security is made obsolete because these spaces should be absolutely free of hate."
Eligible organizations can apply via the provincial portal here. Applications are open until Mar. 3, 2022, 11:59 pm.