Mother, grandmother, and arguably the most important woman in modern American politics, last week the outgoing Speaker, age 82, announced she would not stand for another leadership post in government after leading the House Democrats for two decades. Photo credit: Los Angeles Times/Kent Nishimura 
Much will be written about Nancy Pelosi over the next few weeks. Tributes will pour in about her breaking glass ceilings and representing a woman who can have it all. Pelosi, the mother of five children and grandmother to nine, recently announced she will not be running for a leadership post among Democrats after serving as both minority and majority leader for the past 20 years. 
As the representative of California's Fifth Congressional District in San Francisco since 1987, she has faced little to no opposition, gaining re-election 18 times in a district with about 13 per cent Republican registration. No one would mistake Nancy Pelosi for a conservative, but a case can be made that she represents a certain vein of conservatism that has served her well and might help some of her fellow travellers in the modern Democratic Party. 
When Pelosi was a young woman, she seemed to heed the advice of those who had gone before her, like Midge Decter, an early liberal feminist who later became a neoconservative voice. When a young admirer asked her if women could have it all (family, children, career), Decter wisely replied, "Yes, just not all at once." 
Pelosi understood that reality and managed to have it all without forgetting her desire to be a mom and a grandmother. Before she decided to enter politics, she became active in local issues, but took time to raise her children before embarking on her own interests which would take her to a position higher than any office held by any woman in American history. 
When the commentators, columnists, and talking heads are done assessing Pelosi's remarkable career and her legacy, much more will be said about her political accomplishments which are sundry, but little will be said about her contribution to family life and the example she set for younger women, which will be largely dismissed, diminished, or ignored. During the 1984 Democratic Convention in San Francisco, America got its first look at Nancy Pelosi, mother, activist, and Catholic. 
Almost 40 years later, more has been written about her than any elected American woman save perhaps Hilary Clinton, who never held a public office higher than Pelosi. The extent to which it must be given that Pelosi, a liberal icon, represented a more tempered age can be seen in how the progressive wing of the party despises her. 
Perry Bacon, writing in the Washington Post calls her period as leader a "mixed record" and "lackluster." He points out her leadership only resulting in four Democratic victories in Congress compared to six losses. Bacon also goes on to say, "An increasingly radical, antidemocratic Republican Party already dominates much of the country and could win control of the entire federal government in 2024." Before concluding, "Almost no one in the United States has had more opportunities to stop the rise of the Republicans than Pelosi. Considering that Republican strength, her tenure cannot be viewed as successful." 
Pelosi no doubt represents anti-authoritarian impulses. Her radical abortion position, in complete contradiction of the Roman Catholic Church to which she pledges allegiance, has led her to defend abortion, even beyond 25 weeks, calling it a "sacred right." After the 2018 State of the Union address, in a dramatic moment of pomposity she tore up President Trump's speech two times, dramatically emphasizing her complete disgust for the speech, Mr. Trump, and the office of the presidency. Her bitter opposition to Israeli interests contradicts Israel's central role as an ally in the Middle East, and she never misses an opportunity to tweak an opponent regardless of how insignificant they are, even confronting one such detractor with those very words, dressing him down, asking him if he knew how insignificant he was (more on that later). 
She proved her effectiveness in her first go round as Speaker, ensuring the passage of four of President Obama's costly social change bills, whipping the Democratic vote on Dodd-Frank (a piece of legislation designed to regulate businesses and protect consumers), the stimulus package (government hand-outs), the second round of TARP (a bail-out program), and Obamacare (famous health care law). In her second round, after the 2020 election left her with a very small majority, she showed her mettle, constantly getting President Biden legislation passed, herding her caucus even against their instincts. 
As the party continued to shift leftward, she became a voice of restraint. She understood the need to get things passed while in power, probably sacrificing her majority in 2010 for Obamacare, but setting a standard which many Republicans wish some of their leaders would hold to, but who seem otherwise inclined to hold on to power rather than exercise it while they can. 
Let me conclude with the triad of tokens Andrew Ferguson offered to Speaker Pelosi in his article for the Washington Free Beacon on Thursday, November 17, shortly after Pelosi announced she would not seek leadership in this Congress. His first tribute recalled her famous remark in referring to Obamacare or Affordable Care Act (ACA), "We have to pass the bill," she said, "so you can find out what's in it." That little statement revealed all there was to know about how little average people knew about the big things their representatives were doing. As Ferguson relates, those insignificant people rewarded her with the shaving of 63 seats from her caucus in the next election. 
The second token arises from her cafeteria Catholicism, a practice she shares with Joe Biden. When journalist John McCormack asked her about the moral difference between a 25-week-old abortion performed outside the womb, or one performed inside the womb (known as late-term abortions), Pelosi attempted to deflect with a personal anecdote about her own children and how this was sacred ground and had nothing to do with politics. A rather convenient escape for an outspoken pro-choice Catholic when the truth became inconvenient. 
The final token, taken from Molly Ball's (national correspondent for Time Magazine) biography, occurred when a little know Republican congressman, Tom Marino, came to the floor to admonish Pelosi, then minority leader, for her lack of knowledge regarding another crisis on the southern border. Pelosi flew in rage, as Ferguson relates, across the floor, arms raised with her insult in hand. "You," she shouted at Marino, "are an insignificant person! You are an insignificant person!" Her colleagues, according to Ball, had to pull her away. 
Ferguson concludes with words which best sum up Nancy Pelosi, the most important female politician in American history, perhaps the most significant political leader of the first quarter of the 21st century, "What a picture it makes! It is how I prefer to remember her, the first woman elected speaker of the House, a colossus in the politics of this century—ferocious in her pant suit, the back vents of the jacket flapping, the padded shoulders heaving, the tiny fists balled in anger and hoisted skyward. The image defines her long struggle against the great enemy insignificance, and more important, against all the little people who are themselves insignificant, and whose ranks—unhappily but finally—she now joins."
Dave is a retired elementary resource teacher who now works part-time at the St. Catharines Courthouse as a Registrar. He has worked on political campaigns since high school and attended university in South Carolina for five years, where he earned a Master's in American History with a specialization in Civil Rights. Dave loves reading biographies.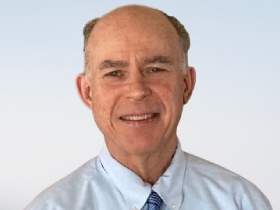 Dave Redekop is a retired elementary resource teacher who now works part-time at the St. Catharines Courthouse as a Registrar. He has worked on political campaigns since high school and attended university in South Carolina for five years, where he earned a Master's in American History with a specialization in Civil Rights. Dave loves reading biographies.