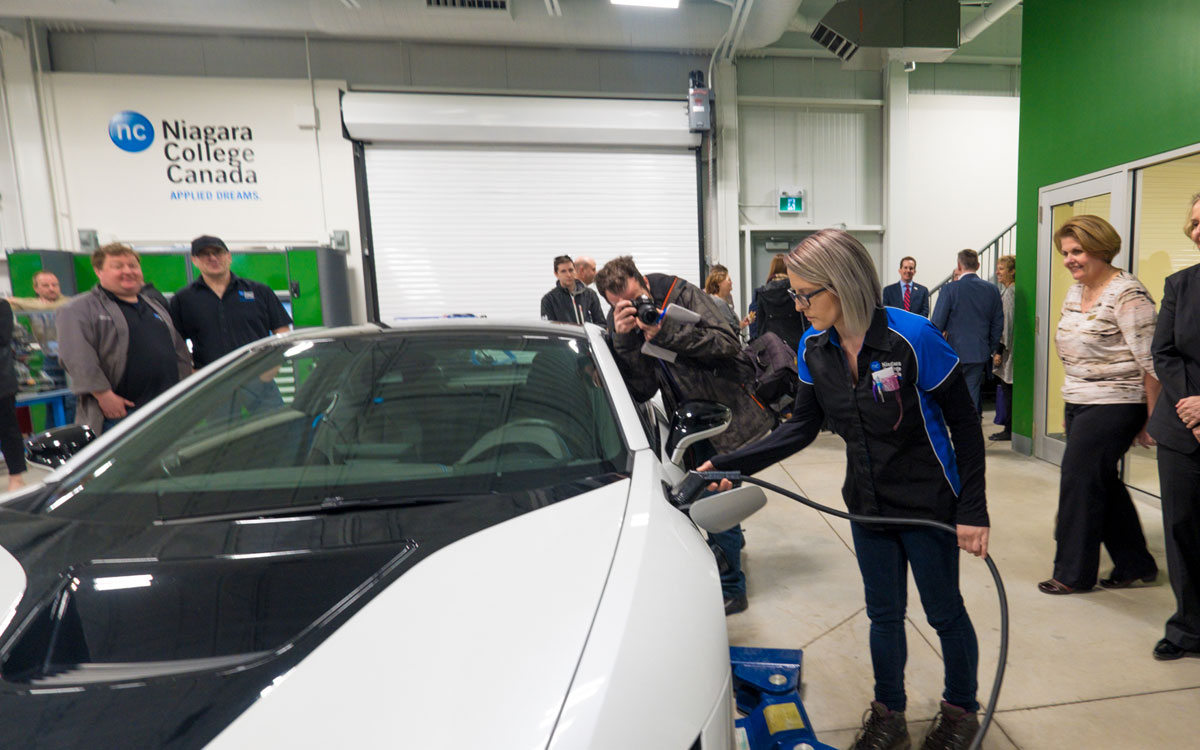 Niagara College (NC) officially opened its Green Automotive Technology Lab this week. The college says students in its Automotive Service Technician Apprenticeship, Motive Power Technician, and Motive Power Techniques programs will have a competitive advantage over students in similar programs thanks to new technology and facilities now available in the lab.
As the future of the automotive industry enters a time of ever changing technology, the lab will be critical in preparing students in NC's Motive Power programs for the rapidly evolving automotive sector by giving them access to the technology and tools that are driving that change.
"The cutting-edge technology and forward-thinking facilities in this new lab reflect Niagara College's pre-emptive approach to applied education, which ensures our graduates are ready for the workplaces not only of today, but of tomorrow as well," said Niagara College President Dan Patterson.
The Lab was officially opened at a special ribbon-cutting ceremony Wednesday afternoon, which saw a mock fuel pump give way to one of the lab's electric vehicle charging stations.
"The improved facilities and training programs give apprentices the hands-on experience they need to thrive in the skilled trades, and contribute to our economy," said St. Catharines MPP Jim Bradley.
In addition to classroom space, the 3,600 square-foot addition to the Rankin Technology Centre at NC's Welland Campus boasts electric vehicle charging stations, hybrid and electric motor diagnostic and simulation tools, and is home to several donated hybrid and fully electric vehicles that allow students unfettered access to the latest automotive technology.
The lab also features tools and equipment to help students explore the future of ethanol, propane, diesel and other alternative fuel technologies, as well as autonomous, self-parking and collision-avoidance technologies.
The Green Automotive Technology Lab will also be a hub for research activities into the future of automotive technology, working with NC's Research and Innovation division.
Christenah D'Archi, a second year Motive Power Technician program student, spoke about how the new technologies and tools in the lab are helping her jump-start her career. "This is technology and equipment that's fast becoming the norm in the automotive industry," said D'Archi. "I and my classmates will be graduating with the skills and knowledge we need to become leaders in the swiftly evolving automotive industry."
The Green Automotive Technology Lab is part of Niagara College's $64 million campus redevelopment project that will provide new and expanded facilities at the Welland and Niagara-on-the-Lake campuses to support growth, enhance the student experience, and expand Niagara College's research and innovation capabilities.