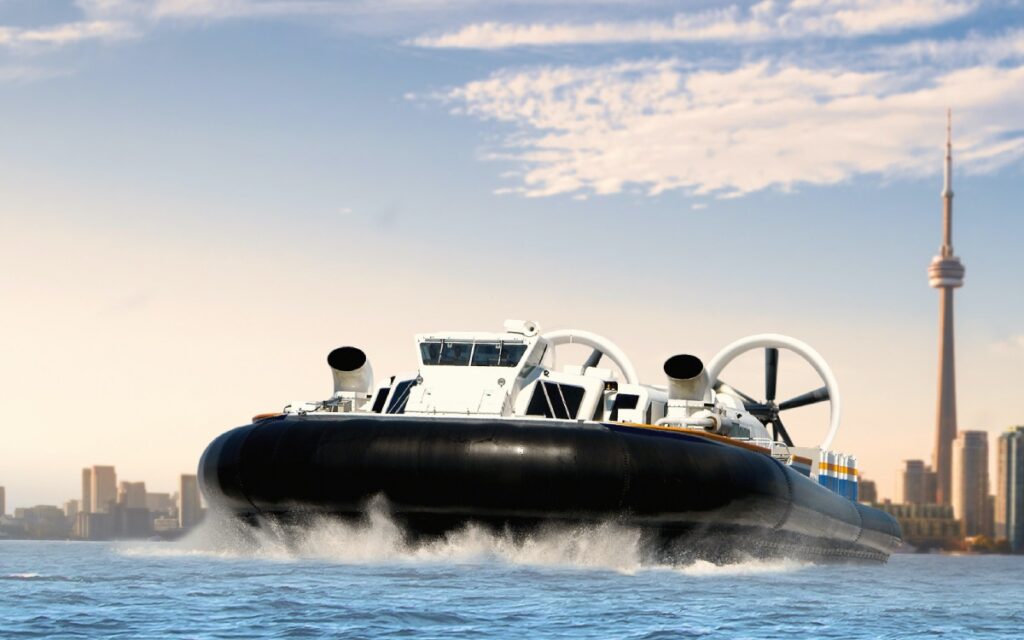 The innovate mode of transportation is set to launch next summer. A one-way ticket will cost approximately $25-$30. Photo credit: Hoverlink Ontario Inc. 
By this time next year, Toronto-bound commuters from Niagara could well be zipping across Lake Ontario on a hovercraft instead of idling on the QEW for hours. 
The brainchild of Niagara-on-the-Lake resident Chris Morgan, Hoverlink promises to revolutionize travel across the Greater Golden Horseshoe by cutting a straight line over water from Port Weller in St. Catharines to Ontario Place in Toronto. 
The entire trip, which currently takes anywhere from two to three-plus hours by car, bus, or train, would take only 30 minutes on the 180-passenger, fully-enclosed amphibious craft. 
"We cannot wait to finally provide a fast, reliable and sustainable transportation solution that connects tourists and commuters in only 30 minutes," said founder Chris Morgan, who also serves as CEO of Hoverlink. "There is already an incredible amount of interest in the project, and we look forward to speaking with more people in the weeks and months ahead."
Built in partnership with same company that manufacturers similar products used by the Canadian Coast Guard and U.S. military, Hoverlink's craft can travel year-round on water, ice, or land, as the air-cushion vehicle never actually touches the earth's surface while in motion. 
Hoverlink would transit Lake Ontario up to 48 times per day and have multiple vehicles in its fleet. The service would run 365 days a year, 18 hours a day. 
Each vehicle would travel a comfortable 80-100km/h and, according to Hoverlink, produce less noise than the standard dishwasher. 
"December is months away, yet today we officially announce a gift to families across the Golden Horseshoe," said CFL legend Michael 'Pinball' Clemons, board member and chief government relations officer for the company.
"Hoverlink's hovercraft service will unite families to sporting events, theatre, concerts, adult gaming and one of the natural wonders of the world in 30 minutes. Hoverlink is changing the game, it is phenomenal!"
Over the last decade, the privately-owned company has worked with all levels of government and consulted with over 300 stakeholders throughout the Golden Horseshoe area to ensure success and feasibility of the service.
Hoverlink has approvals in place to operate out of docks at Port Weller and Ontario Place and has left open the possibility for future routes and destinations. 
Pricing will be comparable to other transit options. A one-way ticket is expected to cost between $25-$30. 
The company estimated it will serve up to three million passengers per year, which would take over 8,000 vehicles off the QEW daily. 
More details will come in the coming months as Hoverlink gets closer to launch. 
Residents are encouraged to attend a public consultation hosted by the company at the Grantham Lions Club in Port Weller on Sept. 29, 2022. Anyone interested can RSVP for the event here.