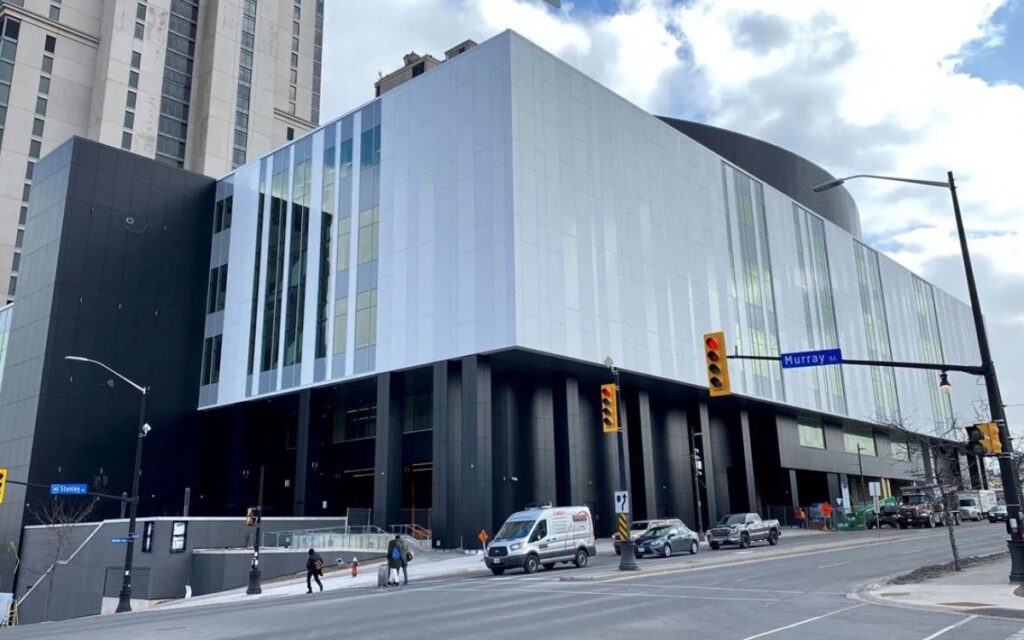 First scheduled to open in June 2019, and then in April 2020, the newly dubbed 'OLG Stage at Fallsview Casino' is now set to host its inaugural shows "later in the fall". Photo credit: HOCO Entertainment
It's been a long road, but the 5,000-seat Niagara Falls entertainment centre at the corner of Stanley Avenue and Murray Street finally has a name.
In a media release Wednesday, the Ontario Lottery and Gaming Corporation (OLG), in partnership with Connecticut-based service provider Mohegan Gaming and Entertainment (MGE), announced the state-of-the-art performance space is now the 'OLG Stage at Fallsview Casino'.
"OLG is thrilled to have partnered with Mohegan on this agreement," said the government agency's president and CEO Duncan Hannay. "The team at OLG is very proud to have provided leadership on the development of this spectacular new facility and we believe OLG Stage at Fallsview Casino is another great demonstration of OLG's purpose to Play for Ontario." 
While the naming announcement may be a sign that the over-$130 million entertainment centre is one step closer to actually opening, Wednesday's media release did not specify a launch date beyond "later in the fall", nor did it provide any information on the nature or number of acts lined-up.
The Niagara tourism community has been frustrated by the dearth of information provided by the Connecticut company regarding how many shows, what nights, what acts, and how might they participate with MGE/OLG on activities to be held at the new facility.  
Local stakeholders are not alone in their lack of knowledge of what's potentially on offer either. When asked by The Niagara Independent what people can expect to see in the near future at the theatre in terms of talent, OLG spokesperson Tony Bitonti said he's yet to see a list of acts and recommended checking with "the folks at Fallsview as they are handling all the programming." 
Unable to elaborate on any details, a representative from Fallsview Casino Resort told the publication to "stay tuned".
"Announcements will be coming in the next few weeks."
Construction on the newly dubbed OLG Stage at Fallsview Casino started in the fall of 2017, with a private-sector consortium led by Bird Construction responsible for all development costs. 
The theatre was originally supposed to open in June 2019, the same month that American service provider MGE took over operation of the 'Niagara Gaming Bundle Contract', which includes the entertainment centre and Niagara Falls' two casinos. However, modification requests from the operator, internal approval delays, and a sheet metal workers strike all pushed completion back to spring 2020. 
Construction was deemed complete by April 2020, with the first slate of shows originally scheduled to take place that month.
But then the pandemic hit, and everything was shut down. 
Fallsview Casino Resort and Casino Niagara both reopened to the public in July 2021. The former's 1,500-seat Avalon Theatre temporarily restarted live performances at the end of last year, then closed due to capacity limits in January and February 2022, before reopening again for shows in March – staying open ever since. Akin venues all over Ontario have similarly been open for months.
Despite over half a year of live entertainment at the nearby Avalon Theatre, the 'OLG Stage' still sits silent. In fact, exactly five years after construction started on the multi-million-dollar project, the facility has not hosted a single performance.  
Back in May, the agency told local media that sound issues and other technical concerns were allegedly delaying the entertainment's centre opening, despite operators previously being ready to open the facility to the public in April 2020.  
Mayor of Niagara Falls Jim Diodati, who has repeatedly voiced his displeasure with the ongoing delays, told Niagara Dailies in mid-spring that Premier Doug Ford had given the OLG instructions to "get this place opened up", saying he had received "assurances" of a probable September opening.