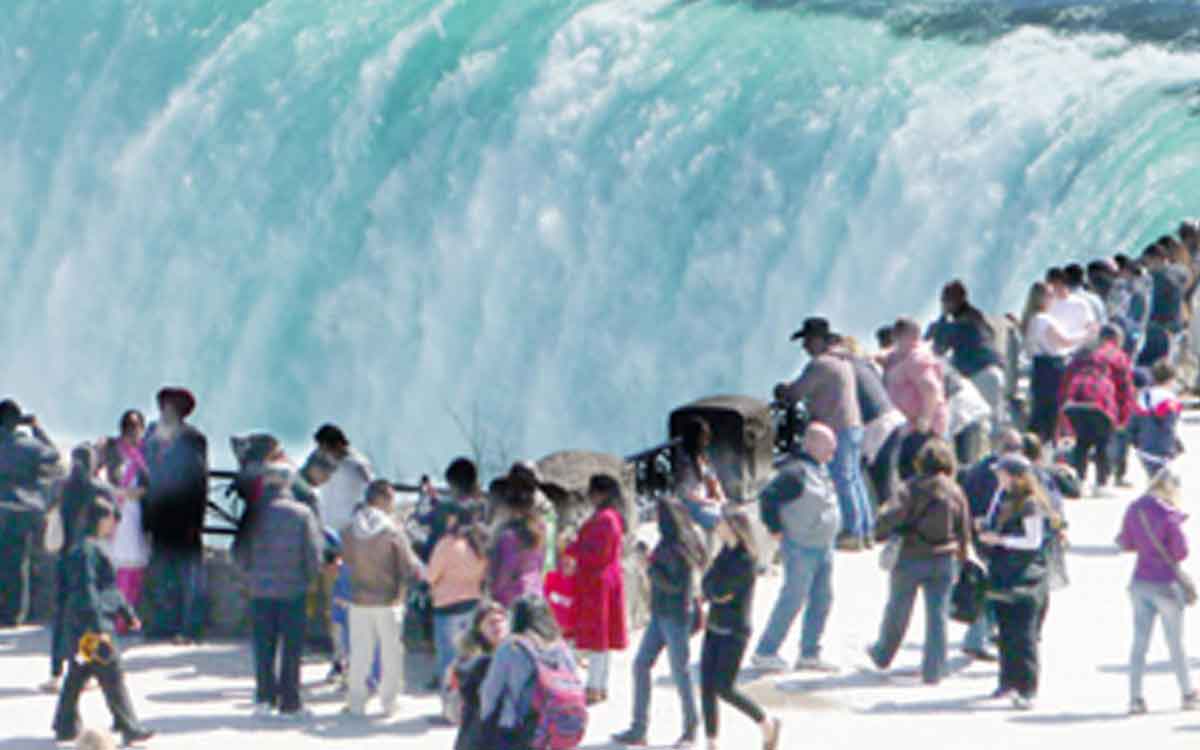 Nearly 13 million people visited Niagara last year according to a recent economic impact study.
There's no doubt that most people in Niagara recognize that the tourism industry has an impact on the local economy but they probably don't know the extent.
A new report from Niagara Economic Development has dug into the numbers and the numbers are big. In a first-of-it- kind report, titled Niagara Tourism Profile, it states that tourists visiting Niagara pumped $2.4 billion into the local economy. According to the region, the report, which uses data compiled in collaboration with Statistics Canada, is the first to provide a comprehensive understanding of the tourism industry's contribution to Niagara's economy.
"We have understood the substantial economic impact of the tourism industry to Niagara for a very long time.  It's very positive that we now have a regular report that will clearly identify that impact," said Dolores Fabiano, CEO of the South Niagara Chambers of Commerce.
Joel Noden, Director of Marketing and Business Development for HOCO Entertainment and Resorts said, "Research like this proves what many in the industry were already aware of.  Tourism is a vital part of the Niagara economy and continues to grow. The jobs created are at all levels, from student employment to full time careers and small business opportunities."
Noden added, "The continued investment by the private sector as well as government agencies such as the  Niagara Parks Commission, fuels growth in tourism and the economy of the Niagara region as a whole."
The numbers show that indeed the tourism sector provides a significant economic benefit to Niagara in terms of overall jobs, business activity, visitors and expenditures. According to the report, Canadians account for the vast majority of the dollars spent by tourists (65%), followed by visitors from the United States (27.3%) and visitors from overseas (7.7%).
In 2017, a total of approximately 12.9 million people visited Niagara. Ontarians lead the way with 8.4 million visitors, followed by the United States at 3.2 million and 1.1 million visitors from overseas. The rest of Canada accounted for 292,000.
While not particularly surprised by the impressive numbers, Niagara Falls councillor Wayne Thomson said it is a good sign that the sector continues to stay strong and grow. "Tourism has been identified as a major and important sector by provincial governments in the past few years and the development of the regional tourism structure has certainly helped," said Thomson, a former Niagara Falls Mayor who has been very involved in the tourism industry for decades. "More money has been put into marketing which helps all of Niagara. It promotes the many fun and positive attractions that are in the region."
Tourism jobs are increasing at a faster rate than total jobs in Niagara and that the number of people working in Niagara's tourism sector has grown significantly over the past several years. As of 2018, tourism supported a total of 39,995 direct jobs in Niagara, an increase of 6,059 jobs, or 17.9%, over 2011. Job growth in tourism far outpaced the rate of total job growth in Niagara, which was 14.1% for the same period.
While the booming tourism sector, and related employment opportunities are good things, Thomson said the catch is finding people to fill the many vacant jobs. "We still can't get enough people to do the work."
In 2018, there were 2,834 tourism sector related businesses in Niagara. The report states that Niagara's tourism sector is largely dominated by small businesses with fewer than 20 employees. Of the businesses with employees in 2018, 67.8% had less than 20 staff, 28.8% had between 20 and 99 employees and just 3.4% of businesses had more than 100 employees.
The report also looked at why people are visiting Niagara. Not surprisingly, the top reasons for tourists to visit Niagara were pleasure (60%), followed by visiting friends or relatives (27.1%), unspecified personal reasons (5.7%), business (3.7%), shopping (2.4%) and personal conferences (1%).
Niagara Economic Development intends to produce the Niagara Tourism Profile on an annual basis, incorporating the latest data available.
Regional Chair Jim Bradley said in a statement, "We have known for many years that tourism is vitally important to Niagara's economy, but this report gives us a much more detailed understanding of the sector and the benefits it brings to our region. This research can help our tourism and economic development partners better plan for future growth."
Other Key Tourism Stats:
Tourism job growth 2011-2018: 4,667 jobs (17.9%)
Total visitors (2017): 12.95 million
Total overnight visitors (2017): 4,929
Total same day visitors (2017): 8,018
Total tourism expenditures of overnight visitors (2017): $1.7 billion
Total tourism expenditures of same day visitors: $686.4 million