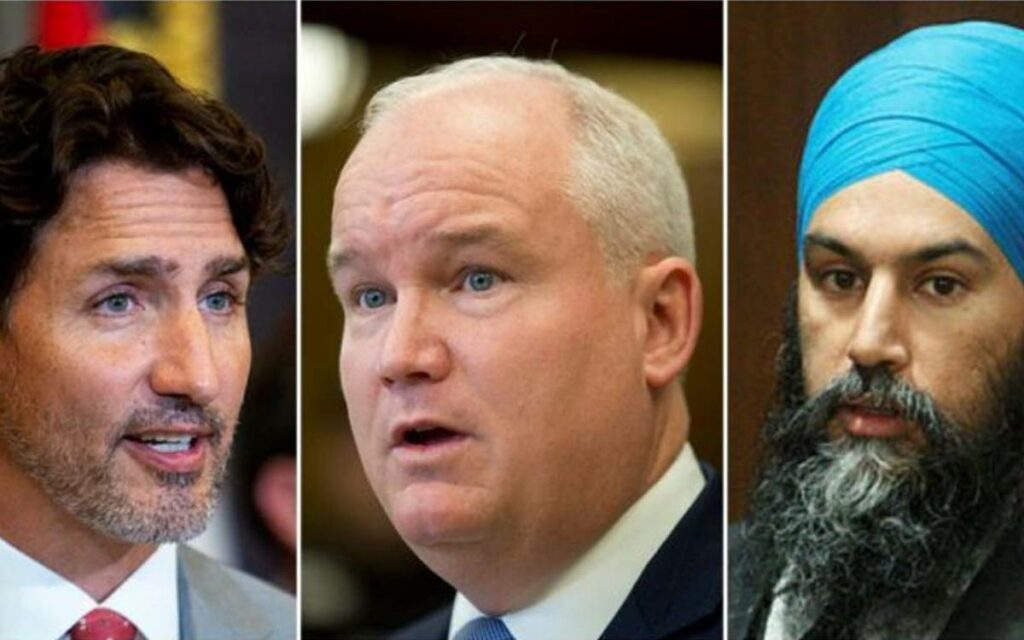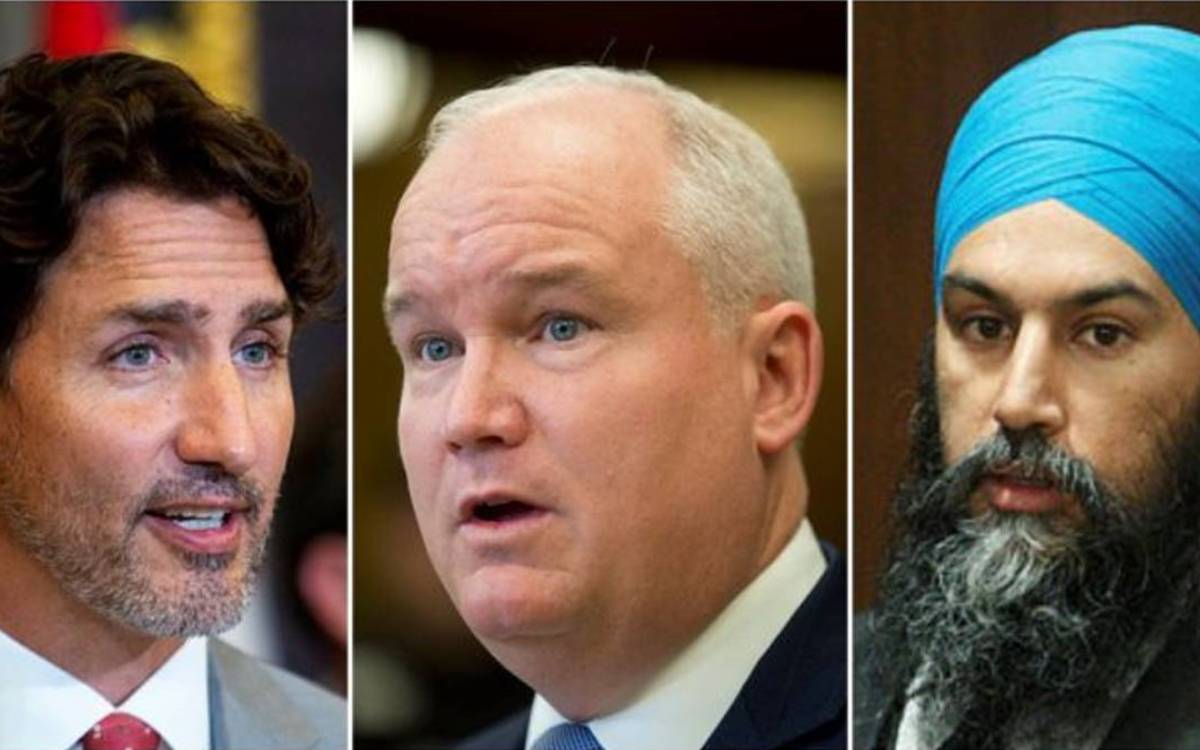 2021 cannot come fast enough. While the troubles and tragedy that marked the last year won't evaporate at the stroke of midnight on Dec. 31st, a lot of Canadians aren't just hopeful that the year ahead has better things in store – they're counting on it.
The leaders of Canada's federal political parties may be approaching the New Year with a bit more hesitation.
While 2020 brought glimmers of cross-partisan collaboration at the outset of COVID-19, there will be far more fireworks between Justin Trudeau, Erin O'Toole and Jagmeet Singh in 2021 – particularly if we wind up at the polls for a federal election.
A New Year's Eve spent in lockdown seems like an appropriate moment for politicians to reflect on the last year, and resolve to do better in the next. Their political futures may depend on it.
2021 Resolution for Liberal Leader Justin Trudeau: Don't rest on your laurels. The Liberals seem poised to coast on their management of the COVID-19 crisis as justification for their return to power come the next election. And in fairness, why fix what's not broken? They continue to poll well in public opinion surveys. Even their ethical scandals of the summer couldn't put a lasting dent in Trudeau's popularity. Meanwhile, other incumbents have managed to convert their pandemic management into electoral gains:  British Columbia, Saskatchewan and New Brunswick all saw the return of governments and provincial elections this year. If it was enough for them to secure majority mandates, why shouldn't it be enough for Trudeau?
It may be too early to claim that things aren't broken in the Liberals' pandemic response. Getting cash out to Canadians and businesses was not just necessary, but expected by voters. As we round a corner in the fight against COVID-19, asking voters to return the government to power because of cheques sent to them in March isn't a compelling pitch – particularly while huge swaths of the population will remain unvaccinated for another six to nine months. The real test for Team Trudeau lies ahead in the rollout of vaccines and plans to get Canada's economy back on track, rather than past actions in the midst of crisis.
The Liberals have already begun shifting from response to recovery messaging, vis a vis their ambitious (and expensive) carbon reduction plan.  Doubling down on a green recovery will be one part of Trudeau's re-election strategy, but the red team would be wise to put policy together on other pressing issues. Some areas where the Liberals could look to put more meat on the bones? A realistic, clear-eyed position on growing aggression from China and how we plan to deal with it as a middle power. Once that's done, maybe a plan to get the books back on track (though this time, resolve to actually keep that promise).
2021 Resolution for Conservative Leader Erin O'Toole: Judge not lest ye be judged. There have been many moments and opportunities for the Conservatives to criticize the government's response to the COVID-19 pandemic. This is the natural role of the Official Opposition in a functioning democracy, and this past year, it has proven downright critical. From calling out inaction on rapid testing and vaccine approvals, to demanding criteria for support programs be changed so more people can qualify, the Conservatives have been nothing short of effective since O'Toole took the reins at the end of August.
Pressure from the Opposition also resulted in more information coming to light in the WE Charity fiasco than the Liberals would have ever given of their own volition. In fact, that entire scandal may have gone unnoticed were it not for the continued spotlight shone on it by the Tories.
But the moment is quickly approaching where the Conservatives will need to switch gears from opposing, to proposing.
The last two elections have proven it isn't enough to tell Canadians why they shouldn't vote for Justin Trudeau. They also need to be told why Erin O'Toole and Canada's Conservatives deserve your vote. O'Toole had many promising policies during his leadership bid; a conscious effort needs to be made to dedicate more time to highlighting what Conservatives would do in power, rather than why the Liberals should be removed from it. Considering most voters outside the Conservative base have been comfortable with the Liberal's approach thus far, convincing them otherwise may take some time.
2021 Resolution for NDP Leader Jagmeet Singh: The greater the contrast, the greater the potential. The expectations for Singh heading into 2020 were pretty low, with many assuming he would be content to prop up the Liberal government for at least 18-24 months. This time last year, the resolution for the NDP would simply be to survive the Trudeau Liberals, who significantly cut into the Orange Team's bench strength in 2019.
But the COVID-19 pandemic presented an opportunity for the NDP to wedge the government on policy issues they play best in. Support for workers, vulnerable communities, and families has been front and centre, as has racial inequity. NDP hallmark policies (namely, national pharmacare and childcare) are also on many minds in light of the pandemic. There has arguably not been a better time for the NDP to champion an unapologetically progressive agenda and get back to their social democrat roots. Singh must resolve to draw more contrast between his party and the Liberal government, who seem keen to adopt all of their policies and ideas as their own. What they propose won't be for everyone, but at least it would be different than what the government has already done.
They say most resolutions are ditched around mid-January (in fact, January 17h is Ditch New Year's Resolution Day). Here's hoping Canada's leading politicians can commit to holding out longer than most of our diet and exercise plans.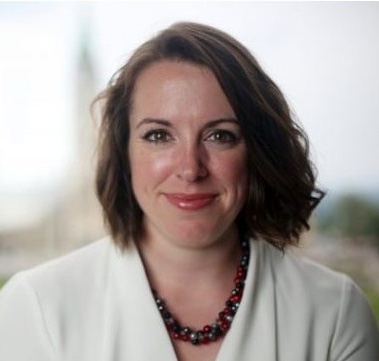 Kate Harrison is the Vice-Chair of Summa Strategies Canada, one of the country's leading public affairs firms. She is a regular political commentator on CTV, CBC, Sirius XM, and other talk radio stations, as well as a contributor to various news outlets. She has been involved in conservative politics for over fifteen years, and an active member of the country's conservative movement.