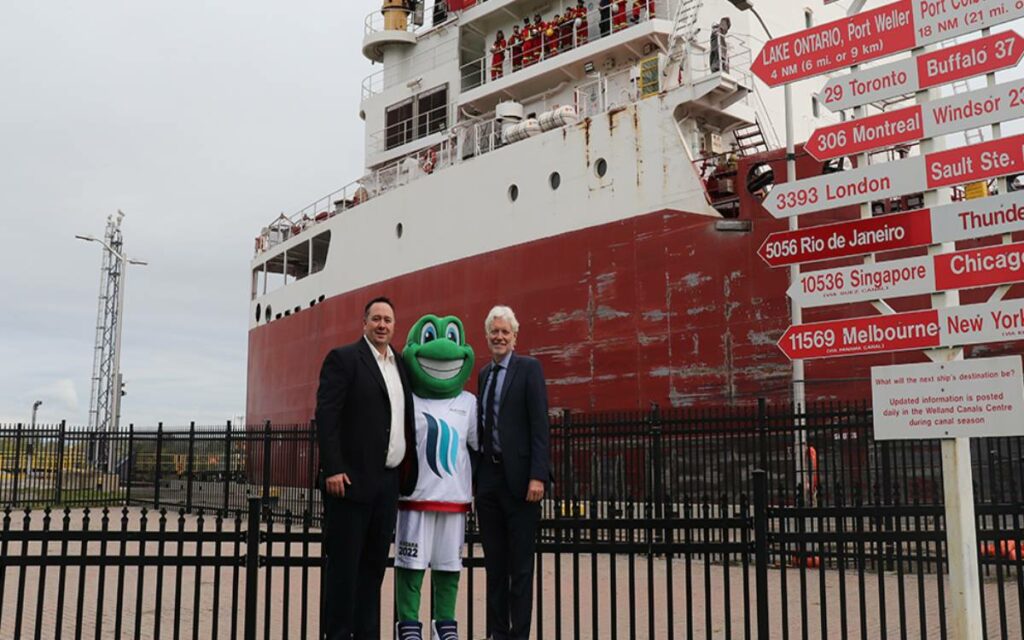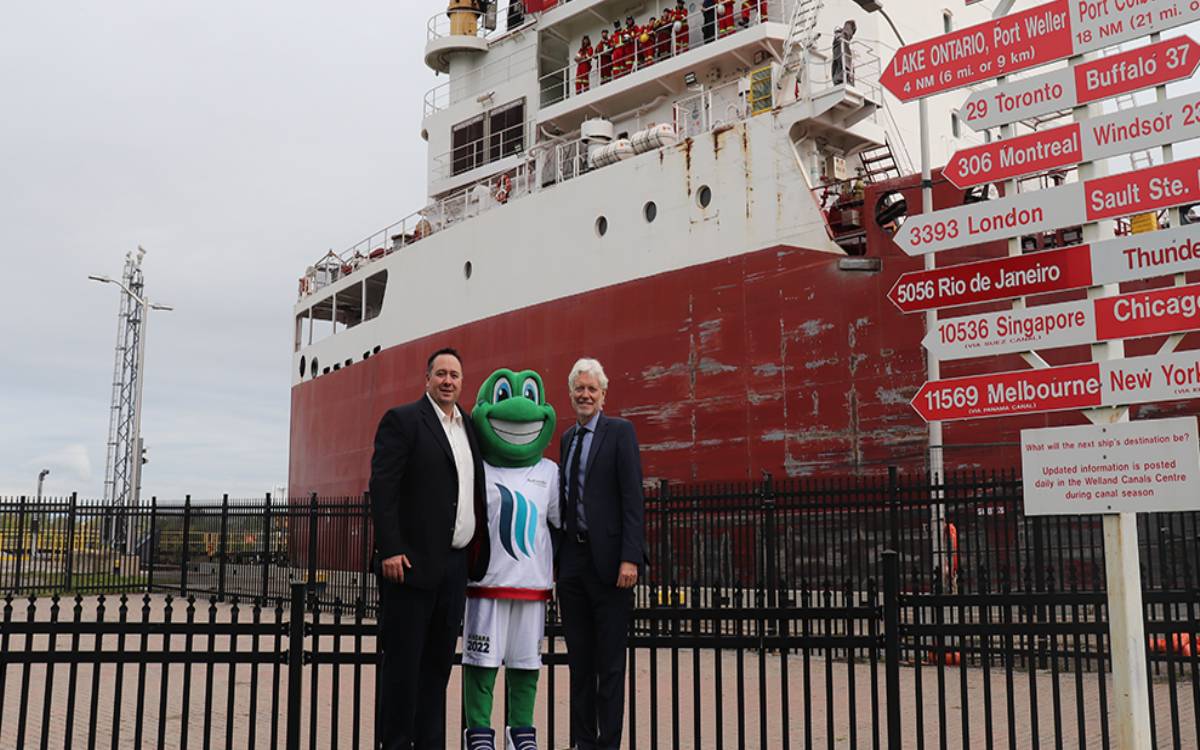 Officials and Games mascot Shelly announce the 2022 torch relay program at Lock 3 beside the St. Catharines Museum and Welland Canals Centre, Oct. 6, 2021. Photo credit: Niagara 2022 Host Society
When you think of Niagara, what first comes to mind?
Wineries. Yes. 
The casinos. For sure. 
But what about the Welland Canal? An engineering masterpiece that is almost 200 years old. 
With the Niagara 2022 Canada Summer Games 302 days away, the Niagara Host Society made a very unique announcement earlier this week.
In partnership with Canada Steamship Lines (CSL), the Canada Games torch will travel the Welland Canal System when it arrives in the Region next summer. 
"We can't wait to bring to life our Niagara 2022 Torch Relay program and this unique vision that was only made possible thanks to CSL," said Doug Hamilton, Board Chair of the Niagara 2022 Host Society. 
"Next summer's Niagara 2022 Torch Relay will represent an invitation to our country and local Niagara community to join in the journey of the Games as we prepare for the arrival of the next generation of Canadian athletes to the Niagara Region for Canada's largest multi-sport event."
"CSL has been navigating the St. Lawrence Seaway and the Great Lakes for over 100 years and this is truly a first for us," said Louis Martel, President and Chief Executive Officer of The CSL Group. We are honoured that one of our ships will be the first torch bearing vessel in the history of the Canada Games, bringing energy and excitement along our waterways."
"We look forward to carrying this iconic symbol that brings hope, unity and determination to our young athletes and communities."
"The Canada Games spark greatness across Canada by showcasing the best of our next generation of athletes and leaders," added Dan Wilcock, President and Chief Executive Officer of the Canada Games Council.
"The Torch Relay provides that initial spark, which will inspire the nation en route to the 2022 Canada Summer Games, while paying homage to the historic waterways of Ontario and the Niagara Region."
The Niagara 2022 Canada Summer Games torch will travel through all 12 municipalities that make up the Region, starting Saturday June 25 in Thorold. 
| | | | |
| --- | --- | --- | --- |
| Date | Location | Date | Location |
| Saturday, June 25 | Thorold | Saturday, July 16 | Pelham |
| Sunday, June 26 | Niagara Falls | Sunday, July 17 | West Lincoln |
| Saturday, July 2 | Fort Erie | Saturday, July 23 | Grimsby |
| Sunday, July 3 | Port Colborne | Sunday, July 24 | Lincoln |
| Saturday, July 9 | Wainfleet | Saturday, July 30 | Niagara-on-the-Lake |
| Sunday, July 10 | Welland | Sunday, July 31 | St. Catharines |
Over 5,000 athletes, their coaches and support staff will converge on Niagara from August 6 to 21, 2022.
Almost the same number of volunteers will make sure the Games run smoothly. 
For more information visit niagara2022games.ca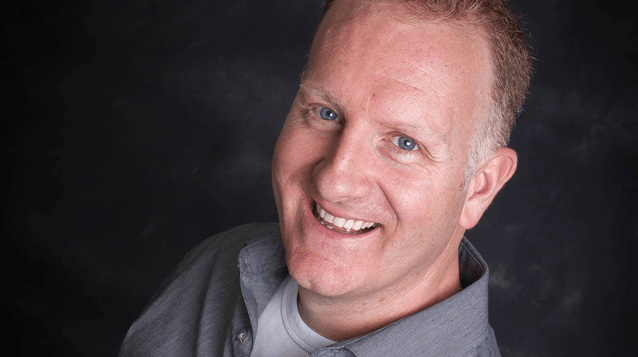 Rod Mawhood is a lifelong Niagara native who has had the pleasure of working in all three mediums – Radio, Print and TV – for over 20 years. His first announcing gig was with the then St. Catharines Stompers. Since then he's worked in radio and TV in Toronto, and currently is the announcer for the Niagara IceDogs and Niagara River Lions.
Rod also covers the Buffalo Bills for FOX Sports and the Buffalo Sabres for NBC Sports.