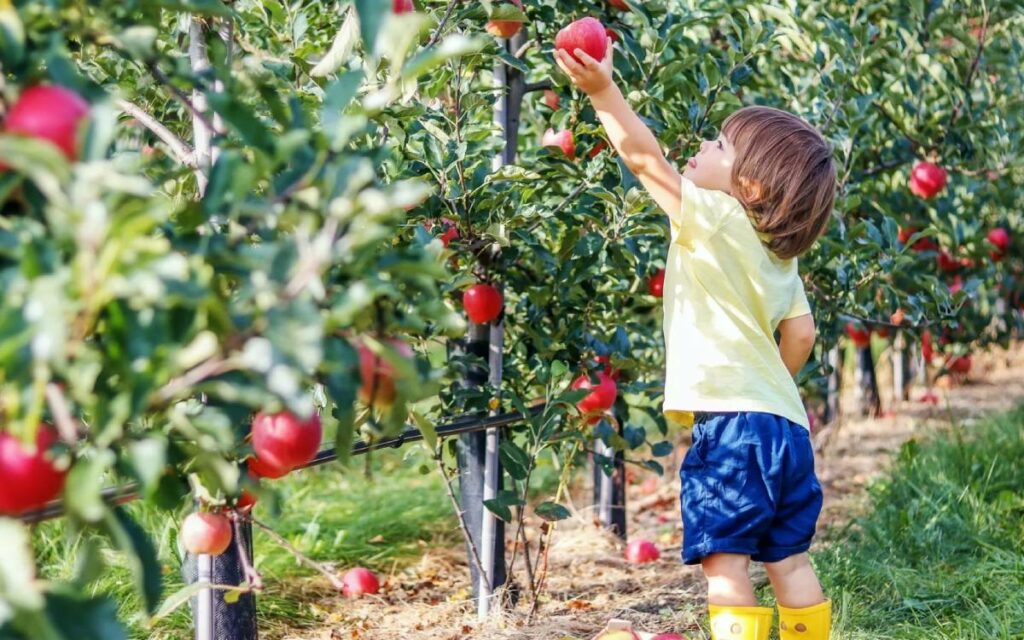 Plenty of orchards around the peninsula to bring the kids for some family fun. Photo credit: iStock 
September is the peak of the pick-your-own apple season in Niagara. Apple orchards are full and ready for those looking to get in the autumn spirit. 
According to the Apple Growers of Ontario, the Great Lakes region is ideal for apple growing as the deep waters help to create the appropriate temperatures necessary for apple crops.
The most popular varieties in Ontario are Gala, McIntosh, Honeycrisp, Ambrosia, and Red Delicious. For specific apple harvest dates, keep an eye on local farms yield schedules, as some varieties are not ready until October.
Here are some local pick-your-own-apple orchards in the Niagara area to choose from:
Silmaril Farms
Silmaril Farms in Grimsby is a family run pick-your-own apple orchard with nine varieties of apples including Mcintosh, Empire, Fuji, Red and Golden Delicious, Mutsu, Ida Red, Pink Lady and Honey Crisp. In addition to apples, the farm also offers freshly pressed and pasteurized apple cider, free run brown eggs, and air chilled chicken. 
Pick-your-own hours are typically Friday, Saturday and Sunday 10:00am -4:00pm, but it is highly recommended guests call ahead for updated daily picking conditions. 
Richardson's Farm and Market
In Dunnville, Richardson's Farm and Market has a two day only pick-your-own apple event taking place on September 30 and October 7 from 9:00am-4:00pm, while supplies last. In the spring of 2021, a new apple orchard was planted with rows of Ambrosia and Honey Crisp apples, and is now ready to harvest this fall season. Apples are priced by 5lb, 10lb, and 20lb bag. There will also be wagon rides to the pumpkin patch, goats, and a straw jump area to enjoy. 
For more information and admission pricing visit the Richardson's Farm and Market website. 
Puddicombe Estate Farm
A bit further afield in Stoney Creek is Puddicombe Estate Farm, Winery and Cider. Puddicombe is a family-run fruit farm first established in 1797. Apple season is available from September through October with a vast range of apple varieties from Ambrosia to Granny Smith. The Puddicombe Country store also offers freshly made seasonal baked goods, preserves, and country decor.
Besides pick-your-own apple orchards, local apples are, of course, available throughout the fall at one of the many farm stands or farmers markets across Niagara.