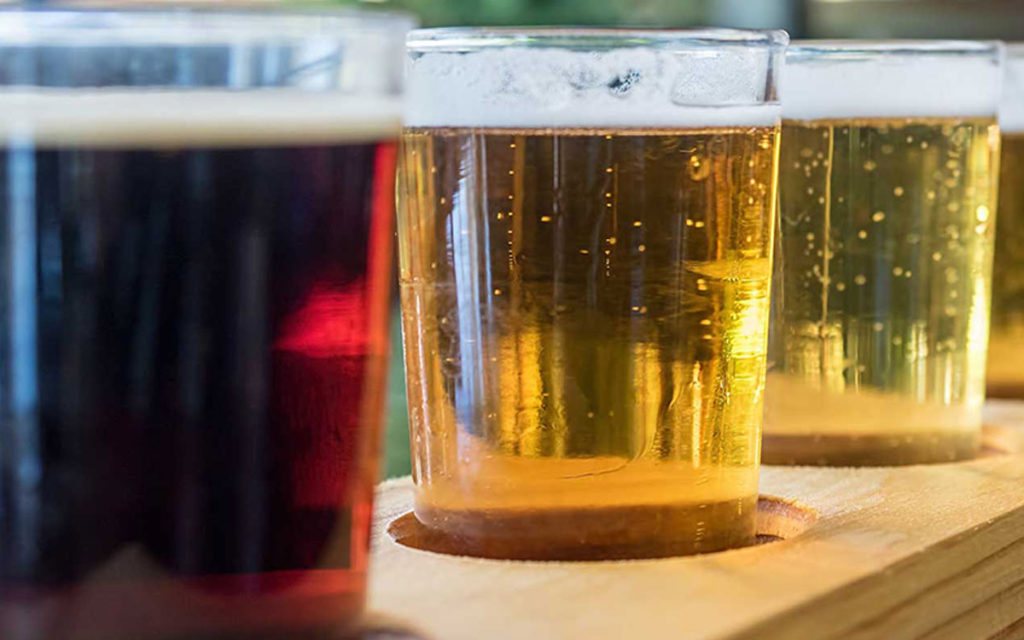 Over the past few years, small-batch breweries have taken the Niagara region by storm. What were once rare establishments are now present in every corner of the peninsula.
For craft beer producers looking to avoid an increasingly crowded Greater Toronto and Hamilton area, Niagara offers an attractive, spacious, and relatively affordable location to set up shop.
Prior to 2010, Niagara had only three commercial microbreweries: the Merchant Ale House, Taps Brewing Company, and Niagara's Best Brewery.
Less than a decade later, 15 local brewhouses speckle the tract between Beamsville and Crystal Beach.
"Niagara has existing wine and agriculture infrastructure and expertise, which makes it a great place to build a brewery", said founder of Lock Street Brewing Company, Wolfgang Guembel.
Lock Street, which began operations in 2016, is one of eight Niagara craft breweries to open its doors over the last four years.
Kame and Kettle Brew Works, another recent addition to the area's beer scene, opened in Fonthill in 2015. Dave Beifuss, co-founder of the artisan brewhouse, believes small-batch beer can become as synonymous with the region as wine.
"Craft breweries will just have to find their niche", said Beifuss. "Success will be achieved if breweries follow a similar path [to the wineries]."
Like the local viniculture, the region's beer industry is vibrant and diverse. Breweries come in all styles and sizes.
From upscale establishments like the Exchange Brewery in Niagara-on-the-Lake, to more low-key, homey venues like Plan B Beer Works in St. Catharines, Niagara has something to offer beer enthusiasts of every stripe.
The latest brewery to open in the region, Bench Brewing Company, stretches across eight stunning acres in Beamsville. It boasts a 50 hectolitre brewing system and its own hops field.
"The area provides some of the best locally grown produce in Canada. The fruit, hops, and growing conditions are ideal for making delicious beer that has a terroir element in its production", said company founder Matt Giffen.
"I believe anything is possible in Niagara. The artisanal culture and supportive communities – not to mention Canada's leading teaching brewery at Niagara College – are already in place."
Opened in 2010, Niagara College's Teaching Brewery was named "Best Brewing Program in North America" three years ago at the U.S. Open Beer Championship.
Professor Jon Downing, the institute's brewmaster, remarked on the success of the program and its students.
"[Graduates] are running or working for breweries in the Caribbean, South Korea, New Zealand, the United States, and from coast to coast to coast in Canada."
"Locally, we have graduates running a number of breweries, with others in lead brewer and assistant roles. In fact, I know we have, or have had, students working in every brewery in Niagara at some point", said Downing.
The head brewer at Brimstone Brewing Company, Zack Gagnon, is one such graduate. The Ridgeway brewhouse where Gagnon works was founded in 2013. Today, it operates out of an over 100 year-old refurbished church, which doubles as a multi-use community centre.
"Niagara has many smaller communities, each different and rich in history", said Brimstone owner Jason Pizzicarola. "A brewery in these communities is an asset [that can provide] local pride and community support."
Unlike in some larger urban areas, craft brewers around Niagara are tightly woven into their respective communities, as well as to one another.
Collaboration amongst competitors is the norm in Niagara.
"We've actually found the other craft breweries to be very cordial and collaborative", said Brett Read, co-founder of Decew Falls Brewing Company in St. Catharines. "We share ideas and work together at many different beer, wine, food, and music festivals and fundraising events."
Echoing Read's sentiment, Dave Beifuss of Kame and Kettle Brew Works said that the collaborative spirit of Niagara brewers is bred by a common struggle: "trying to grow a business in the shadow of macro brewing giants".
Ubiquitous beer brands made by industry behemoths do indeed dominate the Canadian market. Though, by offering more unique, sapid brews, local craft beer producers are beginning to chip away at the oligopoly held by companies like Molson and Labatt.
Festivals, where local residents can sample new creations, work wonders to help expose people to different tastes and types of beer. In 2018 alone, Niagara will host half a dozen beer festivals.
The next festival is set to take place this Sunday.
Almost all of the above-mentioned breweries will be present at the event.
If interested in exploring Niagara's growing craft beer scene, head to downtown St. Catharines on July 15!
For more details see: mydowntown.ca/calendar/events/view/quench-downtown-craft-beer-festival