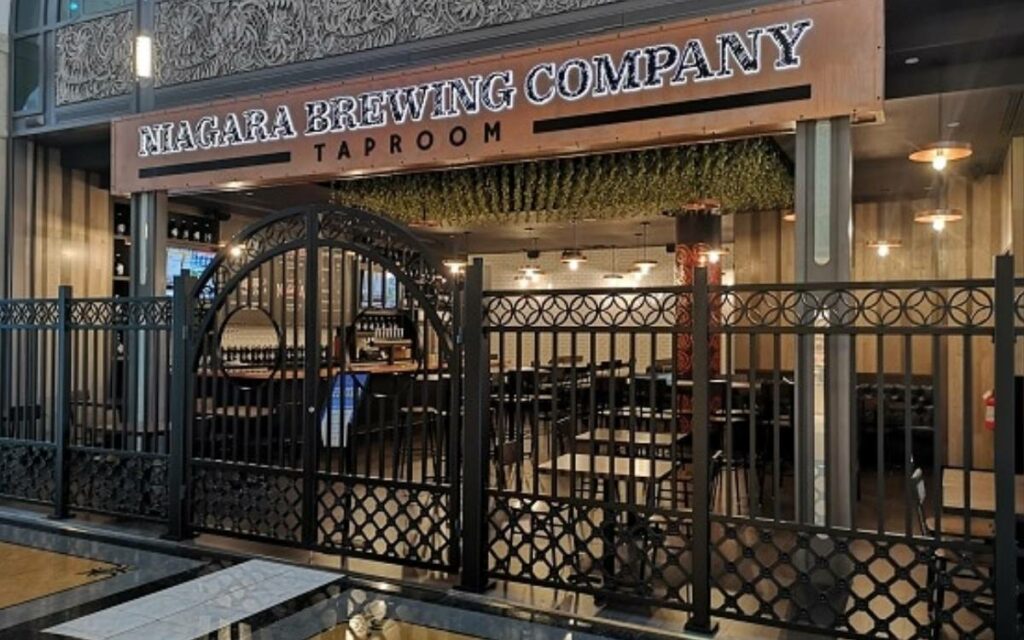 The new site inside the Galleria Shops at the casino (pictured) is just a stone's throw away from the brewery's flagship location on Clifton Hill. Photo credit: Niagara Brewing Company 
On Friday last week, Niagara Brewing Company, one of the region's newest and most popular craft breweries, opened a second location in the city of Niagara Falls. 
Located just down the road from the company's flagship Clifton Hill site, the newly established 'Niagara Brewing Company Taproom' is situated inside the Galleria Shops section of the Fallsview Casino Resort at 6380 Fallsview Blvd. 
The 65-seat space offers the brewery's full slate of signature craft beers – including the Niagara Premium Lager, Honeymoon Beach Radler, and Irish Red Ale – and rotating taps of various seasonal options. 
Beer flights and a selection of the brewery's most well-liked food options are also available at the new location, as well as three feature items offered exclusively at the casino site. 
Opened in 2015 at the south end of Clifton Hill beside the Rainforest Cafe, Niagara Brewing Company's first location sits on the former site of the Foxhead Inn, one of the first luxury hotels to be built in Niagara Falls in 1925. 
The brewery is owned by Canadian Niagara Hotels, which owns and operates a diverse group of hospitality businesses around Niagara Falls, including the Sheraton Fallsview, the Marriott Fallsview, Marriott on the Falls, and dozens of retail shops and dining establishments. 
In addition to the brewery and new taproom, Canadian Niagara Hotels also owns Niagara Distillery, which opened summer 2019 beside Niagara Brewing Company. 
The Niagara Falls brewery is a 2021 recipient of TripAdvisor's Travellers' Choice Award, a designation reserved for only 10 per cent of the website's top destinations and experiences.