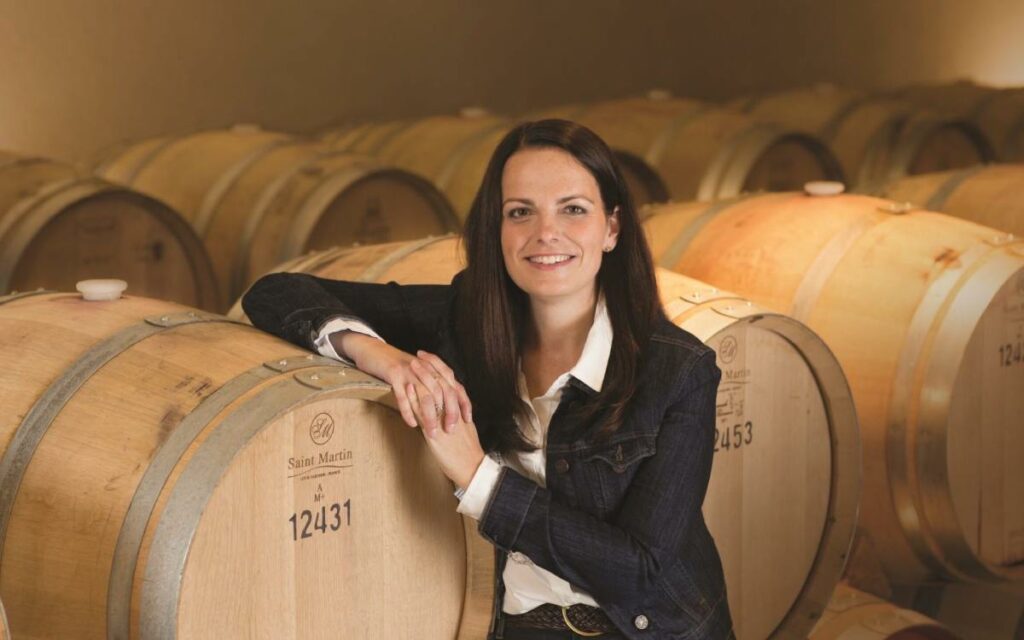 Peller Estates' Katie Dickieson (pictured) awarded 'Winemaker of the Year'. Domaine Queylus' Brooke Husband named Paul Pender Memorial 'Rising Star' for 2023. Photo credit: ARTiculation Group/Joseph Chan
Earlier this month, the winners of the 2023 Ontario Wine Awards were announced at a ceremony hosted by Niagara College.
Katie Dickieson of Peller Estates was named 'Winemaker of the Year' after her Niagara-on-the-Lake winery took home six medals, including four gold.
"We are so proud to share that our very own Katie Dickieson was named Winemaker of the Year at the Ontario Wine Awards," Peller Estates posted to Instagram after the awards ceremony. "We were also pleased to be awarded four Gold Medals for several of our wines."
Peller won gold for its Private Reserve Sauvignon Blanc 2021, Signature Series Cabernet Franc 2020, Private Reserve Late Harvest Vidal 2021, and Riesling Icewine 2019.
A total of 558 wines from approximately 80 industry-leading wineries across the province were entered in this year's competition at George Brown College. 
Wines were assessed by a panel of 10 judges.
In all, 102 medals were handed out: 40 gold, 32 silver, and 30 bronze.
Niagara cleaned up in several categories, with a number of wineries from across the region taking home multiple gold medals. 
Domaine Queylus, located just outside of St. Anns in West Lincoln, won two gold medals for its Cabernet Franc Tradition 2020 and its Pinot Noir La Grande Réserve 2018. 
In addition to its two golds, Queylus' assistant winemaker Brooke Husband, who graduated from Niagara College's Winery and Viticulture program in 2018, was named this year's Paul Pender Memorial 'Rising Star'. 
Beamsville's Thirty Bench won six awards in total, including three gold medals, a silver, a bronze, and one of the three coveted Students Choice Awards for its Winemaker's Small Lot Merlot 2020.
Niagara-on-the-Lake's Konzelmann Estate Winery was awarded no less than seven medals at this year's competition, including two gold, four silver, and one bronze. 
Trius Winery took home three golds and a silver, winning top honours for its Showcase Blanc de Blancs N/V, Showcase Wild Ferment Sauvignon Blanc 2020, and Showcase Late Harvest Vidal 2021. Alongside Beamsville's Thirty Bench and Villa Romana Estate Winery, it also won one of the three Students Choice Awards for its Brut Rosé N/V.
Ravine Vineyard took home two gold and two bronze, earning top marks for its Cabernet Franc 2020 and Reserve Red 2020. 
St. Catharines' 13th Street Winery won four medals, including gold for its Gamay 2021.
Niagara College Teaching Winery earned two gold medals and a silver. 
Chateau des Charmes won two silver medals and three bronze.
Megalomaniac took home two gold medals for its Narcissist Riesling 2021 and Bubblehead Limited Edition Brut N/V.
While Henry of Pelham Family Estate Winery won the Label Design Award for its Speck Bros. Lazarra Bianco Secco.
A number of other Niagara wineries also brought home hardware at this year's awards. To view the entire list, go to the Ontario Wine Awards website here. 
Many of the top winners at the Ontario awards will look to win national recognition at WineAlign's upcoming 2023 National Wine Awards of Canada. The competition starts this Saturday, June 24 and runs until June 28 in Penticton, British Columbia.