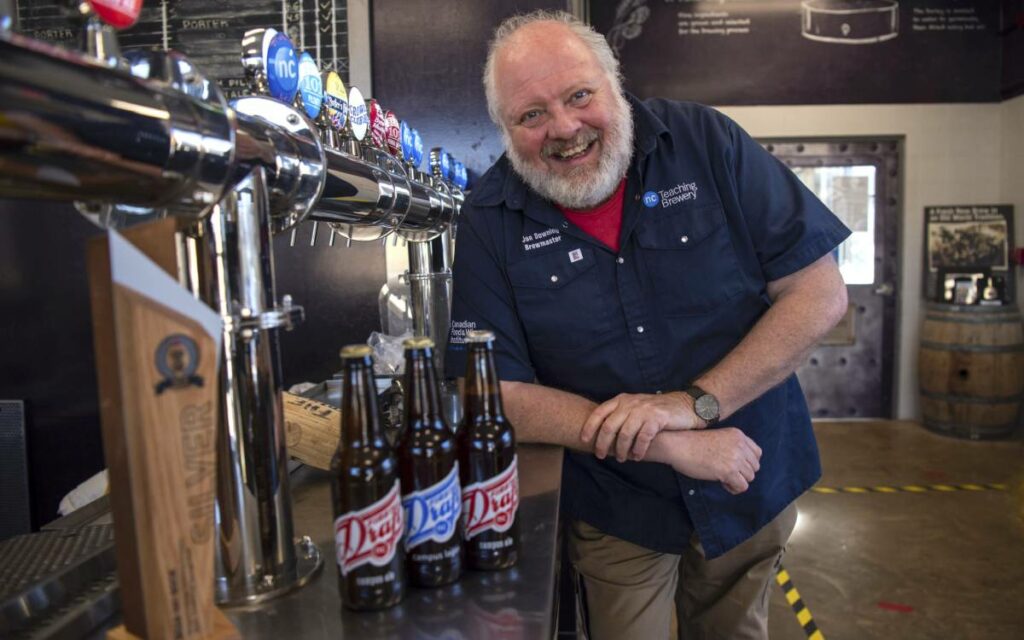 Winner Jon Downing (pictured) has been with the college's groundbreaking teaching brewery since its establishment over a decade ago. He's one of three staff members at the school to be presented with a Minister's Award of Excellence this year. Photo credit: Niagara College
Niagara College (NC) brewmaster Jon Downing has won a 2021 Minister's Award of Excellence for "working with industry and business to drive economic development."
The annual award, first introduced at the onset of the pandemic and now in its second year, is given to a select number of post-secondary faculty, staff, and graduate students by Ontario's Ministry of Colleges and Universities for achievements related to leadership, research, and teaching on campus, around the community, and beyond.
"Faculty, staff and graduate students across Ontario's postsecondary sector rose to the challenge of helping students during these truly unprecedented times," said Minister of Colleges and Universities Jill Dunlop. "The real winners are Ontario's students and communities who truly benefit from the incredible work being done at our institutions across the province."
A key part of the program since its inception, Downing helped launch Canada's first 'Brewmaster and Brewery Operations Management' diploma at Niagara College in 2010. 
Under Downing's leadership, the school's teaching brewery has won numerous provincial, national, and international awards for its student-crafted brews, as well as prepared hundreds of graduates for promising careers in the province's ever-growing craft beer scene.
"Our brewing program at Niagara College has been instrumental in supporting the incredible growth of craft brewing in Ontario. Our Brewmaster Jon Downing has been at the lead of our NC Teaching Brewery since its inception over a decade ago and we are proud of his mentorship and support for the future brewers of Canada," said dean of the college's Canadian Food and Wine Institute Craig Youdale, who nominated Downing for the award.
"Jon is not only supportive of our students, but also of the entire brewing community, by ensuring the growth and development of the industry that he loves. Our entire division is proud to have Jon on our team and we look forward to his direction to many more future brewers to come."
The province received nearly 700 nominations for this year's Minister's Award of Excellence competition, selecting 30 recipients. 
For Downing, receiving a provincial award for his efforts at the college was "totally unexpected".
"I am honoured and deeply humbled that people think this much about what we have done to put me forward for the award, let alone to be chosen as the recipient," he said.
Before Downing arrived at Niagara College, he spent 20 years opening more than 100 breweries around the world. It was his involvement with opening Ontario's first brewpub in Welland which led him to move to Canada from England in 1985.
"As we come up to the 10-year anniversary of the graduation of the first class of students, they and those that followed are the ones who have made the impact on the industry – some starting their own companies, and others working in breweries of all sizes, as brewers, head brewers and brewmasters of some of the top breweries in Ontario, leading the incredible growth we have seen in the last decade," said Downing. 
"To have been a part of this all has been my pleasure, to be recognized for the part I played is awesome."
Alongside Downing, two other Niagara College staff members – Gordon Maretzki and Amal Driouich – were presented with a joint-Minister's Award of Excellence for their work producing face shields out of the school's Walker Advanced Manufacturing Innovation Centre. 
Each of the winners received a certificate signed by Minister Dunlop and were honoured at a congratulatory virtual meeting on Jan. 21, 2022.