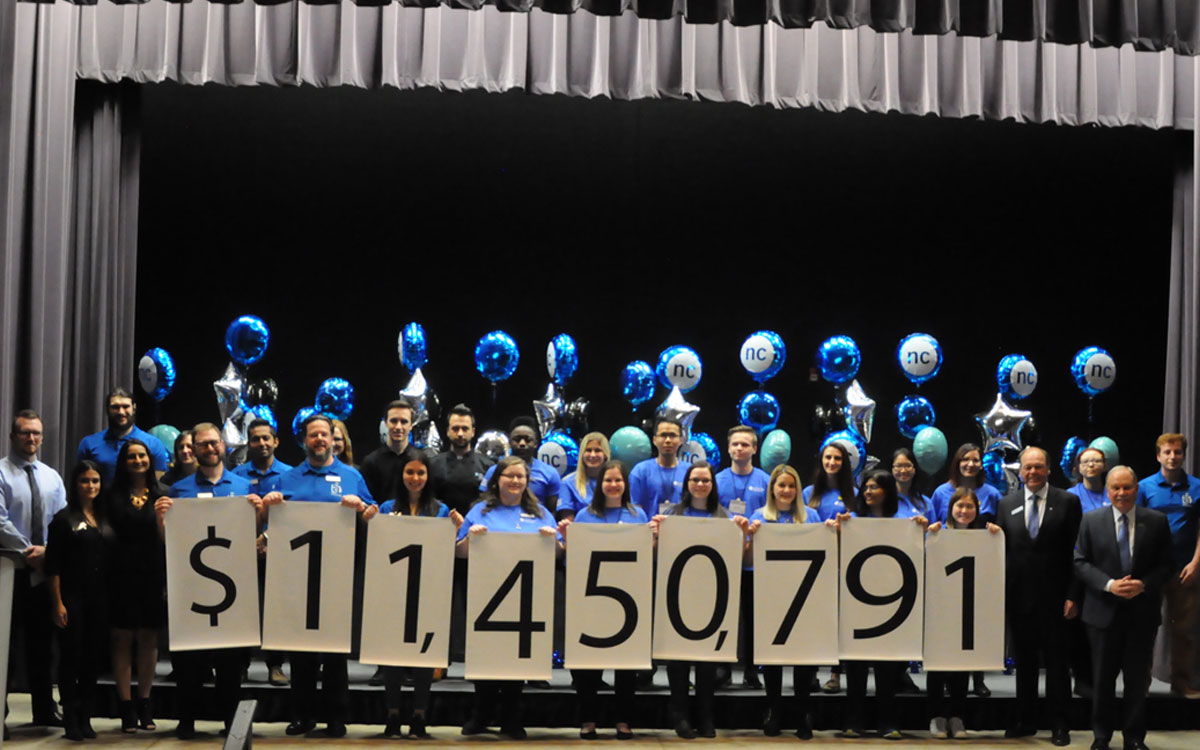 Photo: Niagara College President Dan Patterson, John Scott, Chair of Niagara College's Board, members of Niagara College's Student Administrative Council, and Niagara College students reveal the total amount raised through the Achieving Dreams campaign. The campaign far exceeded its goal of $7 million, raising a total of over $11 million. 
Niagara College has 11 million reasons to thank those who have generously supported students through the recently completed Achieving Dreams fundraising campaign. The Achieving Dreams campaigned far surpassed its goal of $7 million, raising a total of $11,450,791.
The campaign was launched in April 2015, with a goal of supporting student success through campus redevelopment projects; equipment and learning resources; and scholarships, bursaries, study-work abroad and student leadership development opportunities.
Thanks to donors' generous support, 788 new student scholarships and bursaries were created, and $1.6 million of new instructional equipment was purchased to help provide students with the up-to-date equipment and support they need to excel in their studies.
Donations have also helped fund 203,000 square feet of new and renovated learning spaces, providing new and expanded facilities to enhance the student experience and expand the College's research and innovation capabilities. Examples are the 49,000 square foot Innovation Complex to support Niagara's agricultural-business sector, and the Walker Advanced Manufacturing Innovation Centre, where teams of students and faculty work with local manufacturing companies on applied research projects to help these companies enhance and grow their businesses.
"Niagara College is extremely grateful to the many individuals and organizations who have so generously supported our students through the Achieving Dreams campaign," said Niagara College President Dan Patterson. "Whether it's learning equipment, innovative learning environments or financial aid that helps students pursue their dreams, your contributions have made, and will continue to make, a lasting impact on the life and success of our students."
Three Niagara College alumni shared their own personal stories of success.
Daniela Cortes Aristizabal graduated in 2015 from the College's Business–Sales & Marketing program, and will graduate for a second time in 2019 from NC's Mechanical Engineering program, joining her father and her sister, who are both graduates of the same program. Aristizabal benefitted from the state-of-the-art equipment and innovative learning opportunities provided through the Walker Advanced Manufacturing Innovation Centre. The Centre was funded in part by a generous gift from Walker Industries and the Walker Family.
Gurjeet Dhaliwal grew up in India and immigrated to Canada at the age of 20. Arriving in Canada without any support or income, Dhaliwal had a master's degree in Math and Economics but could only make a living by working a series of odd jobs. She entered Niagara College's Dental Hygienist program and is now a proud graduate. Thanks to donors, she was able to learn on the latest high-tech equipment that allowed her to seamlessly transition into the workplace.
Connor McCulloch is also a proud Niagara College graduate and is living his dream as an advanced care paramedic. Receiving a scholarship helped to alleviate some of the financial pressures that came with being a student, and allowed him to focus on his studies.