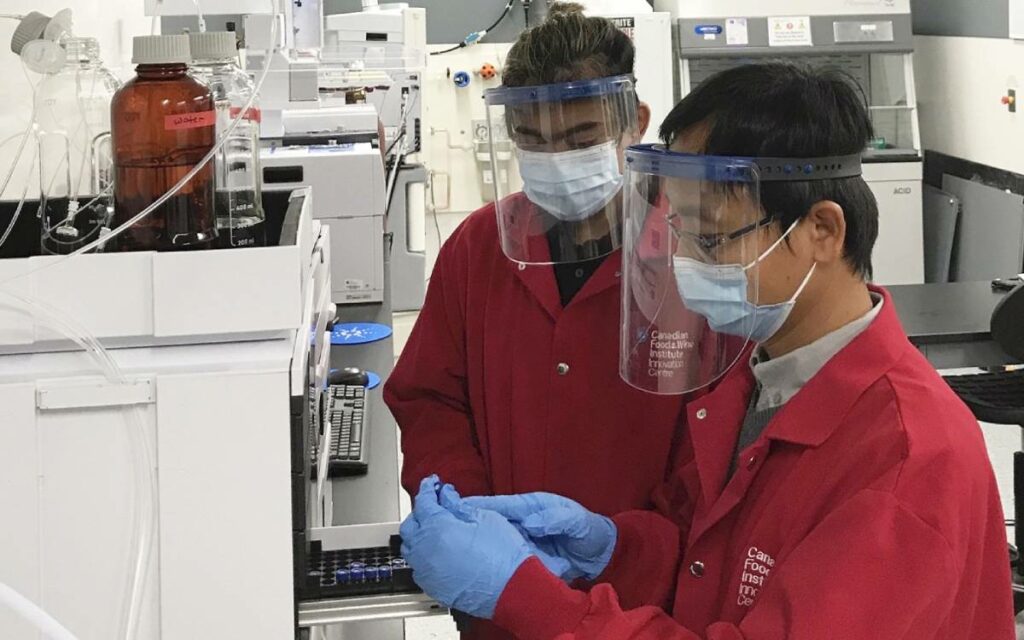 Food scientist Dr. Zhengtao Zhao (right) and research assistant Umar Sher work inside the labs at the CFWI Innovation Centre on method development for the determination of active cannabis compounds. Photo credit: Niagara College
Once again leading the way in real-world innovation in the food and beverage industry, Niagara College has launched an applied research project to study the safe and reliable development of edible cannabis products. 
Through the 'Cannabis Edibles Applied Research' initiative – administered by the Canadian Food and Wine Institute (CFWI) Innovation Centre, part of the college's Research and Innovation division – experts are conducting research and development related to cannabis-infused products such as gummies, chocolate, hard candy, baked goods, and non-alcoholic beverages like tea. 
"One of the goals is to contribute to the cannabis industry with scientific knowledge to support and facilitate commercialization of cannabis-infused edibles," said Marc Nantel, vice-president of research and external relations. "Niagara College has the team to produce and teach cannabis production practices, and perform applied research projects with the cannabis and related industries in the areas of food and beverage product development and food safety."
Niagara College made history in 2018 when it launched Canada's first postsecondary credential in the production of commercial cannabis. In the few years since its establishment, the Cannabis Institute has become an industry leader in cannabis research and education. 
"Conducting cannabis edibles R&D for the food and beverage sector is a natural extension of the successful applied research that has been ongoing through our Agriculture & Environmental Technologies Innovation Centre and with the College's School of Horticulture, Commercial Cannabis Production program for the cannabis industry," said Research and Innovation director Krystle Grimaldi.
Canada legalized the recreational use of most cannabis products in October 2018, with edibles phased in and given legal status a year later. Following a required approval and procurement process, the first edible products hit the Canadian market at the end of 2019. 
With less than two years of commercial production experience for many companies, there is thus a lack of validated scientific knowledge for the infusion, stability, degradation, and interaction of cannabis in foods and beverages. To help industry fill the void, the CFWI Innovation Centre was granted a Single Site-Multiple Protocol research licence in March 2020. The licence is unique in that cannabis licences generally focus on one researcher, one industry partner, and one protocol.
"This licence model fits Niagara College's research framework in that it involves multiple foci, with numerous industry partners and a higher volume of unique projects from a range of clients," said Nantel.
In sum, the centre's key area of investigation involves the infusion and dispersion of active ingredients like CBD (cannabidiol) and THC (Tetrahydrocannabinol – the key psychoactive component in cannabis) for food and beverages containing cannabinoids. 
"Understanding how the cannabinoids behave in different media and food matrices is crucial to success in developing safe, stable and consistent cannabis edibles," said Ana Cristina Vega-Lugo, Senior Food Scientist at the CFWI Innovation Centre. "At the same time, we are dedicated to contributing to advancing the body of scientific knowledge around this evolving market."
The CFWI Innovation Centre is currently engaged in research with a number of industry partners, including Hamilton's 'Dolled Up Desserts'. The Research and Innovation team is helping the award-winning gluten-free, vegan bakery finalize and test formulations for its first line of infused edibles.
"We are innovating a product that will be completely novel in the legal space, and we needed to ensure, as a small business, we meet federal regulations. We've learned a lot about the processes involved with testing potency and how to improve our formulation," said bakery founder Katarina Poletto.
"The team is enthusiastic, curious and very good at explaining their processes to us. We look forward to finalizing the project."
All of the centre's research projects incorporate the federal government's Cannabis Act framework through enforcement of strict safety and quality regulations. Given the competitiveness of the cannabis market, strict confidentiality is maintained throughout and after each project and all intellectual property goes back to the involved industry partner.