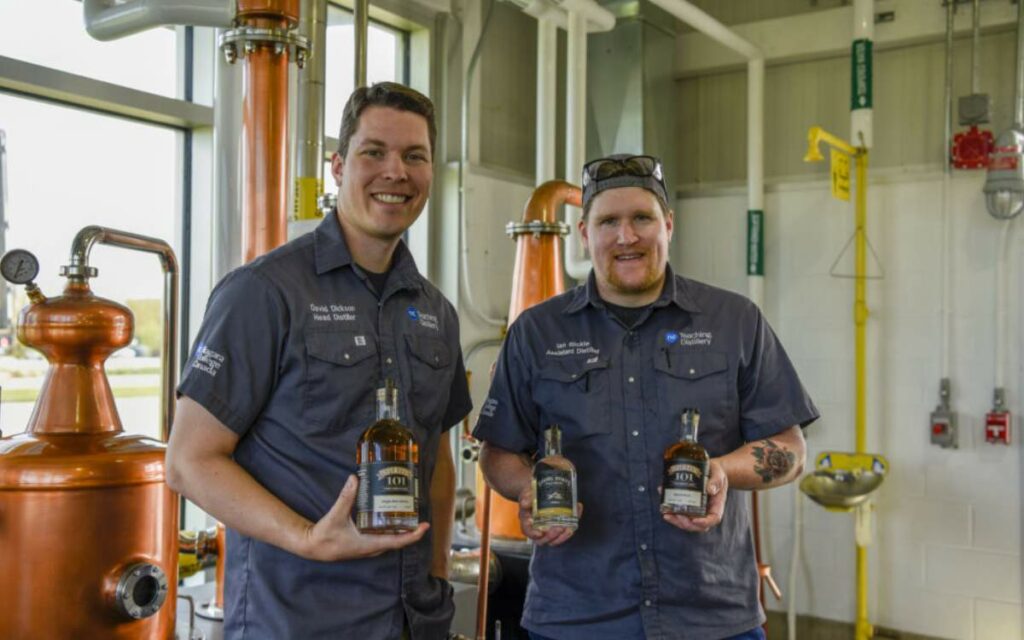 Head Distiller David Dickson (left) and Assistant Distiller Ian Bickle hold up the college's award-winning craft spirits. Photo credit: Niagara College
Niagara College's School of Wine, Beer and Spirits continues to haul in the hardware for its high-quality, innovative creations in the alcohol sphere. 
In its latest impressive showing on the international stage, the school's Teaching Distillery won two silver medals and a bronze at the 2023 U.S. Open Whiskey and Spirits Championship.
The silvers were awarded to the distillery's Spirits 101 Single Malt Whisky (Canadian Whisky category) and Spirits 101 Spiced Rum (Rum Spiced/Flavoured category), while School Spirits Vodka (Vodka category) won bronze.
"Winning three international awards shows that our Teaching Distillery produces some of the best craft spirits in the world," said Steve Gill, General Manager of Niagara College's Learning Enterprises. "We are so proud of our NC students who are involved with the making of all of our premium spirits, with instruction and guidance from our expert distillers and faculty."
School Spirts Vodka and Single Malt Whisky are from the Teaching Distillery's core line of spirits, made with student involvement, while Spiced Rum launched as a student capstone project.
"It's tremendously rewarding when student projects garner international awards," said Maija Saari, Associate Dean of the college's Culinary, Tourism and Beverage Studies division. "The outcome speaks to the remarkable creativity the students bring to the professional distillers, who help them nurture the ideas to life. It is truly a collaborative and unique learning environment."
The Teaching Distillery is no stranger to reaching the podium at the annual competition. Last year, it won two golds and a bronze at the U.S. Open. In 2021 and 2020, it won a bronze each year. 
The Teaching Distillery is a 2,500-square-foot facility located at Niagara College's Daniel J. Patterson Campus in Niagara-on-the-Lake. It is home to the school's one-year Artisan Distilling graduate certificate program within the college's School of Wine, Beer and Spirits. 
To read more about the award-winning spirits and the distillers and students who produced them click here.