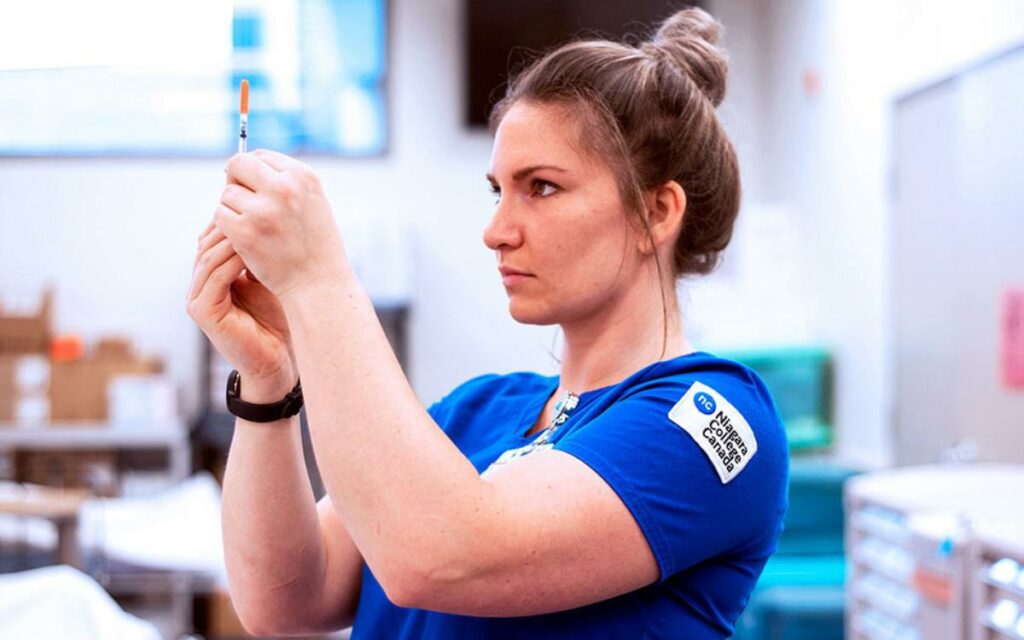 First intake set for fall 2024. New program to build off of college's existing two-year diploma in practical nursing. Photo credit: Niagara College
This time next year, Niagara College will welcome its first cohort of 60 students into its brand-new, stand-alone Bachelor of Science in Nursing (BScN) program. 
On Wednesday, the college announced that it's been granted consent by the Ministry of Colleges and Universities to help train Ontario's next generation of registered nurses and address the province's growing nursing shortage.
"Niagara College is leveraging its rich history of preparing career-ready healthcare professionals, who are making an impact here in Niagara and around the world, to create enhanced options for students, while helping to address an urgent need for highly trained registered nurses in our healthcare sector," said Niagara College president Sean Kennedy.
"The BScN program will help meet the current and emerging needs of the nursing workforce, particularly within southwestern Ontario communities and the province of Ontario."
The BScN program will complement the school's existing PSW program and two-year practical nursing diploma, which it's offered since 2006. 
The program will have a strong clinical focus supported by state-of-the-art simulation labs and placement partnerships. Combining theory and practice, the BScN will prepare students for careers in the nursing field or further study at the graduate level. 
"As with the Practical Nursing program, the BScN emphasizes experiential learning to optimize nursing graduates' knowledge, skill and judgement in providing client care," said School of Nursing and PSW dean Courtney Evers. 
"Not only do we need to offer the BScN program to provide more options for students, we need to offer this program to help address the current registered nurse shortage."
According to a report from the Registered Nurses' Association of Ontario, RNs and registered psychiatric nurses have had the largest increase in job vacancies over the past two years – up by 85.8 per cent – of all measured occupations in Canada. 
RN vacancies in Ontario have more than quadrupled since the beginning of 2016 and have more than doubled since the start of the pandemic.
The new offering follows changes by the Ontario government in early 2020 to permit colleges to offer the BScN program independently, without a university partner. 
"Launching this program feels like a return to the history and legacy of nursing in Niagara," said Vice President, Academic Fiona Allan. 
"We will be in an even better position to meet the health human resource needs of the region. And by offering the PSW certificate, Practical Nursing diploma, and Honours Bachelor of Science in Nursing, we will be able to offer students many different pathways to achieve their career goals."
Before its closure during the 1990s, the former Mack School of Nursing in St. Catharines, which eventually became part of Niagara College, was the oldest nursing school in Canada.
The new registered nursing program will be based out the college's Welland campus. 
It's anticipated the school will also receive approval for an RPN to BScN bridge, which would allow practical nursing students to enter year three of the BScN program. 
For more information or to apply, visit niagaracollege.ca/basn.