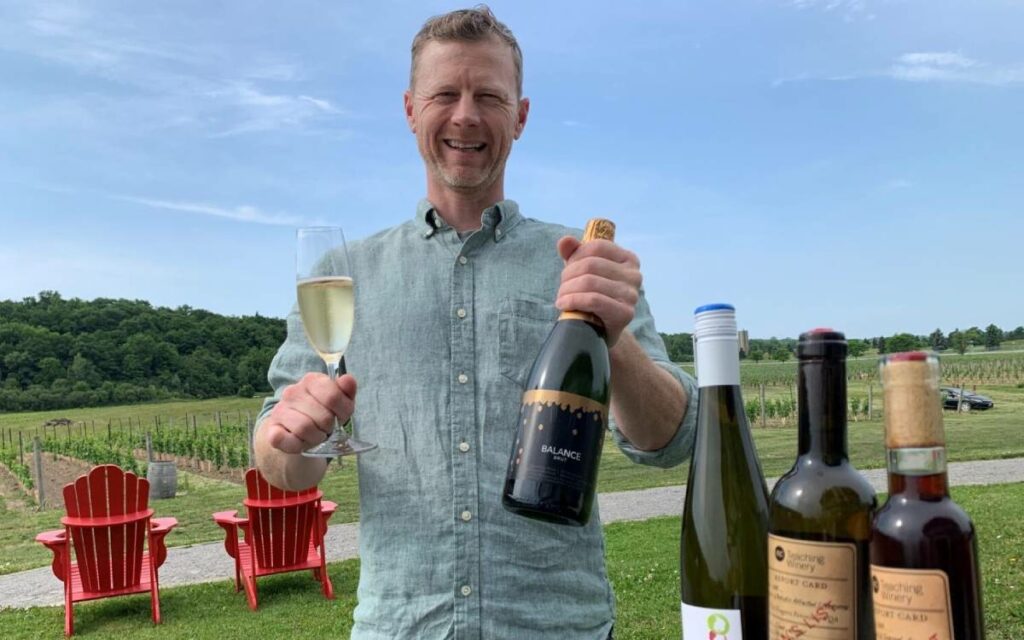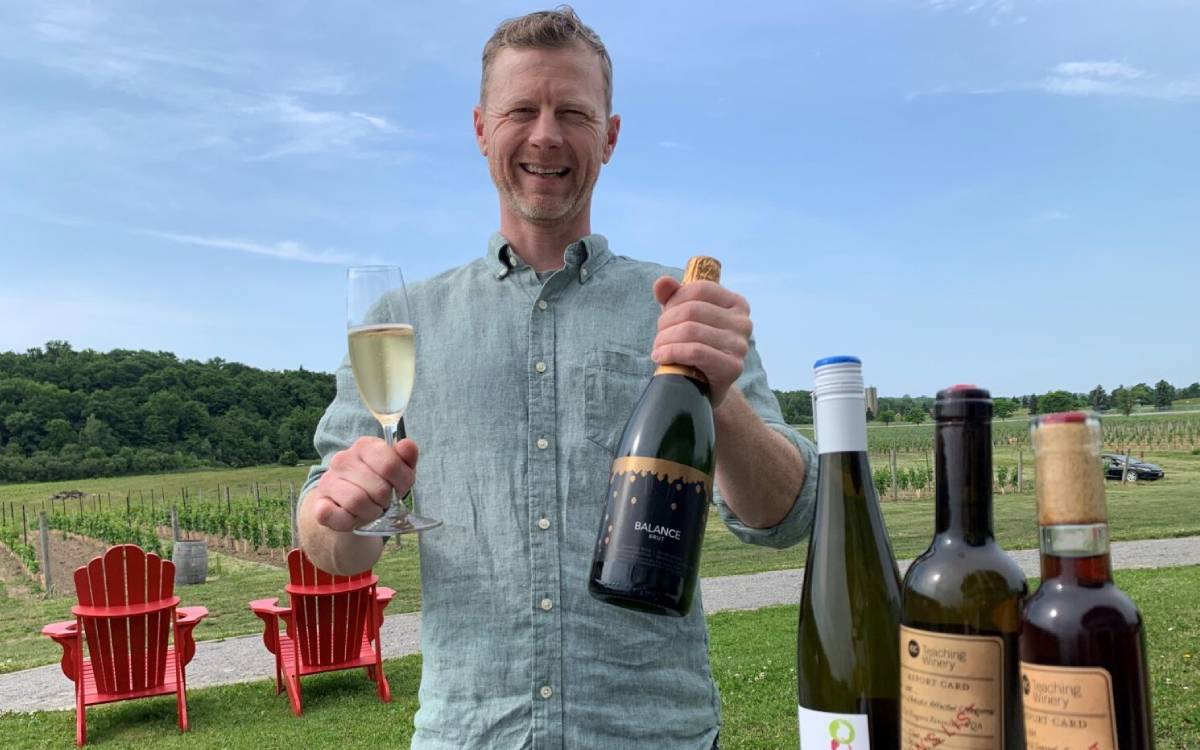 Head winemaker at Niagara College's Teaching Winery Gavin Robertson raises a glass of the 2022 All Canadian Wine Championships' 'Best Sparkling Wine of the Year': Balance Brut (NV). Thirty Bench Wines, another Niagara-area vintner, also took home 'Best White Wine of the Year' at the 2022 competition. Photo credit: Niagara College
Anyone looking for the best bottle of sparkling wine in Canada to bring to their next get-together need not look any further than Niagara College. 
The school's Teaching Winery topped an impressive list of some of the country's most well-known vintners to win the 2022 All Canadian Wine Championships trophy for 'Best Sparkling Wine of the Year'. 
The winning wine, Balance Brut (NV), is the product of several cohorts of students' hard work since 2014, when the first batch of fruit used in the critically acclaimed bubbly was handpicked and pressed.
Different groups of students were involved in subsequent years, from stabilization, filtration, and bottling in 2016, to the dosage trials in 2020 and beyond. 
"Traditional method sparkling wine is a really technical and involved style of wine to produce. Because it takes so long to arrive at a final product, several cohorts of our students get to participate in the production of a single wine," said head winemaker at Niagara College Gavin Robertson.
"The wine represents collaboration and hard work from the program as a whole in all its diversity throughout these years."
The Teaching Winery earned the same honour at the 2020 national wine competition for its 2014 Blanc de Blanc Balance Brut and has previously won several awards for its sparkling wines. However, the 2022 rendition was the first win for a non-vintage version of the school's Balance Brut.
In addition to its trophy for this year's overall best bubbly, the Teaching Winery also picked up a double gold "best of category" medal for its 2020 Balance Dry Riesling, and two bronze medals for its 2019 Deans List Botrytis Affected Chardonnay and 2019 Deans List Savant Cabernet Sauvignon Icewine.
"The double gold for the Dry Riesling is satisfying because it's such a classic and ubiquitous Ontario grape," said Robertson. 
Established in 1981, the All Canadian Wine Championships is the country's top annual wine competition. 
This year's showcase saw a total of 1,233 products entered for judging from 194 participating wineries across Canada, including several from around Niagara. 
In fact, between Niagara College's Teaching Winery and Beamsville's Thirty Bench Wines, the region took home two of the competition's six coveted best overall trophies. 
Thirty Bench won the 2022 'Best White Wine of the Year' for its 2019 Small Lot Riesling Triangle Vineyard. It also picked up eight medals across a diverse set of categories.
Joseph's Estate Wines in Virgil picked up two double gold distinctions for its 2019 Arancia Skin Fermented Gewurztraminer and 2020 Rosato. Pilliteri Estates and Magnotta Winery also won two double golds, respectively, along with several other medals. 
Other double gold medal winners from Niagara included Featherstone Estate Winery (Pinot Grigio), Queenston Mile Vineyard (Pinot Noir), Andrew Peller (Merlot), Two Sisters Vineyards (Cabernet Franc), Byland Estate (Gamay), Wayne Gretzky Estates (Vidal Icewine), and Legends Estates Winery (Fortified Red).
For a full list of the 2022 results go to the All Canadian Wine Championships website here.