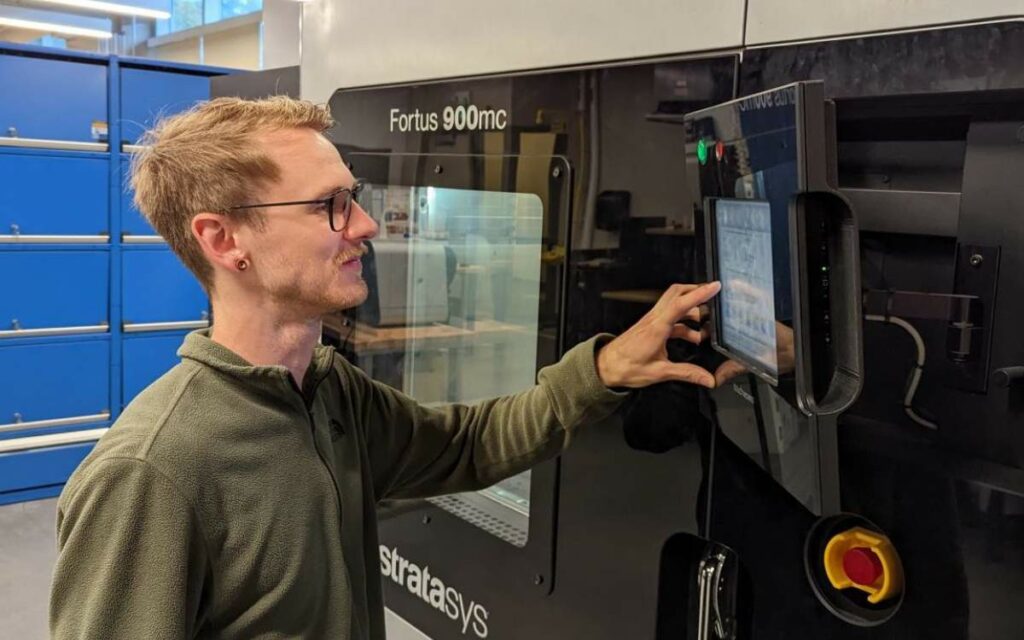 One of the myriad measures that make a quality post-secondary institution is adequate research funding to help students and faculty inquire, innovate, explore and, ultimately, make a difference in the wider world. Pictured lab tech Brock Husak sets up a Fortus 900 3D print machine for an industry partner at Niagara College's Walker Advanced Manufacturing Innovation Centre. Photo credit: Niagara College
For the eighth straight year, Niagara College ranked among the top 10 colleges in Canada for research funding, according to Canadian business and higher education research intelligence firm Research Infosource Inc. 
Released on January 25, the report places Niagara College second in Canada and first in Ontario for sponsored research income, which includes funds to support research received in the form of a grant, contribution, or contract from all sources external to the institution. 
"I am so proud that Niagara College continues to receive recognition as one of Canada's top 10 colleges for research funding," said college president Sean Kennedy. "We are thrilled to earn the second-highest rank in the country and the No. 1 spot in Ontario."
"The expansion of our research and innovation capabilities has been a priority for the College, and (last Wednesday's) announcement is a testament to the important work of our Research & Innovation team to provide real-world solutions for industry and the community through applied research."
In the 2021 fiscal year, Niagara college attracted more than $18.1 million in funding to conduct innovative projects with industry partners across the food and beverage, advanced manufacturing, horticulture, environmental, and business sectors.
Only Quebec's Cégep de Trois-Rivières attracted more funding, bringing in just under $19.9 million.
Niagara College's $18.1 million in research income last year represented a 30 per cent jump from the 2020 fiscal year, when the school brought in $13.9 million. 
Vice-President of Research, Innovation & Strategic Enterprises Marc Nantel stated that being in the top 10 for the eighth consecutive year is a continued source of pride for the college's Research & Innovation division.  
"This announcement is something about which we're truly thrilled," said Nantel, "and we have to thank the outstanding effort of our staff, faculty, and students who work on projects with industry partners to drive meaningful outcomes."
Niagara College Research & Innovation conducts applied research, technical services and business and commercialization solutions with industry partners through its Business & Commercialization Innovation Centre, Food & Beverage Innovation Centre, Horticultural & Environmental Sciences Innovation Centre, and Walker Advanced Manufacturing Innovation Centre.
The college's province-leading research income allows the school to partner with small- and medium-sized enterprises in the region to conduct projects and services, which provide innovative solutions for industry, including producing and testing prototypes, evaluating new technologies, and developing new or improved products and processes. 
In terms of research intensity, which considers funding efficiency, Niagara College led the country in 2021 by a mile, with an average of $297,000 available to each individual researcher at the school – Camosun College, Niagara's nearest competitor, came in at $153,700 per researcher. 
Niagara College has a full-time enrolment of more than 9,500 students from over 80 countries, who study in 130 diploma, certificate, and bachelor degree programs at specialized campuses in Welland and Niagara-on-the-Lake. 
The college has now ranked in the top 3 in all of Canada for research funding three of the last four years, finishing 2018 in first.