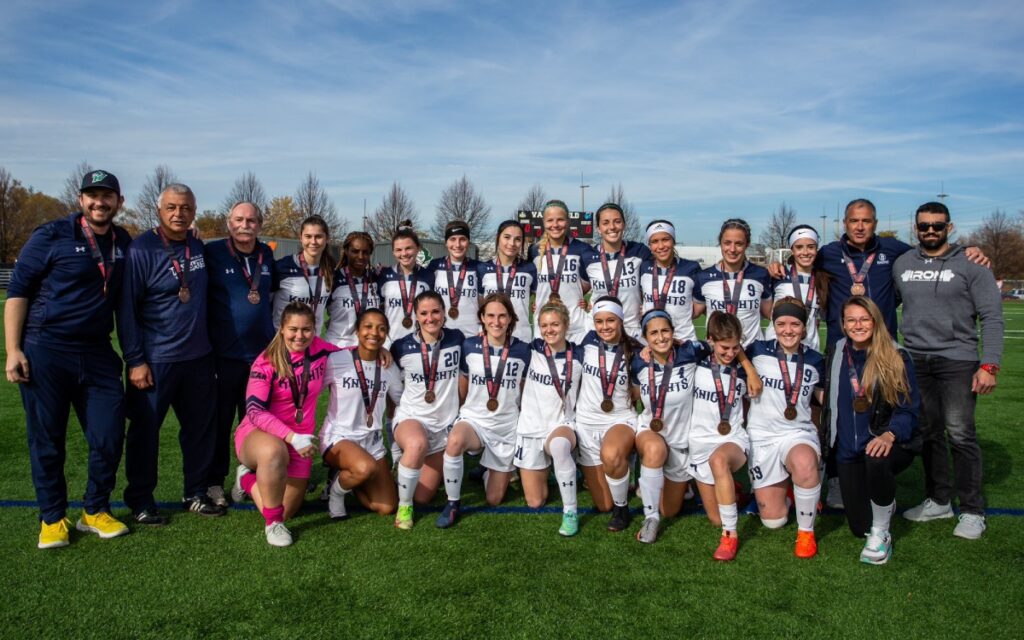 Over the weekend, the 2022 squad took home NC's first-ever OCAA soccer medal. Photo credit: Niagara Knights
For the first time in school history Niagara College has medaled in the sport of soccer at the provincial level.
The Knights downed the host Durham College Lords 3-2 to capture bronze at the Ontario Colleges Athletic Association (OCAA) Championship over the weekend. 
Perhaps back-to-back OCAA Women's Soccer Player of the Year, and Niagara Falls native, Sydney Sica said it best.
"At the beginning of this season we had so many setbacks most of us didn't even think we would make OCAA Provincials because of them. 
But, through every setback, at every practice and game we, as a team, put in the work," Sica explained to The Niagara Independent. 
"I am so proud of everyone who was a part of the season. We overcame every setback and proved everyone wrong.
Even though we didn't come home with the gold medal – we made history. We won a bronze medal, which is the first medal Niagara College Women's Soccer has received. 
Everyone played their hearts out, and I couldn't have asked for better teammates or coaches. 
My last two years playing soccer at Niagara College has been an unforgettable experience. 
It is my hope that the success from this season will continue onward in the future years to come." 
Sica set the school record for goals in a season with 12 in 10 games, then scored eight more in four playoff contests. 
She also captured Canadian Collegiate Athletic Association (CCAA) All-Canadian status and was named a West Division First-Team All-Star.
Sica's stunning season led her to rewrite the Knight's women's soccer record books, where she now holds the record for most goals scored in a single season (previous record of nine back in 2015), and most career goals as a Knight with 21 (previous record was 16 set back in 2021).
First-year Fenwick native Tori Hultink was named OCAA West Rookie of the Year for 2022-2023 where she recorded five assists and two goals in the regular season. Hultink was also named an OCAA West Division Second Team All-Star with teammate Alyssa Arcand.
And you can't forget about veteran defender Nat Desjardins of Welland. The fifth year two-sport athlete said the last five games of their (6-3-1) regular season record set the tone going into the playoffs.
"Going into the second half of our season we never looked past our next opponent," said Desjardins, who was named OCAA Women's Volleyball Player of the Year earlier this year. 
"As a team we knew that we needed to take things one game at a time, win the winnable games, and compete as hard as we could in the tougher games. 
After two years with the program, it is apparent that this medal is a reflection of all the hard work that has been put in by past and present student-athletes, coaches and athletic department staff."
Niagara College dropped a heart-breaking 3-2 loss to the defending Humber Hawks in the semi-finals, something head coach Rob Lalama was originally concerned with. 
However, that quickly changed.
"What a memorable week," Lalama proclaimed.
"The 5-0 win over Algonquin sent quite the message throughout the tournament. 
The semi-final overtime loss to Humber was heartbreaking. We gave our heart and soul and were a bit unlucky in key calls during the game. 
Motivating the team for the bronze medal match after the loss was a concern until I began having conversations among the players."
"The message was clear from the players," Lalama added. "We are not going home without a medal."
"What else can a coach ask for?"
Congratulations to everyone involved with the Niagara College Women's Soccer program.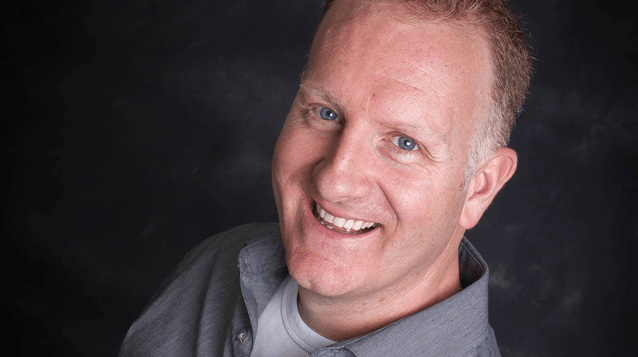 Rod Mawhood is a lifelong Niagara native who has had the pleasure of working in all three mediums – Radio, Print and TV – for over 20 years. His first announcing gig was with the then St. Catharines Stompers. Since then he's worked in radio and TV in Toronto, and currently is the announcer for the Niagara IceDogs and Niagara River Lions.
Rod also covers the Buffalo Bills for FOX Sports and the Buffalo Sabres for NBC Sports.