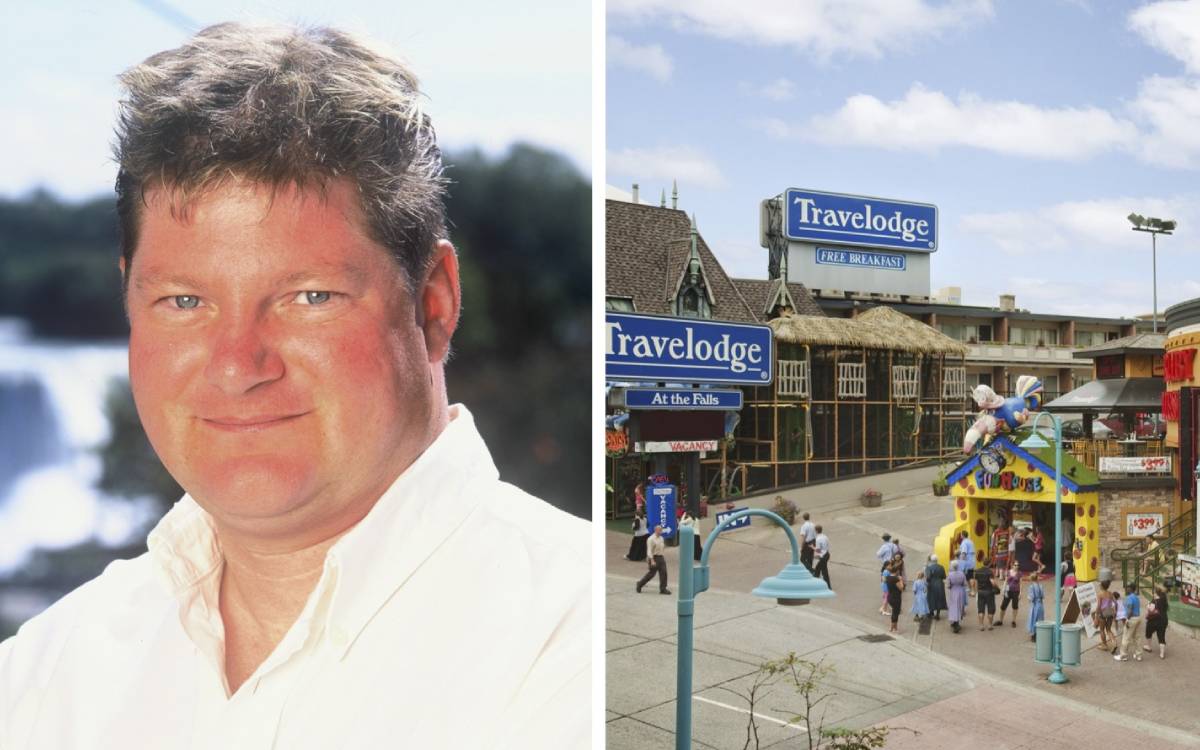 The Burland family has owned and operated numerous properties (right) on the north side of Clifton Hill for nearly a century. Charlie (left) took over the family business in the 1990s. He would have been 55 in January. 
Niagara lost one of its most prominent local tourism leaders with the passing of Charlie Burland from pancreatic cancer last Thursday, Dec. 23. 
Burland was the president of Niagara Clifton Group, which owns and operates many of the retail stores, restaurants, attractions, and accommodations on the north side of Niagara Falls, Ontario's famous Clifton Hill. 
"The entire local tourism community is saddened by news of the passing of Charlie," said Joel Noden, chair of Niagara Falls Tourism and director of marketing at HOCO Entertainment and Resorts, which owns and operates much of the south side of Clifton Hill. 
"A true leader in tourism, Charlie always answered the call when his knowledge and experience in the industry was needed. Charlie was admired and respected by all who had the pleasure of meeting and working with him," said Noden. "He will be missed by all of us in tourism and hospitality in Niagara Falls."
In operation on Clifton Hill for nearly a century, the Burland family tourism business started in 1925. That year, Charlie's grandfather, Charles Inglis Burland, purchased the property that is now Travelodge at the Falls. The elder Burland ran the site as a campground initially, before eventually building a motel in the early 1950s. 
During the 1960s, a number of the hill's most iconic attractions were built, including the House of Frankenstein, Houdini Magical Hall of Fame, and Ripley's Believe it or Not!
By this era, Charles Inglis Burland had passed away and his children took over the business. Charlie's father, Charles Dudley Burland, was the "visionary" of the group and spent the majority of his life building up and improving upon what his predecessor started. He died in 2010 at the age of 84. 
Charlie took over in the 1990s. 
"The passing of Charlie Burland is so tragically unfair — he will be long remembered as a hardworking, dedicated family man who nurtured and grew his family business in a way that attracted and thrilled so many families on the north side of Clifton Hill," said Janice Thomson, president and CEO of Niagara Falls Tourism, and former chair of the Niagara Parks. 
"In 2025, the Burland family will be marking 100 years on Clifton Hill. Charlie's investments and efforts, following in the footsteps of his father and grandfather, formed a large part of his business success and leave a proud legacy in Niagara Falls for his own family," Thomson told The Niagara Independent.
"His advice, input and wisdom gained through long experience will be missed by his many friends and colleagues in the tourism business. All of us thank Charlie's wife, Lisa, and their sons for sharing so much of Charlie's time with us." 
In a normal, non-pandemic year, Niagara Clifton Group employs some 250 to 300 people at its various attractions, shops, and restaurants. 
Burland was known as both a good boss and a generous member of the Niagara business community. 
"I've known Charlie for a very long time. If he taught us anything, it was that you can be a smart, profitable businessman and also be kind, generous, and fair," said Sue Mingle, president of the Ontario BIA Association and long-time executive director of the Fallsview BIA. 
"Charlie was fierce in temperament fighting for what he believed in, he was quirky, boisterous, outspoken, and hilariously funny and all of this made him so well loved and respected."
"When others would sit silent Charlie would speak up, he never sat idly by when there was a wrong to be righted."
Outside of work, Burland served as a volunteer firefighter for Niagara-on-the-Lake's District No. 2 (St. David's) station for 17 years. He retired as a firefighter at the end of 2020. 
"Charlie was a great character. A very warm and happy man. Great family man," said Burland's friend and former two-time Niagara Falls MPP and regional councillor Bart Maves. "You couldn't be around Charlie for 30 seconds without him bringing a smile to your face and to everyone else in the room within earshot."
"In tourism, he was very unselfish, always pushing for things on behalf of the entire tourism sector. He was very much a builder," said Maves.
"Charlie was passionate about tourism and his family business," Mayor of Niagara Falls Jim Diodati told The Niagara Independent. 
"He had joie de vivre! He was a good husband to Lisa and father to his three boys, and was a kid at heart…and a lot of fun!"
"He will be greatly missed!"
Burland was diagnosed with advanced stage pancreatic cancer this past summer. He was 54 at the time of his passing. 
Burland is survived by his wife Lisa and three sons, Geoffrey, Evan, and Blair.