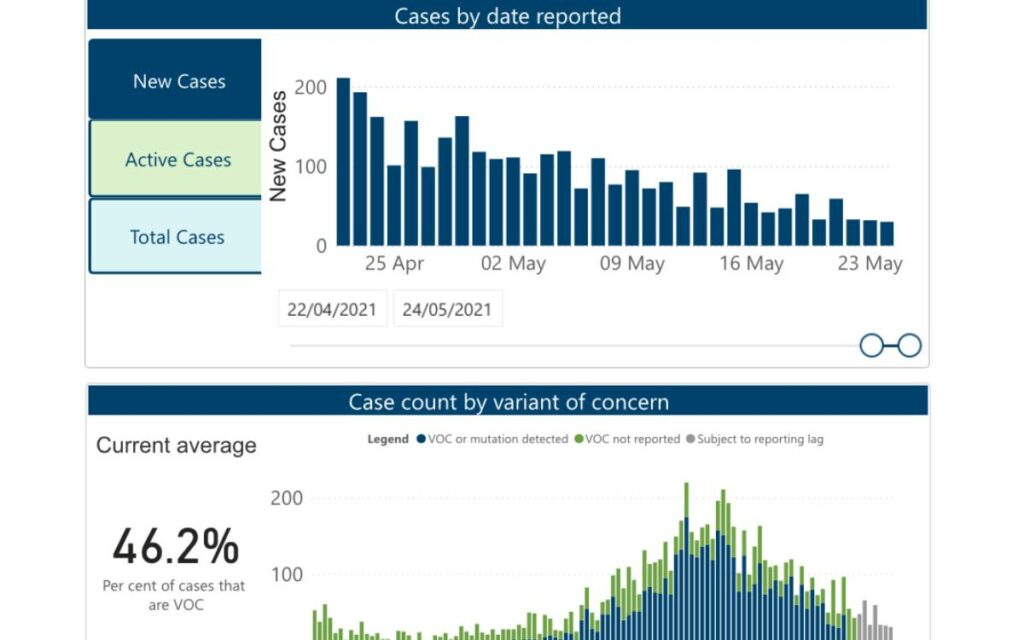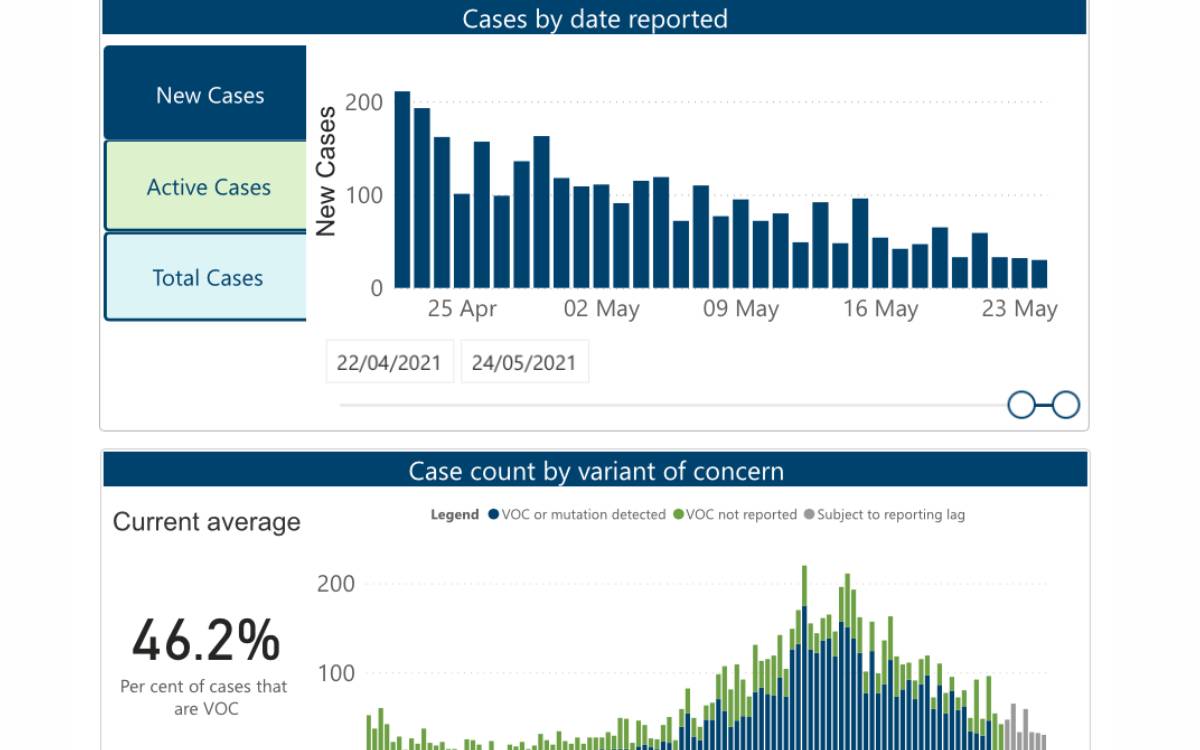 New cases of COVID-19 in Niagara have been steadily dropping for over a month. The Variants of Concern now account for less than half of the total cases, down some 20 to 25 per cent since late April. Photo credit: Niagara Region
On Monday, Niagara Region Public Health reported just 33 new active cases of COVID-19 across the region. This was the lowest single day number of new cases since March 25, when just 24 new cases were reported.
Niagara is down to 992 total active cases, the lowest number since April 12 (946 cases).
The weekly new caseload is certainly headed in the right direction since the provincial government imposed its currently still in place province-wide lockdown. The week ending April 24 had an average daily increase of cases of 165, the week ending May 1 had 116, the week ending May 8 had 86.5, the week ending May 15 had a daily average incidence of 63, and the week ending May 22 had just 47.5.
Since its first local case, Niagara has had a total of 15,537 COVID-19 cases, with 14,140 having been resolved. Tragically, 405 residents have died due to the virus.
Currently 46 per cent of the active cases are variants – this number has been steadily declining for a few weeks now. The vast majority of these have been the B.1.1.7 U.K. variant. This stands in stark contrast to a month ago when Niagara's Chief Medical Officer of Health Dr. Mustafa Hirji told CKTB, "Provincially we're looking at upwards of 80% of cases are now variants. In Niagara we are over 70%, probably closer to 75% now. COVID-19 at this point has basically become the variants."
As of yesterday, St. Catharines once again had the highest number of active cases with 379.  Niagara Falls was next with 212, and then Welland with 100. Wainfleet had just 7 active cases and Niagara-on-the-Lake 23.
As far as active cases per 10,000 population, St. Catharines had 26.8, Thorold had 25.9, and Port Colborne had 22.1.
The 20 to 39 year-old age group leads in total cases with 5,346, followed by the 40 to 59 year-olds with 4,219, and then the 60 to 79 year-old group with 2,410. The under-20 age group now sports a discouraging total historical count of 2,273.
Hospitalizations due to COVID-19 also continue to drop. The week ending May 1 saw an average of 3.5 people per day hospitalized, the week ending May 8 saw an average of 2.1 cases per day hospitalized, and the week ending May 15 saw just 1.4 people per day hospitalized in Niagara.
On the vaccination front, 257,889 vaccination doses have been administered. 50.4 per cent of Niagara residents have had their first dose, but only 3.4 per cent have had the required two doses. Niagara, like Canada, lags well behind most of the developed world in completed vaccinations.
As a result of the improving conditions and easing pressures on the Niagara Health System, the NHS recently announced that they would start to resume elective surgeries and procedures as of Tuesday, May 25. The resumption starts with day surgeries and other outpatient procedures, and it moves to inpatient surgeries later this week.
"This is terrific news for our patients and teams," said Lynn Guerriero, President and Interim CEO at Niagara Health. "We understand the impact the postponement of scheduled surgeries and procedures have had on our patients, their families and caregivers, and our teams are working full out to safely reintroduce these services."
"Although our teams are eager to reintroduce these services and address our backlog, we will need to be cautious and innovative with our efforts," said Dr. Johan Viljoen, Chief of Staff at Niagara Health. "Thankfully, hospitalizations and ICU admissions appear to be trending downward. However, our ICUs continue to be under significant pressure from patient volume and staffing perspectives."