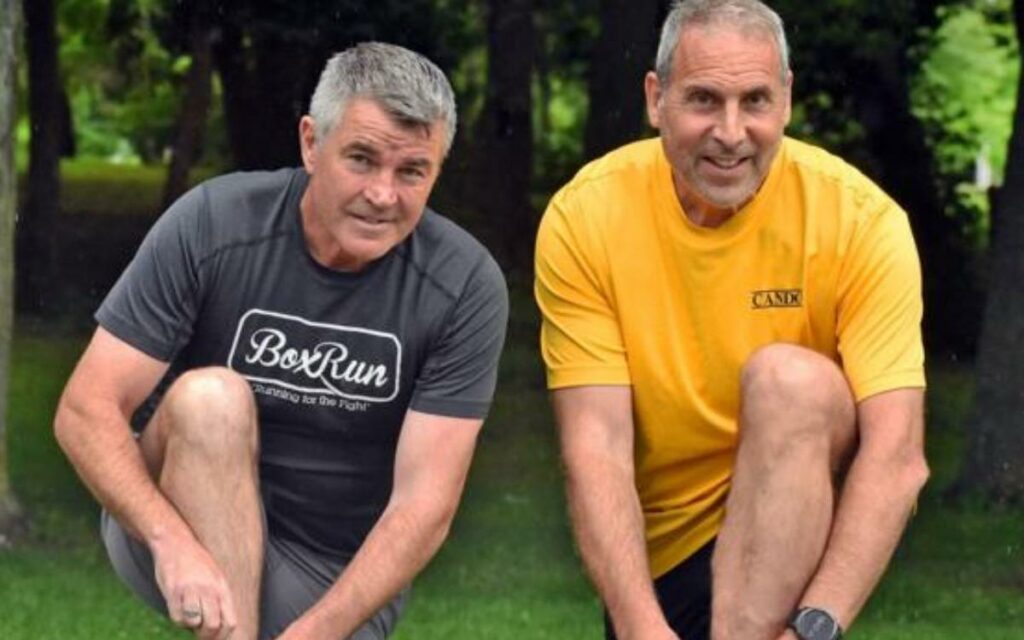 'Epic run' continues for Councillors Mike Strange (left) and Victor Pietrangelo (right). Photo credit: BoxRun
They've run together many times in the past. But 2023 is different for Niagara Falls City Councillors Mike Strange and Victor Pietrangelo. 
The latter is finally able to join the former Canadian Olympian for an entire journey – all in support of childhood cancer research. 
This one along the Bruce Trail and beyond for what the pair is calling an 'Epic Run.'
They may both call Niagara Falls home, but the way they 'officially' met is an interesting one, explained Pietrangelo recently on the Niagara Sports Report on Newstalk 610 CKTB.
Let's first rewind to 2014 when Mike Strange began BoxRun. 
The three-time Olympian and Commonwealth Champion boxer ran a marathon a day for 94 straight days from St. John's, Newfoundland to Niagara Falls. 
Since then, BoxRun has raised hundreds of thousands of dollars for childhood cancer research and family support services. 
Strange went on to tackle the El Camino in 2018 running 800 km over 30 days along the Camino de Santiago in Spain. Again, for the children. 
"My motivation is the children. Period," said Strange. "I spent many years fighting in the ring, but never met tougher fighters than the young ones who fight for their lives everyday.  
People ask me to come and speak to the children for inspiration, but in fact for me it's the other way round."
Pietrangelo is proud to share how he met his fellow, now, city councillor. 
"Running is a hobby for me," Pietrangelo said. "Actually that's where Mike and I met. On his very first BoxRun, I think I was the first person to call him, entirely out of the blue, and say to him 'I want to come and run with you, but it's got to be near a major airport.
Mike said 'I think I'm in Regina this weekend.'
Okay I'll book a flight, run a marathon with you, and then fly home because I have to work on Monday.'
But I'll never forget his (Mike's) last words: 'What did you say your name was again?'
I don' think he thought I was coming. That's literally how we met."
Pietrangelo was indeed able to fly out then, and has continued to join Strange on many runs, but this year is different – they're running together for the entire almost 30 days. Forty kilometres a day is their goal.
"We wanted to do this in 2020 but then Covid hit and the world was shut down, myself and Vic have always wanted to do the Bruce Trail. It's an iconic trail throughout the whole world. It's 880 kilometres and we added 120 km on the road before we hit the trails."
Strange and Pietrangelo will go through multiple pairs of shoes, but each day will be dedicated to children that have either lost their battles with cancer, or ones currently fighting the fight. 
They'll feature a word or saying each day such as 'perseverance' until they arrive back in Niagara Falls on September 9 for Heater's Heroes.
Heater's Heroes is an event started by a mentor of Strange's, the late Robert "Heater" Lavelle who throughout his life was dedicated to helping local children in need.  
To continue Heater's legacy, Strange founded Heater's Heroes back in 2011. 
Heater's Heroes mandate is to help local children in need (The Heroes) now, today, with the help, support, and generosity of the local community and businesses.
Both Strange and Pietrangelo are still looking for donations and sponsors as their epic run continues. 
To donate and find out more, visit: https://www.boxrun.org/home.html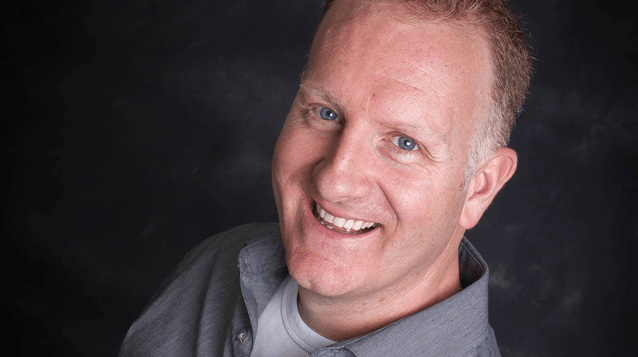 Rod Mawhood is a lifelong Niagara native who has had the pleasure of working in all three mediums – Radio, Print and TV – for over 20 years. His first announcing gig was with the then St. Catharines Stompers. Since then he's worked in radio and TV in Toronto, and currently is the announcer for the Niagara IceDogs and Niagara River Lions.
Rod also covers the Buffalo Bills for FOX Sports and the Buffalo Sabres for NBC Sports.