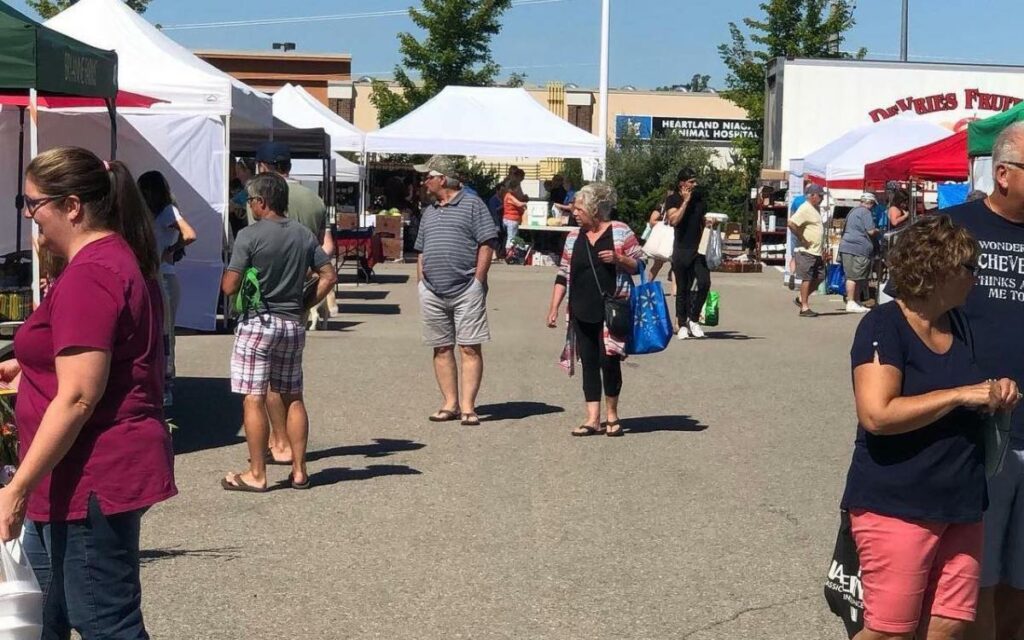 The award-winning market is set to move from the MacBain Community Centre parking lot (pictured) to the brand-new Niagara Falls Exchange Cultural Hub and Market on Ferry Street later this summer. Photo credit: Facebook/Niagara Falls Farmers' Market
The 2023 season at the Niagara Falls Farmers' Market is well-underway. This year, however, is particularly special. Chetan Chandratre currently serves as a cultural development representative with the City's Recreation and Culture department. 
"We are incredibly excited to host the market at our new location at the Niagara Falls Exchange," Chandratre shared in a recent sit-down with The Niagara Independent. "The finishing touches are currently being put on the project, and we are looking forward to opening our doors to the community in late summer." 
The Farmers' Market, which runs from May to October annually is currently operating at the MacBain Community Centre. Once the market moves to The Niagara Falls Exchange Culture Hub and Market (NFX), however, it will be open all-year round. 
NFX will be located adjacent to the Niagara Falls History Museum. It will include two buildings, one of which will be a market hall, where the Farmers' Market vendors, as well as their products, will be able to set-up shop. "We are very much looking forward to welcoming our vendors and customers into the brand-new market hall," Chandratre said. "And when our market is not in session, it will be able to serve a variety of other great community events and initiatives."
Until it's time to move into NFX later this summer, week-to-week operations at the MacBain Centre will continue in full-swing. "May 20th was our first day of the year," Chandratre shared. "The first Saturday at the market was a very rainy day, but yet we still saw about 400 people come out… Since then, the numbers have been steadily increasing."
The Market offers a wide range of products, including some key specialty items provided by a variety of vendors. "Fruits and vegetables are predominantly what people come for," said Chandratre. "At the same time, however, we have excellent artists and vendors with diverse contributions and skill sets. We have a potter selling her pottery goods, a knitting/crochet artist… and a soap vendor who shares specialty soaps/hand creams, a distillery vendor, just to name a few." 
"We also have all of our delicious food vendors, which include many ethnic/cultural treats, baked goods, and additional offerings."
As the season progresses, visitors will be presented with new options in terms of produce types. "Currently, we are into strawberry season, and before that it was asparagus," Chandratre explained. "Soon, we will be approaching the time for peas, and soon after, it will be the season for peaches, nectarines, etc." Traditional favourites such as apples and potatoes are always available. 
When asked what role the Market desires to play in the life of the Niagara Falls community, Chandratre shared some key thoughts. 
"I know I am speaking of a sentiment that is shared not just by our vendors, but also by our shoppers/visitors, when I say that our market definitely provides so much more for the community than just an opportunity to shop for local produce… We have an activity table for children, kid's contests, crafts, we enjoy having a welcoming environment for people who like to bring their pets along, etc."
"Overall, this is a place where people come out to spend time with their family, and to visit their old friends. Already this year, I have seen wonderful reconnecting between people who may not have had the opportunity to see each other since last season… They ask each other how their Christmas and winter went, and how the new growing season is going. It is truly beautiful to see."
The Niagara Falls Farmers' Market was awarded the 2021 'Market of the Year' by Farmers' Markets Ontario (FMO). 
The market is open to the public from 7am to 1pm every Saturday. To learn more, visit its website here.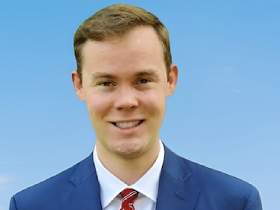 Nick Redekop completed his Honours Bachelor of Arts Degree in Labour Studies at Brock University. He has previously served in municipal and federal politics. In his free time, Nick enjoys following sports, taking part in outdoor activities, and reading biographies. Nick resides in Niagara Falls