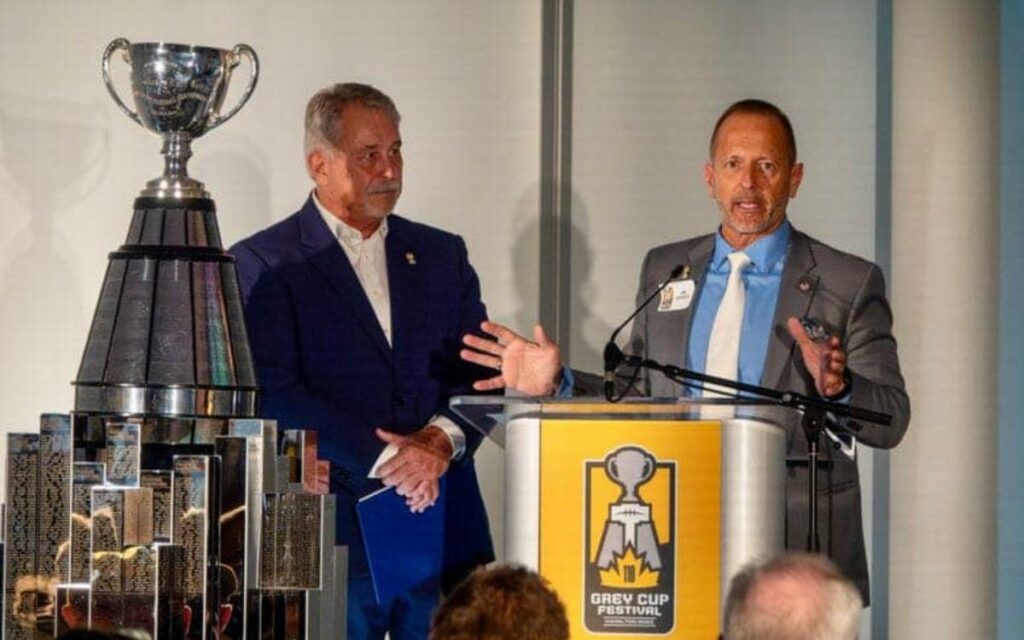 City will host CFL Awards before the big game. Pictured is Mayor of Niagara Falls Jim Diodati (right) and Minister of Tourism, Culture and Sport Neil Lumsden at a preview event for the festival earlier this month. Photo credit: Facebook/Jim Diodati
Canada's biggest football game in 2023 will be played in Hamilton, but the festival around it will include Niagara Falls. 
The Hamilton Sports Group unveiled its plan for a big, bold Grey Cup Festival that will show off the city and showcase the region come November.
Over 40 events will celebrate Canadian football, provide tons of family fun, feature fabulous music and include giant parties from November 13 to November 19.
"Hamilton is the heart and soul of the 2023 Grey Cup Festival, which is our opportunity to show the country what makes our city so special," said Scott Mitchell, CEO and Managing Partner, Hamilton Sports Group.
"We'll go one step further, too. Support from the Province of Ontario has paved the way for us to incorporate the accommodations and world class entertainment facilities in Niagara – and to connect everything and everyone with free, safe and reliable shuttle services that will run from Niagara Falls to downtown Hamilton during the Festival," Mitchell added.
And that includes Niagara Falls hosting the CFL Awards.
The Canadian Football League's most coveted hardware – apart from the iconic Grey Cup Trophy itself – will be handed out on Thursday November 16 at Fallsview Casino Resort in Niagara Falls. 
The awards show will take place in its intimate Avalon Theatre and feature enhanced entertainment and hospitality. Following the show, event guests will be welcomed at the state-of-the art OLG Stage at Fallsview Casino theatre for a live concert. 5,000 tickets will be available for this concert. 
Details on the CFL Awards and post-awards concert at OLG Stage at Fallsview Casino, including how you can get tickets and who will be playing at the concert, will be announced soon.
Further, the Province of Ontario and Grey Cup Festival will be providing a complimentary shuttle bus service for fans who are staying in Niagara Falls hotels directly to Hamilton to participate in all the Grey Cup festivities Thursday to Saturday. The service will also be available on game day, Sunday, November 19. More details, including times and pick-up locations, will be released this Fall.
"We are so proud to support the 2023 edition of the iconic Grey Cup Festival," said Neil Lumsden, Minister of Tourism, Culture and Sport. Lumsden is also a former CFL player himself, and Director of Athletics & Recreation at Brock University.
"Bringing one of Canada's greatest traditions and largest sporting competitions back to the Hamilton region will deliver substantial economic benefits for Ontario, support jobs and boost local tourism."
Niagara Falls Mayor Jim Diodati perhaps summed things up best:
"The meat and potatoes is going to be in Hamilton and the dessert and ice wine will be in Niagara Falls," Diodati said.
"We know that by bringing the brand of Niagara Falls to the table it just grows the event and makes it more regional."
There are two Niagara natives on the current Ti-Cats roster. Chris Van Zeyl of Fonthill, and Anthony Federico of Niagara Falls. 
Federico couldn't be happier that Canada's biggest football event has included his hometown. 
"That's awesome. Especially being a guy from Niagara," Federico said. "To see the CFL celebrating the Grey Cup and including Niagara – we have amazing CFL fans down in Niagara so for them to be able to experience the CFL festivities, it's just going to be an awesome experience."
The Grey Cup will be played on November 19.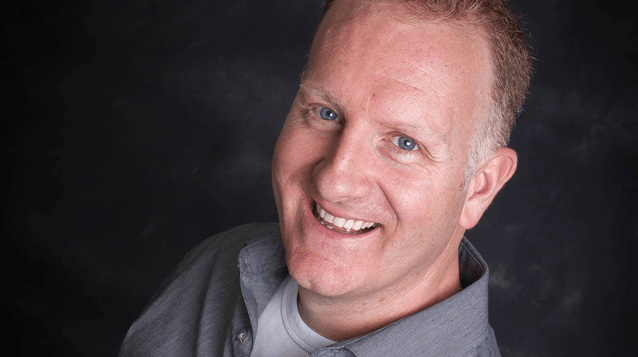 Rod Mawhood is a lifelong Niagara native who has had the pleasure of working in all three mediums – Radio, Print and TV – for over 20 years. His first announcing gig was with the then St. Catharines Stompers. Since then he's worked in radio and TV in Toronto, and currently is the announcer for the Niagara IceDogs and Niagara River Lions.
Rod also covers the Buffalo Bills for FOX Sports and the Buffalo Sabres for NBC Sports.