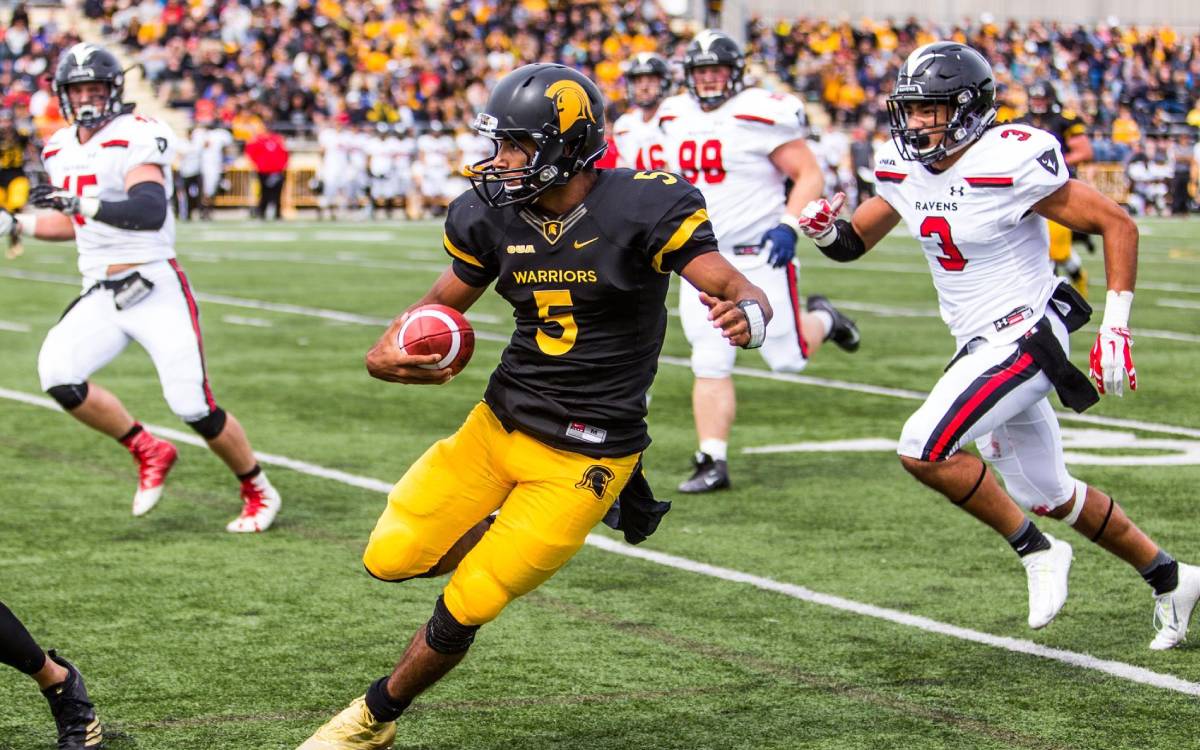 Tre Ford carries the ball while in action against the Carleton Ravens. The University of Waterloo quarterback is stirring conversation on both sides of the border. Photo credit: University of Waterloo Athletics
Football has been part of Tre Ford's DNA since he was a youngster.
His father introduced the game to him and his twin brother Tyrell here in Niagara.
"We started super young. We started when we were six," Ford explained on the Niagara Sports Report on Newstalk 610 CKTB.
"My dad was actually our coach. Huge football guy. We were football every single weekend. Playing it, practicing, watching – all that good stuff."
Tre's quarterbacking career began in not the most traditional way.
"I was actually playing with my older brother, we were in a game, he actually got hurt, and we didn't have anyone else to put in so I went in as quarterback, and it kind of stuck from there."
Indeed it did. And indeed, it has.
Ford, after leading AN Myer High School in Niagara Falls to three consecutive championships, had numerous schools across the country trying to recruit him back in 2017. He would choose, as a surprise to some, the University of Waterloo.
That decision is where you really begin to see and understand Ford's attitude and mindset.
"Me and my brother wanted to help build a bandwagon, rather than hop on one," Ford said when asked why he chose the Waterloo Warriors.
"A lot of other teams were already set, they already had their guys, we didn't want to sit for two or three years either – we wanted a shot to play right away and Waterloo gave us the best chance for that."
Hindsight is 20/20, but Ford certainly made the right decision.
In 2018 he was named OUA (Ontario University Athletics) Rookie of the Year. A year later, he was named a First-Team All-Star, and earlier this month Ford highlighted a list of next generation top Canadian football prospects, identified for the 2022 CFL Draft.
There's no doubt Ford will hear his name called in 2022 on this side of the border, but he's also drawn attention south of the border in the NFL.
"Honestly, they're both fantastic leagues and I don't look down on either of them. They're both phenomenal, but it's always been a dream to play in the NFL, it's always been a dream to play in the CFL, whatever way it goes I'm definitely excited for both."
While a lifelong Russell Wilson (Seattle Seahawks quarterback) fan, Ford admits his game is modeled more after the younger and more versatile Kyler Murray (Arizona Cardinals) or Lamar Jackson (Baltimore Ravens).
The 6'1″ 185-pound pivot's numbers speak for themselves. His 70.3 per cent completion rate in 2019 led all Canadian University (U-Sports) quarterbacks. Ford was second in pass efficiency (158.2) and third in overall completions with 168.
Not to mention his rushing numbers: 244 career carries for 2,149 yards and 16 touchdowns.
So, from Prince of Wales Elementary School in Thorold, to AN Myer Secondary School in Niagara Falls, to the University of Waterloo, to wherever he lands next – remember the name Tre Ford.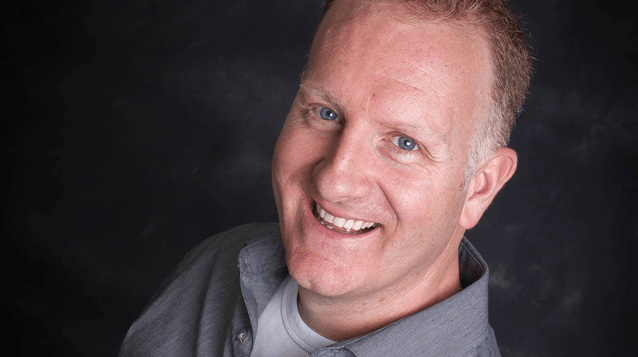 Rod Mawhood is a lifelong Niagara native who has had the pleasure of working in all three mediums – Radio, Print and TV – for over 20 years. His first announcing gig was with the then St. Catharines Stompers. Since then he's worked in radio and TV in Toronto, and currently is the announcer for the Niagara IceDogs and Niagara River Lions.
Rod also covers the Buffalo Bills for FOX Sports and the Buffalo Sabres for NBC Sports.