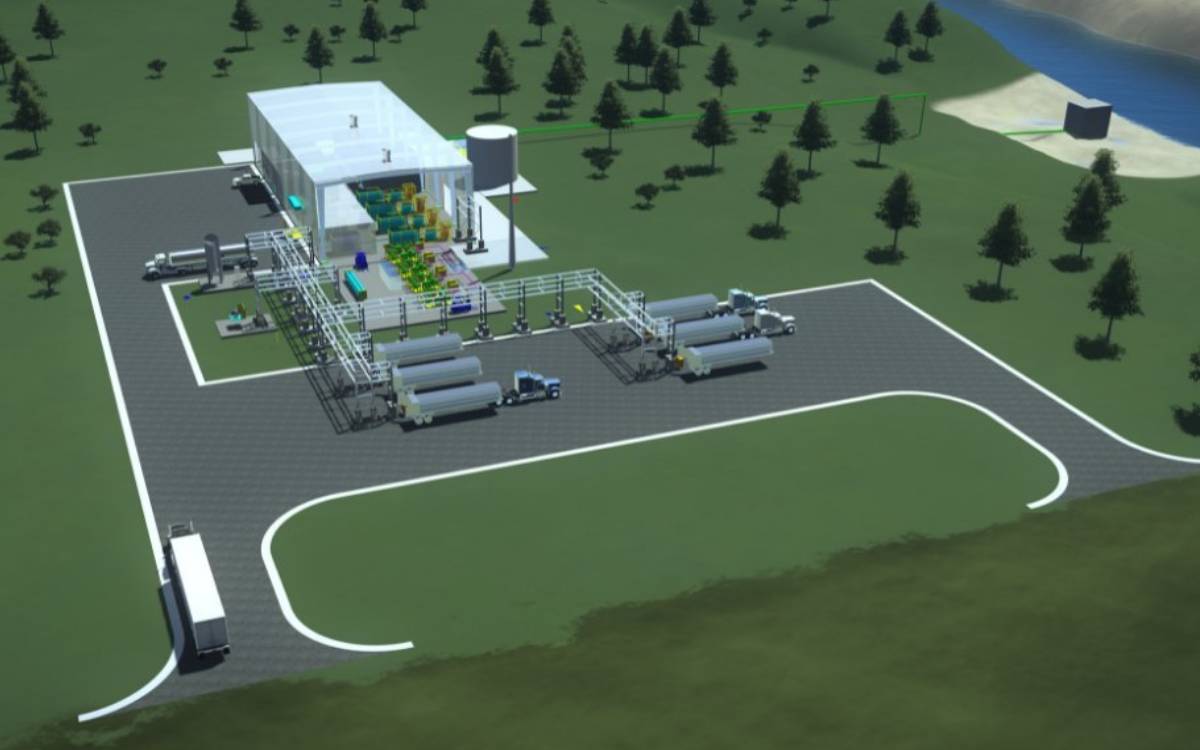 Digital rendition of the facility. The pilot project would expand the province's hydrogen production capacity eight-fold. Photo credit: Atura Power
Speaking to a small crowd of dignitaries and media at the Niagara Parks Power Station on Thursday morning, government officials and industry stakeholders announced that Niagara has been selected as the preferred site of Ontario's first-ever large-scale hydrogen production facility.
Project lead Atura Power, a subsidiary of Ontario Power Generation (OPG), selected Niagara based on several Ontario location feasibility studies that evaluated the technical and economic viability of local hydrogen production.
"Ontario is building a hydrogen economy, and Atura Power is ready to play a key role in helping establish a supply of this low carbon fuel," said Chris Fralick, president of Atura Power.
"We look forward to working with our partners and industry leaders to help advance this clean technology, bringing the Niagara region to the forefront of the clean energy and hydrogen economy." 
The proposed Niagara Hydrogen Centre, which would be located near the two Sir Adam Beck generating stations in Niagara Falls, would utilize a 20-megawatt electrolyzer system to split water (H2O) molecules into hydrogen and oxygen using electricity from the adjacent power stations. The resultant hydrogen product would then be used to reduce and offset emissions in a variety of applications as a fuel substitute, mix, and fuel cell power source. 
Outside of the indirect economic impact locally and across the province, the project would create direct jobs both during construction and operation, and further employment potential in the supply chain.
The facility could be commissioned as early as 2024, pending federal funding.
A key part of its larger 'Low-Carbon Hydrogen Strategy', the provincial government is supporting the pilot project by providing an exemption from the Gross Revenue Charge from 2024 to 2033 for electricity generated at the Sir Adam Beck Generating Station used specifically for hydrogen production under prescribed conditions.
"Through our Hydrogen Strategy, we are leveraging our province's world-class talent and clean energy advantage as we position Ontario as a world leader in hydrogen," said Minister of Energy Todd Smith. 
"When energy is clean, reliable and affordable, our whole province benefits. By building critical infrastructure for the industries of the future, including new hydrogen production projects, we are laying the groundwork for game changing investments in EV production and clean manufacturing that will create good paying jobs, grow our economy and reduce emissions."
Based on modelling from Natural Resources Canada, once fully implemented Ontario's low-carbon hydrogen strategy could support over 100,000 jobs and enable greenhouse gas emissions reductions of 50 megatonnes per year by 2050 – the equivalent of taking about 15 million cars of the road.
The Niagara Hydrogen Centre pilot project alone would support net emission reductions equivalent to taking more than 4,000 cars off the road.
"As a fuel that can be produced and used with little to no greenhouse gas emissions, low-carbon hydrogen has tremendous potential to help us meet our long-term economic and environmental goals," said Minister of the Environment, Conservation and Parks David Piccini, who was also in attendance for Thursday's announcement. 
"Supporting innovation and investment in clean technologies will help secure a cleaner, more prosperous Ontario now and for generations to come."
The province's energy strategy identifies potential hydrogen hub communities in Niagara, Halton Hills, Nanticoke, Brighton Beach, and Lambton, where low-carbon hydrogen demand can be matched with existing energy infrastructure and access to Ontario's clean electricity grid.