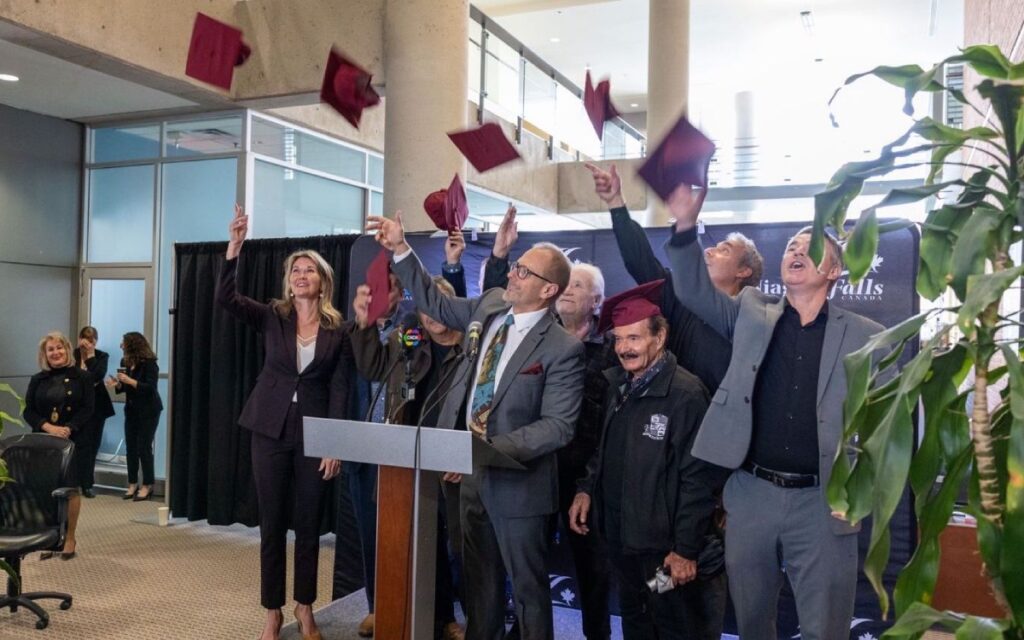 Bringing a post-secondary institute to the Honeymoon Capital has been a goal of Mayor of Niagara Falls Jim Diodati (pictured, centre at podium) for several years. Photo credit: LinkedIn/Jim Diodati
Following over a decade of hard work behind the scenes with multiple stakeholders and several levels of government, Mayor Jim Diodati's dream of bringing a post-secondary institute to the City of Niagara Falls is finally set to become a reality. 
On Monday, October 17, the mayor, representatives from the city and province, and executives from private sector-partner Global University Systems (GUS) announced the 'University of Niagara Falls Canada' will welcome its first cohort of students in 2024. 
Officials broke the news to a small group of media and spectators at the Hatch building downtown next to city hall where the university will initially operate out of, before eventually moving to a dedicated space nearby. 
"If there was one thing on my bucket list that we had still yet to do in a big way in our community, it was this. It has been a long road behind the scenes, with many challenges, but today makes it all worthwhile," said Mayor Diodati. 
"This downtown and our community will be bustling with students, new technology education and all of the economic off-spin that will come with it. Thanks to the determination of GUS, the commitment of a forward-thinking Provincial Government and a dedicated team of people, University of Niagara Falls, Canada will now be a reality." 
The fully accredited, degree-granting institute will be operated by private higher-education provider GUS Canada, which currently runs five post-secondary schools around the country, including Vancouver's well-regarded University Canada West. 
The university currently has consent to offer five initial programs, including a bachelor's degree in biomedical sciences and master's degrees in data analytics and digital media. 
"Thanks to the hard work and support of the Government of Ontario, as well as Niagara Falls Mayor Jim Diodati, students from across the country will soon call our university and the City of Niagara Falls home," said GUS Canada CEO Cyndi McLeod. "We know Ontarians, whether they are just finishing high school or looking for the skills they need for a second career, want to attend a university that offers the digital mindset employers have come to expect from new employees."
Called a "massive windfall" for Niagara Falls by Mayor Diodati, the direct and indirect economic impact of the new institute will be substantial.
According to early analysis, on an annual basis the University of Niagara Falls Canada is expected to generate $291 million in Gross Domestic Product (GDP), $194 million in labour income, and $23 million in government tax revenue. 
GUS hopes the university will eventually sustain a student population of around 10,000 domestic and international learners, with thousands of staff and faculty helping support operations. 
"A new university for Niagara Falls is good news for the region, the local economy, and for employers in high-demand fields," said Ontario Minister of Colleges and Universities Jill Dunlop, who was on-hand for the announcement Monday. "Our government is committed to supporting high-quality post-secondary education that provides workers with the skills they need for the jobs of today and tomorrow."
Though the university will be privately-operated, the provincial government will still need to grant the necessary approvals for the new school to open its doors.
The university intends to have multiple intakes each year and offer academic programs in three formats: face-to-face, online, and hybrid.
All programs will have "a professional focus that prepares learners for a digital world."