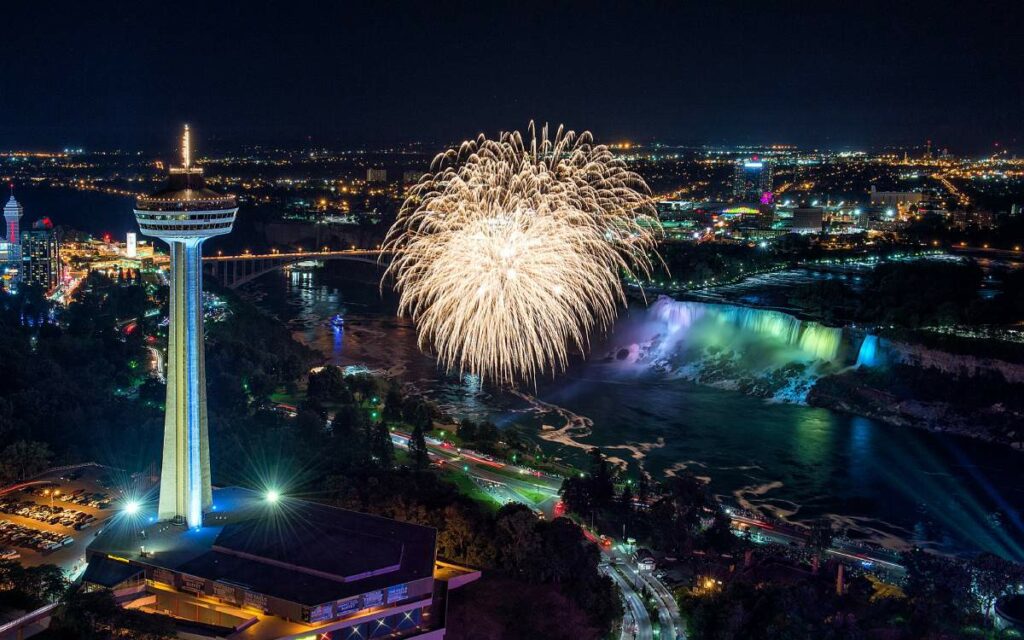 Despite all Covid restrictions being fully lifted, why did Canada's top leisure tourism destination have such a humdrum holiday season? Photo credit: Niagara Falls Tourism
Music and Niagara Falls on New Year's Eve had at one time been synonymous. For many years, the City of Niagara Falls, the Niagara Parks Commission and local tourism associations and stakeholders had teamed up to sponsor an annual New Year's Eve party centred around a concert in Queen Victoria Park.
For 30 years the annual event was attended by an estimated 50,000 people annually and was broadcast across the country by major Canadian networks. It featured such musical stars as Bryan Adams, Keith Urban, Nick Jonas, Blue Rodeo, Alanis Morissette, Tom Cochrane, and Demi Lovato.
It was understandable that the concerts were not held on Dec. 31, 2020 and on Dec. 31, 2021 due to Covid restrictions, but those limits have long since been lifted and there have been concerts indoors and out for over a year and a half now.  
Former mayor and current city councillor Wayne Thomson recently told the Niagara Falls Review, "It's not coming back this year, but absolutely when (the partners) get over COVID and have the money to make this happen, it will happen."
Niagara Parks Commission CEO David Adames concurred, "The New Year's Eve concert has been a collaboration between many tourism stakeholders in Niagara Falls. This has included the Niagara Falls Hotel Association, the City of Niagara Falls and Niagara Parks. In addition to these funding partners, the event has also received funding in the past from the Tourism Partnership of Niagara and the Province of Ontario from the Celebrate Ontario event program. 
The decision to not host a New Year's Eve concert this year was made collaboratively as well. The event costs in the range of $1 million and…the tourism industry has been impacted significantly over the past three years. The downturn in attendance and revenue over the past three years factored into the decision on the funding model for the event."
Though the big concert in the park didn't make financial sense this year, one is left wondering why the OLG and its local casino and concert operator Mohegan Sun Niagara didn't run any concerts on New Year's Eve in their brand new 5,000 seat theatre, the OLG Stage at Fallsview.  
Asked for a potential explanation on why OLG/MGE ran no concerts, it seems that all stakeholders, including the OLG were in the dark.
The Parks' Adames offered, "In terms of your question regarding the OLG venue, you may want to touch base with OLG directly." 
Head of Niagara Falls Tourism Janice Thomson similarly intoned, "you may wish to contact OLG directly for any further information."
When asked "directly" why they haven't run any concerts for New Year's Eve nor during the Christmas holidays – OLG spokesperson Tony Bitonti said, "OLG does not do the programming for the venues at Fallsview. OLG has the naming rights for the new entertainment centre but does not book the acts for the venue. Please reach out to Fallsview with your questions."
The OLG boasts on its website, "our new world-class theatre complete with 5,000 seats, state of the art technology, outstanding acoustics, and spectacular entertainment! Never more than 150 feet away from the action our new OLG Stage at Fallsview Casino will house countless performances, all surrounded by an exciting destination that you can't experience anywhere else."
Available for events since 2021 and fully opened since October of 2022, the spectacular new theatre has hosted only a handful of acts including the Lumineers and Michael Bolton. It has only two acts booked for all of January, comedian Larry the Cable Guy on January 12 and two shows of Canada's Got Talent.
But three or four shows a month, and nothing during Christmas or on New Year's Eve, is not what the community expected when the project went to tender. In fact, tender documents demonstrate that the intention was to have the new operator run between 170 and 230 shows per year at the theatre.  
In 2017, then OLG spokesman Rui Brum told reporters that the new theatre would, "accommodate larger concerts, shows and attractions that will draw more visitors to the city of Niagara Falls and OLG's Niagara Casinos." Mayor Jim Diodati also said that he had seen the OLG's business case and that the events there would 'lure an additional million visitors per year to the city'.
Diodati excitedly told Niagara This Week, "The main thing is it's going to have a minimum of 5,000 seats so it's got the critical mass to pay for the bigger acts. With only 1,400 seats (capacity of the Avalon Ballroom at Fallsview Casino Resort), you can't bring in real top-level talent without losing money because you'd have to charge too much.  It would be too restrictive.  With 5,000, we spread out the cost of a major entertainer over 5,000 people and make it more affordable."
Currently, there are just five shows booked for February including the 'Grand Opening' event featuring 73-year-old Billy Joel. Brantley Gilbert and Kool and the Gang, who will be celebrating their 53-year anniversary as a band, are also booked. One show is booked for March.
When contacted by The Niagara Independent regarding the lack of shows at the new theatre, director of marketing for Niagara Casinos Jennifer Ferguson said, "we did host many shows prior to the holidays including Fallsview Casino's Christmas on Ice, Blue Rodeo and Michael Bolton's Greatest Hits and Holiday Favourites. With this many shows we have always taken the month of December for maintenance of the theatre."