With food insecurity at an all-time high, the Kitchen's services are more important than ever. 
As Thanksgiving arrives and the Christmas season approaches, local charitable organisations are busy providing for the community's most vulnerable members. Judy Todd currently serves as co-chair for the Niagara Falls Soup Kitchen. 
"Our mission is to feed the hungry," Todd shared in a recent interview with The Niagara Independent. "No judgement, no questions asked, anyone who shows up at our door gets fed." 
Todd, who has served on the board for the Soup Kitchen for 10 years, has been co-chair since the start of the pandemic. "Before Covid, we were serving meals in the dining room every night," she said. "But (the pandemic) changed a lot of things." 
Todd explained that Covid required the Kitchen to pivot their operations in a number of ways. "There were a lot of restrictions in terms of how we could operate," she related. "Not only were we not able to serve meals in our dining room anymore, but we also couldn't have volunteers in the building." 
"In response, we had to hire three staff members to make the meals, and we began handing them out at lunch time." 
Another significant challenge facing the Kitchen, which manifested during the pandemic and continues to the present day, is an intense volunteer shortage. "Just a few years ago, we had 300 active volunteers," Todd explained. "That number seriously decreased during Covid… and many people have been ageing, and haven't felt comfortable coming back," she continued. "At the same time, we have gone from serving about 100 meals a night, to between 200 and 300 meals at lunch, on any given day."
"So, at this point, we are really focused on encouraging our former volunteers to return, while also recruiting new volunteers in the community." 
In spite of the various trials and tribulations of recent years, the Kitchen is continuing to deliver on its mission, while also looking for ways to expand its outreach. "We are currently laying the groundwork for starting a community fridge," Todd shared. "When we did serve dinner, young men and families, who were part of the working poor, would come by and pick up their meal, or food to feed their children," she further explained. "This is a group we haven't been able to help as much, recently, so we'd like to start doing this from 5-6:30, at least a couple times a week, and see how it goes… But before we can put this plan into action, we'll need more volunteers and security people." 
In November, the Kitchen will host its annual Fill The Bus Event. "During the holidays, especially Christmas, we receive a much larger amount of donations, support, etc.," Todd said. "Our Fill The Bus Event, in November, is targeted at building up our stock for after the holiday season when support is typically much lower." 
At the major holidays, whether it be Easter, Thanksgiving or Christmas, the Kitchen provides even more care to those in need. "We always provide beautiful meals for our clients," Todd shared. "And at Christmas, we also give out little gifts… socks, mittens, toiletry bags, etc." 
Todd concluded by reflecting on the immense community generosity that sustains the Niagara Falls Soup Kitchen, allowing them to carry out their mandate. "Other than our three kitchen staff, everything else, including the administrative team, the board, etc. is completely volunteer," she related. "All of the recruiting, fundraising, HR… our volunteers do everything," she continued. "We also receive a ton of support from our community partners… Costco, both in Niagara Falls and St. Catharines, donate to us regularly, Casino Niagara has provided us with a refrigerator, and are planning to help us even more (with some of our new ventures)." 
"(People) like to give to us because we're so grassroots…we don't receive any funding from the government, we rely on our community volunteers and local supporters." 
The Niagara Falls Soup Kitchen is located at 4865 St. Lawrence Ave. Those seeking to learn more about the Soup Kitchen, upcoming events and/or volunteer opportunities can do so by visiting their website.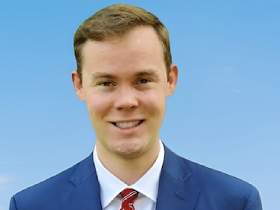 Nick Redekop completed his Honours Bachelor of Arts Degree in Labour Studies at Brock University. He has previously served in municipal and federal politics. In his free time, Nick enjoys following sports, taking part in outdoor activities, and reading biographies. Nick resides in Niagara Falls