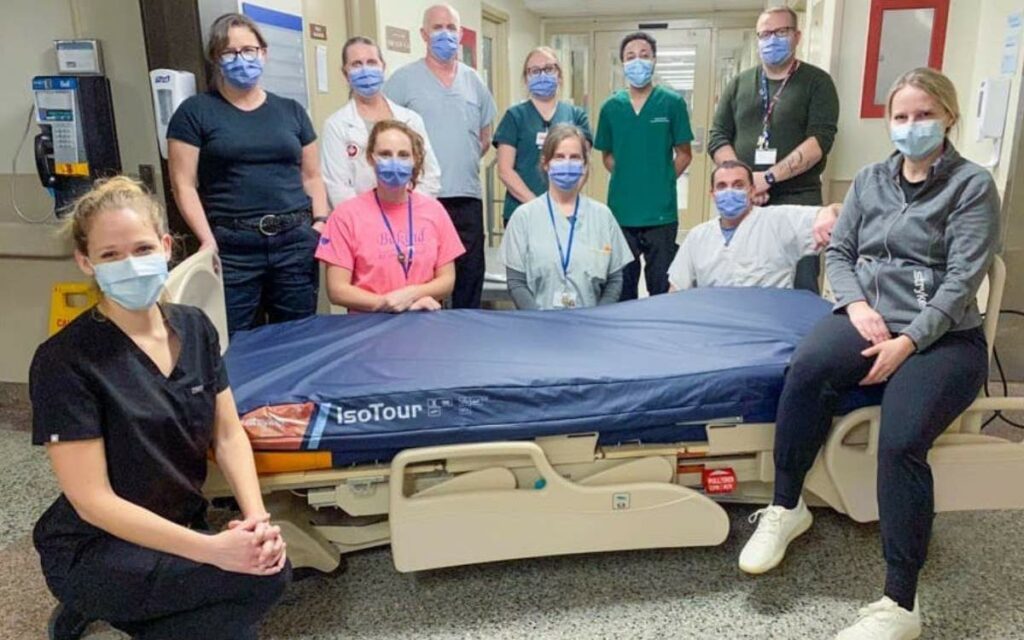 Members of the collaborative team changing over foam mattresses and stretcher pads to gel alternatives at all five Niagara Health sites. Photo credit: Niagara Health
It may seem like a small change, but it will no doubt make a big difference in the lives of many –if even for a short while.  
As announced last week, Niagara Health is about halfway through swapping all of the foam mattresses and stretcher pads at its five sites across the region with gel upgrades. 
The months-long initiative, which started at the Fort Erie site in December, is part of what Niagara Health calls "a benchmark effort to prevent pressure injuries and improve patient care."
"The impact this will have on patients is significant," said Tanja Groeneveld, clinical manager of professional practice. "It's all about providing extraordinary care, and this is an effective and innovative way to do it."
According to Wounds Canada, over one in four Canadian hospital patients experience pressure injuries during their stay. Pressure injuries, more commonly known as bed sores, happen when skin breaks down from pressure, friction, or moisture that builds up when lying in bed for extended periods without moving.
Per Niagara Health, hospital-acquired pressure injuries can occur after just a few hours and typically manifest on the sacrum, tailbone, and heel. The sores can prolong and complicate a patient's healthcare journey, but fortunately many are preventable.
Gel mattresses help prevent bed sores by better redistributing and absorbing weight. 
The upgrade is part of Niagara Health's Pressure Injury Prevention Strategy. According to Lee Bateman, advanced practice nurse with the Wound Ostomy Continence team, once the switch is complete, Niagara Health will be a leader in pressure injury prevention.
Bateman advocated for the changeover in collaboration with Groeneveld's professional practice team.
In all, the massive undertaking will see 801 foam surfaces – 451 mattresses and 350 stretcher pads – swapped with gel alternatives. 
Changeover teams reportedly started with Niagara Health's smaller hospital sites to fine-tune the swapping process, focusing their efforts on limiting patient disruption and preventing repetitive strain injury on those doing the heavy lifting.
The hospitals' old foam mattresses will be donated to Niagara Warehouse of Hope, a local non-profit that will distribute them to communities in need in Cuba, the Philippines, and Ukraine.
The swap will save Niagara Health about $300,000 a year in equipment rental costs.
Plans are to have the entire upgrade complete at all sites by the end of March, with Niagara Falls next up. 
Niagara Health operates five hospital sites around the region in Fort Erie, Port Colborne, Welland, Niagara Falls, and St. Catharines.