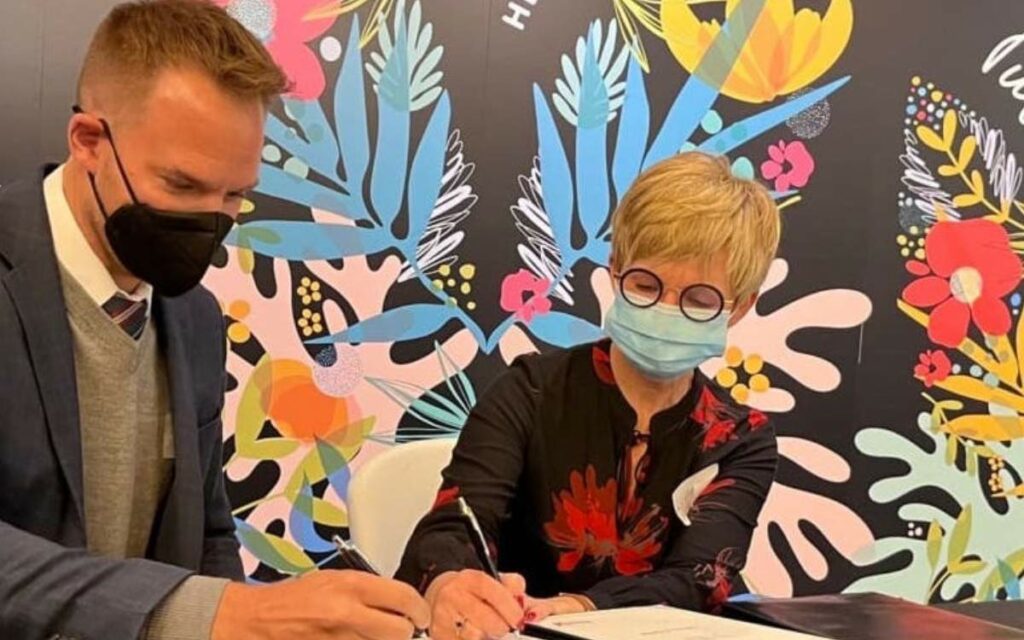 Lynn Guerriero, president and CEO of Niagara Health, signs a 10-year agreement with healthcare information system technology-provider Oracle Cerner. Photo credit: Niagara Health
If one walks into a Niagara hospital today, he or she may experience a triage nurse fumbling about with paper-based forms or repeating questions one would think, given how many times it's been answered in the past, the person processing them would and should know. 
It's the continued legacy of an outdated information system that not only slows down the process of seeing a doctor, but often times creates more problems than it solves. 
But local healthcare providers are trying to change all that. 
On Thursday, Niagara Health – which oversees five facilities around the region – and Hotel Dieu Shaver Health and Rehabilitation Centre together signed a 10-year agreement with Oracle Cerner to build a robust, modern hospital information system for Niagara. 
The new system will allow Niagara Health and Hotel Dieu Shaver to replace paper-based records and outdated electronic processes with more modern, connected, and accessible electronic health records. The system will enable better management of data, improved patient safety, faster access to information, enhanced quality and consistency of patient care, and more.
"We are thrilled to have reached this significant milestone and to have established such an important relationship with Oracle Cerner," said Niagara Health president and CEO Lynn Guerriero in a press release Thursday. "This project is another step in our digital transformation journey and will bring countless improvements for patients, families, staff, physicians and the community."
With an anticipated launch date of fall 2024, the project is expected to take about two years to complete. 
The new system will include digital solutions to manage information for inpatient and outpatient services including acute care, surgical care, emergency and urgent care, complex care, mental health, cancer care and rehab. Niagara Health will implement Cerner technology, using the Cerner Canadian Reference Model, which will be based on Canadian best practices and interoperability standards.
"We are delighted to partner with Niagara Health and Hotel Dieu Shaver Health and Rehabilitation Centre on this digital journey to deliver world-class health services to residents of Niagara," said vice-president at Oracle Cerner, Canada Brian Sandager. "Together we will roll out a regional hospital information system that will create an improved, patient-centric healthcare delivery system."
Oracle Cerner will provide a Canadian-hosted managed service for Niagara Health and Hotel Dieu Shaver. The two organizations will join the Ontario eHub Oracle Cerner Health Information Exchange (HIE) collaborative to share information with other hospitals across Ontario. The Oracle Cerner solution is used by more than 60 hospitals across Ontario.
Though it doesn't use the Oracle network, Niagara's neighbouring hospital system, Hamilton Health Sciences (HHS), just finished a complete overhaul of its information system in June of this year. 
The HHS overhaul, which eliminated paper-based patient health records and replaced dozens of non-integrated electronic applications with a single, unified system, took just over two years to implement.