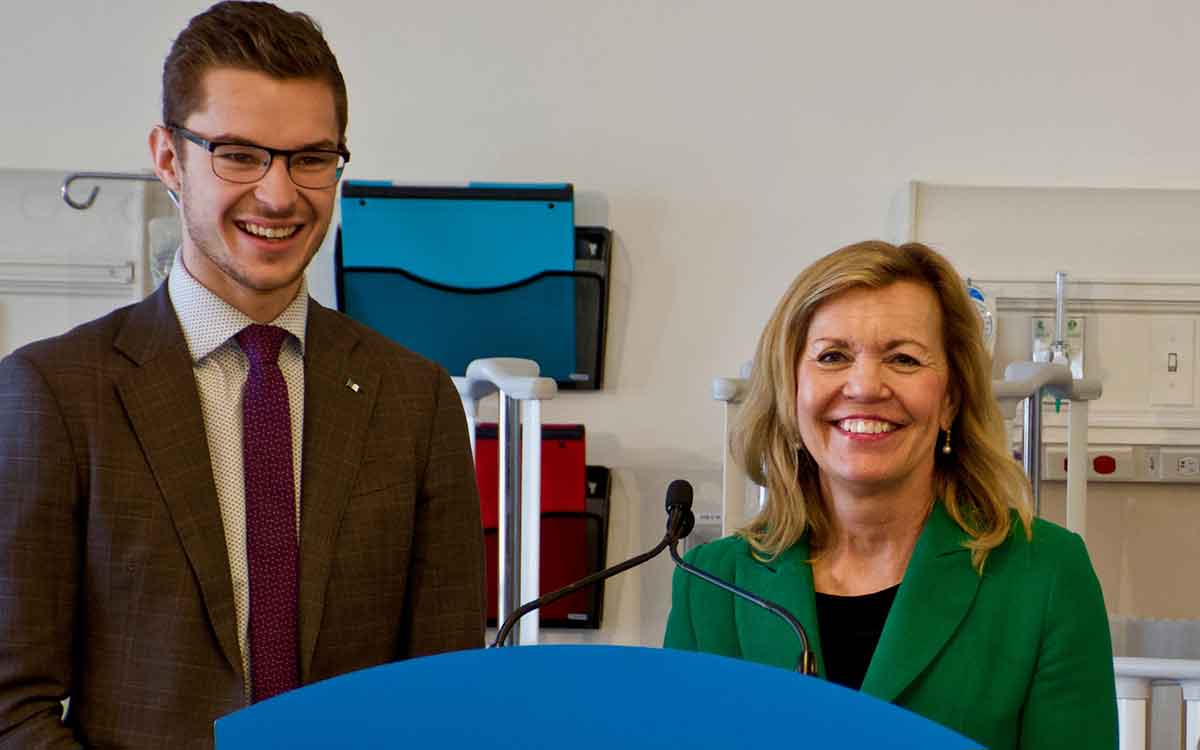 Niagara West MPP Sam Oosterhoff and Ontario's Minister of Health and Deputy Premier Christine Elliott at Niagara Health's St. Catharines hospital. Supplied photo.
Ontario's Health Minister Christine Elliott was in Niagara earlier this week to announce a substantial funding boost to help local hospitals address infrastructure needs. Minister Elliott was joined by her colleague Niagara West MPP Sam Oosterhoff and NDP MPP Jenny Stevens at Niagara Health's St. Catharines site along with hospital executives, staff and board members who were all pleased to hear the minister say they would be receiving a little over $1.6 million for facility upgrades.
Following the announcement with Minister Elliott at the St. Catharines Site of the Niagara Health System, Oosterhoff made a follow-up announcement regarding $1.1 million in infrastructure renewal funding at the Hotel Dieu Shaver Health and Rehabilitation Centre in St. Catharines.
The funding is part of the government's overall investment of $175 million this year through the Health Infrastructure Renewal Fund to help hospitals across the province maintain their infrastructure.
In an interview with The Niagara Independent following the morning announcement Minister Elliott said providing the funding to maintain the infrastructure of healthcare facilities on a regular basis is critical. "It's really important to keep existing structures in good shape. These funds help hospitals address issues that are bigger projects that are harder to handle in existing budgets." She said it may not be the most glamorous of projects that fall under the infrastructure funding but they are very important for the safety of the patients and staff.
The health minister also said that by providing the money to hospitals annually so that they can continue to fix, maintain or upgrade certain areas of their hospital it avoids far more significant costs in the future. "We must invest annually to avoid big costs down the road."
Oosterhoff echoed that philosophy by stating, "Seemingly small things like well-functioning roofs, windows or heating and air conditioning systems, fire alarms and back-up generators can make the world of difference to a patient's experience. This funding will help ensure that hospitals across Ontario are able to make the needed upgrades and improvements, so patients and families have access to the reliable, quality care they expect and deserve."
At the St. Catharines hospital news conference, Niagara Health's CEO Dr. Tom Stewart said to Minister Elliott during his remarks, "The exciting thing is we're partnering with you to make Ontario healthier and you're partnering with us to make Niagara healthier."
The organization's board chair John Bragagnolo added, "We're grateful to the government for today's investment of nearly $1.7 million in Niagara Health's infrastructure. We know we have some older facilities and this investment will ensure these buildings get the TLC they need to continue supporting high-quality care. These investments will help our team maintain a comfortable and safe environment for patients and families."
When asked about the progress of the two new Niagara hospitals being planned, Minister Elliott said projects, the West Lincoln Memorial and South Niagara facilities are, "moving along quite well." She added, the government is, "committed to both investments and we are continuing to work through the process."