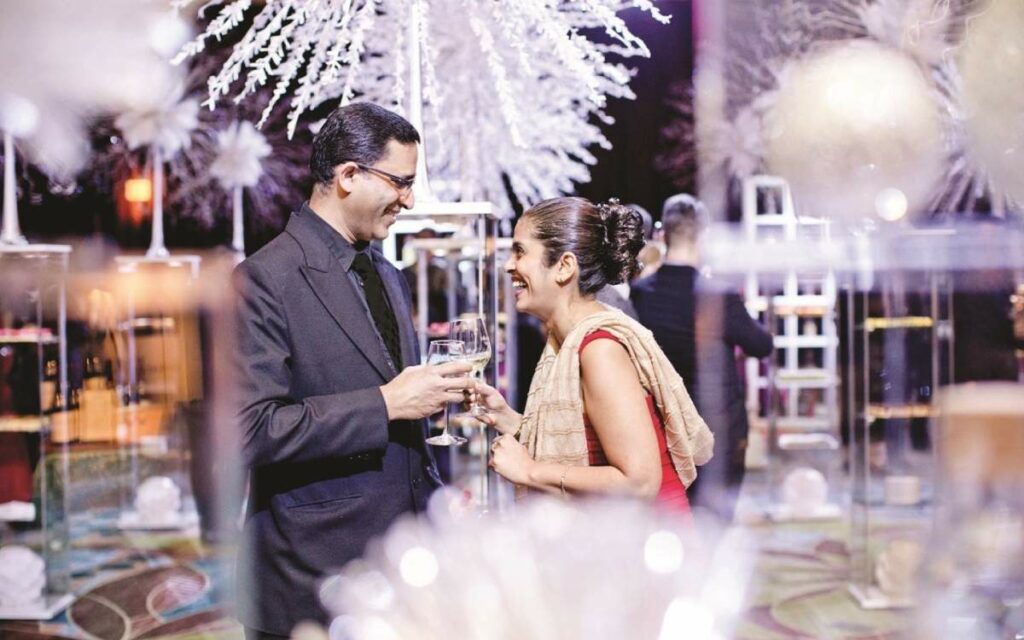 Events take place all across the region during the last three weekends of January. Photo credit: CNW Group/Wine Marketing Association of Ontario
Niagara's Icewine Festival is back in full force for the first time in three years. 
Marketed as the largest icewine festival in the world, the 2023 celebration will take place over three weekends in January at various locations across Niagara.  
"Niagara celebrates Icewine like nowhere else in the world. The Niagara Icewine Festival is a magical time to visit Wine Country Ontario and offers wine lovers a taste of something that is authentically Canadian," said Sylvia Augaitis, executive director of marketing for the Wine Marketing Association of Ontario. 
Festivities kick off Saturday, January 14 with the new 'Cool as Ice Gala' at the Niagara Parks Power Station.
Formerly the Niagara Icewine Gala, this revamped immersive event showcases Ontario's signature flavours through VQA icewines, cocktails, and mocktails, set within one of Niagara Falls' most buzzed-about new attractions. 
Farm-to-table fare will be served by local providers, including Niagara Parks, Incoho, Tide and Vine Osytster House, Bolete, Dispatch, and Moksha Indian Bistro. 
The night will feature music and art installations, with guests also able to take part in all the Power Station has to offer, including the much-celebrated 'Tunnel' experience. 
"We are pleased to partner with the Niagara Icewine Festival to offer this unforgettable evening experience at our newest must-see attraction, the Niagara Parks Power Station," said Niagara Parks chair April Jeffs. 
"The Niagara Icewine Festival is a signature experience for the destination, and we look forward to the new Cool as Ice event showcasing the incredible Icewines and culinary offerings of Niagara in a new and exciting format, in a truly one-of-a-kind venue."
The Niagara-on-the-Lake portion of the festival begins its two weekends of celebrations on Friday, January 20 with the Sparkle and Ice Gala at the Courthouse Grand Hall. 
The Niagara-on-the-Lake Icewine Village returns and takes place on historic Queen Street on January 21, 22, 28 and 29. 
While the Niagara Icewine Cocktail Competition is back on the evening of Saturday, January 28 at the Courthouse Grand Hall.
For those wanting to get the most of what Niagara's Icewine Festival has to offer throughout the month of January, the Discovery Pass gives purchasers access to six unique wine and culinary experiences at over 30 local wineries. 
Some participating wineries include 13th Street Winery, Creekside, Henry of Pelham, Inniskillin, Peller Estates, Reif Estate, Trius, Wayne Gretzky Estates, and many more. 
The Niagara Icewine Festival is part of the Niagara Grape and Wine Festival, which is currently celebrating its 73rd year. 
To learn more about the Niagara Icewine Festival and to purchase tickets click here.