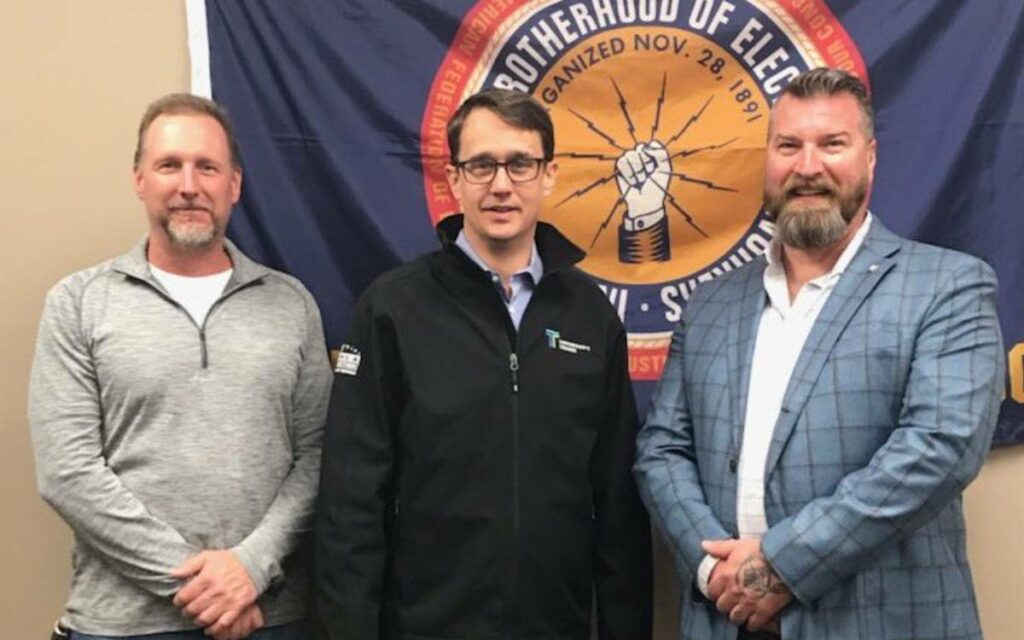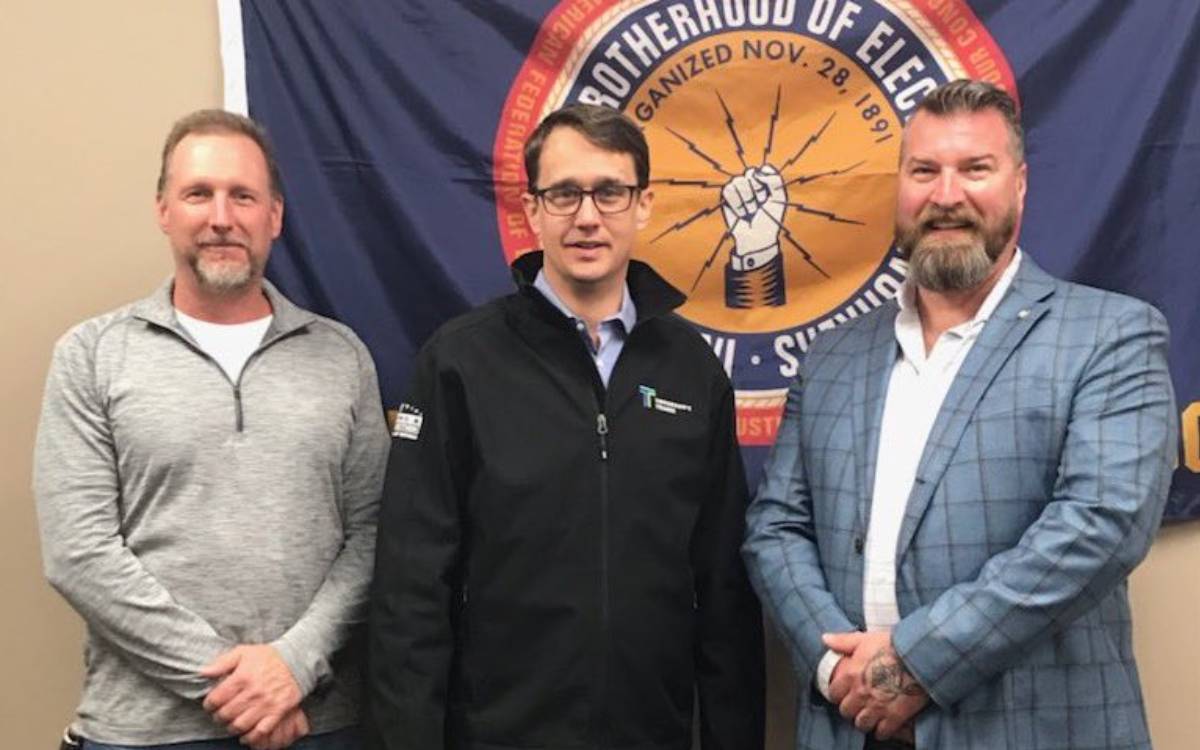 Mark Cherney (right) meets with Ontario PC labour minister Monte McNaughton (centre), April 21, 2022. Cherney is vice-president of the International Brotherhood Of Electrical Workers Construction Council of Ontario (IBEW CCO) and business manager at Niagara Falls-based IBEW Local 303. IBEW CCO is one of several unions formally endorsing Doug Ford and the Ontario PC Party this election. Photo credit: Twitter/Monte McNaughton
From the moment he assumed the role of Minister of Labour, Training and Skills Development in mid-2019, PC MPP Monte McNaughton started on a journey to meet with, understand, and garner the support of organized labour in Ontario. 
Indeed, according to a (redacted) copy of the minister's calendar obtained by QP Briefing through a freedom of information request, it appears McNaughton's claim to have met with over 100 labour leaders in his first 100 days in office was entirely genuine. 
During his time as minister, McNaughton held dozens of meetings with private sector unions, focusing heavily on the construction trades, and proved time and again he wasn't just paying lip service, passing worker-friendly legislation all along the way.
And now with the 2022 provincial election nearing its end, it appears McNaughton's hard work paid off.
To date, no less than seven private sector unions have formally endorsed Doug Ford's PC Party, including Laborers' International Union of North America (LiUNA) and International Brotherhood Of Electrical Workers Construction Council of Ontario (IBEW CCO). 
In its glowing endorsement of Ford's PCs, IBEW CCO executive secretary treasurer James Barry said Ford offered "unprecedented" support for the union as premier and that he had "never met a more committed minister in his portfolio" than McNaughton. 
According to Barry, "The Ontario PC government not only gave us a voice, they also gave us a seat at the table and they actually listened."
IBEW CCO represents 11 local unions across Ontario, including Niagara Falls-based IBEW Local 303. 
In an email exchange with The Niagara Independent, IBEW CCO vice-president and business manager at Local 303 Mark Cherney said that his organization decided to formally endorse the PCs "based on the government's willingness to meet with us and be a fair and equitable partner for the future of our trade."
"The commitment that Minister McNaughton has showed to ensuring the stability of the electrical trade is certainly a significant reason for the IBEW CCO endorsement," said Cherney. 
One of several meetings between the minister and the Niagara labour leader over the last three years, McNaughton most recently met with Cherney last month, about a week and a half before writ drop.
But when asked if, given his close relationship to McNaughton and his union's formal endorsement of Ford's Progressive Conservatives, the Niagara-on-the-Lake native would thus be supporting his local PC candidate, Cherney did not respond.
When further questioned if he's had any resistance from the local NDP because of the IBEW CCO endorsement, Cherney again did not directly respond, saying, "We work with all politicians, regardless of party stripe, to ensure the interests of our members are properly understood." 
In light of the party's deep historical ties to the Canadian labour movement, the Ontario NDP typically enjoys widespread election support from the province's various public and private sector unions.