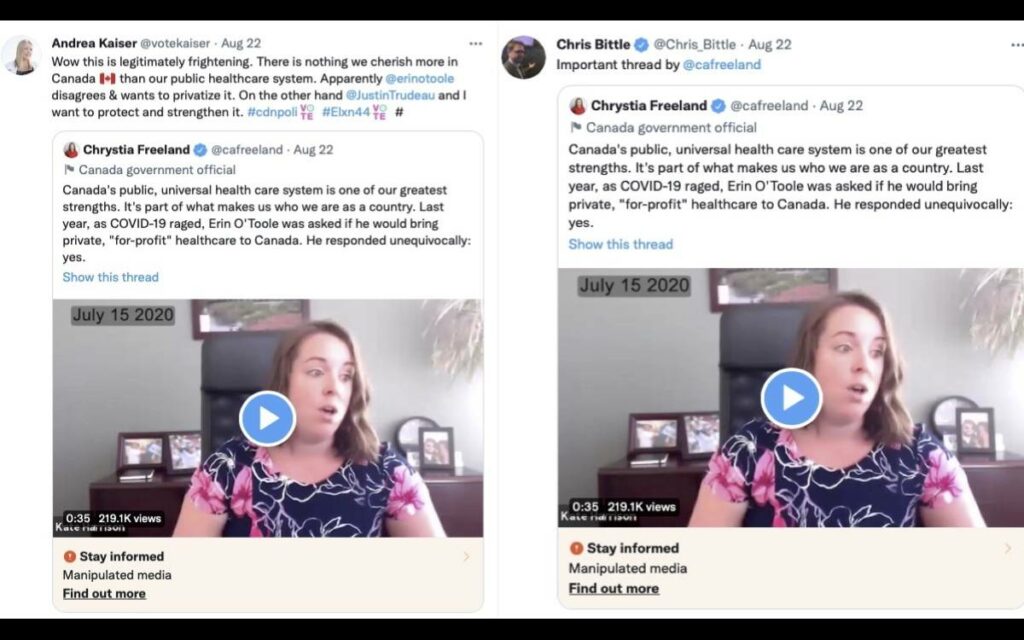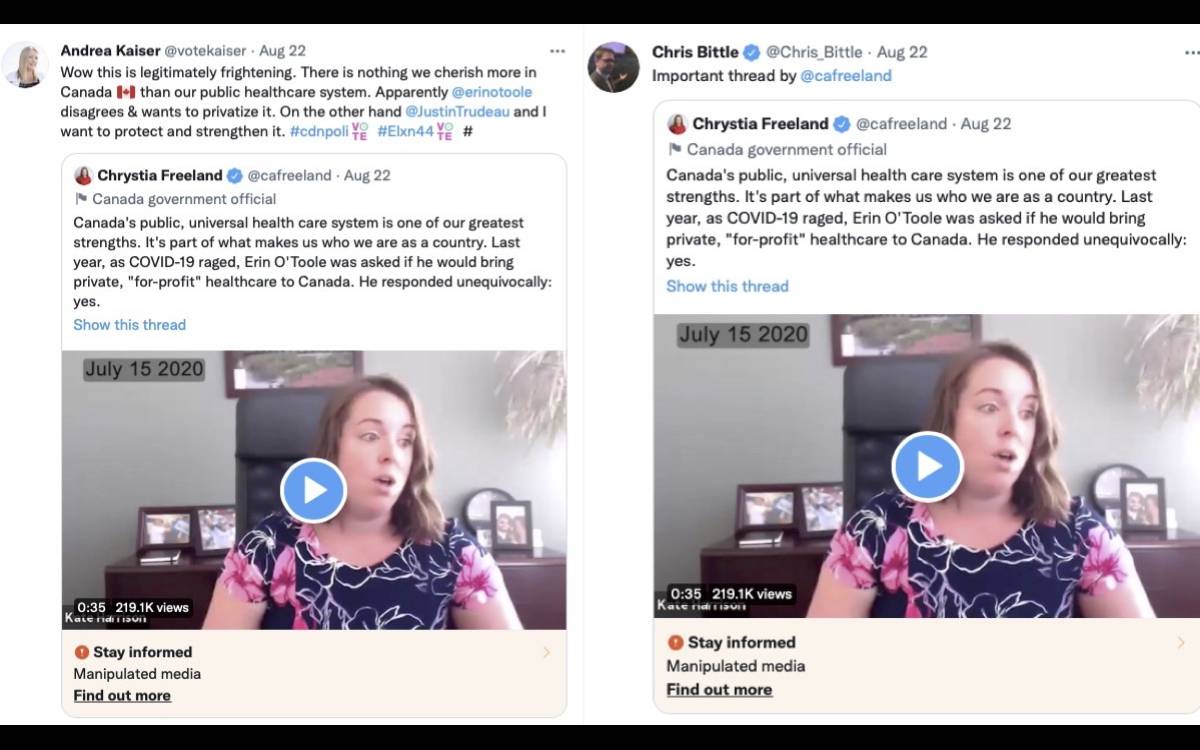 Screenshots of Niagara Falls and St. Catharines Liberal candidates Andrea Kaiser and Chris Bittle reposting a tweet by Chrystia Freeland that contained a surreptitiously doctored video Twitter flagged as "manipulated media". 
On Sunday, Liberal candidate Chrystia Freeland tweeted out an edited campaign video that Twitter flagged as "manipulated media". 
The video featured a year-old interview with Erin O'Toole fielding a question from The Niagara Independent's Kate Harrison on health care. In the original interview from which the clip was extracted, Harrison asked O'Toole if he would consider "the provision of private-for-profit and non-profit healthcare options inside of universal coverage." O'Toole said yes, he supports "finding public-private synergies", but that "universal health care remains paramount." 
Freeland's edited version left out the final part regarding the paramountcy of the universal system and was accompanied by a tweet that read: "Canada's public, universal health care system is one of our greatest strengths. It's part of what makes us who we are as a country. Last year, as COVID-19 raged, Erin O'Toole was asked if he would bring private, 'for-profit' healthcare to Canada. He responded unequivocally: yes." 
The Liberals' apparent attempt to suggest O'Toole was opposed to universal health care – the exact opposite of what the Conservative Party leader actually said – was enough for Twitter to mark Freeland's tweet with a warning to all users that the post contains "significantly and deceptively altered or manipulated" content. 
The backlash to the deception was swift and came from a diversity of sources. As former Chrétien-era Liberal strategist Warren Kinsella noted, "even Liberal-friendly news outlets like the CBC and the Toronto Star ran critical stories about what Freeland had done." 
Federal NDP leader Jagmeet Singh called the incident "really troubling". 
"We've got the Liberal Party putting out misinformation, spreading it online, to the point that Twitter had to flag it," said Singh. 
Each of Niagara's local Liberal candidates retweeted Freeland's manipulated video. Three of the candidates reposted the tweet with no or minimal personal commentary, while Niagara Falls Liberal candidate Andrea Kaiser offered her own thoughts before reposting the doctored content.
In a retweet of Freeland's original post, Kaiser said: "Wow this is legitimately frightening. There is nothing we cherish more in Canada than our public healthcare system. Apparently @erinotoole disagrees & wants to privatize it. On the other hand @JustinTrudeau and I want to protect and strengthen it."
The Niagara Independent reached out to the Niagara Falls Liberal candidate, in light of the fact that the post Kaiser was commenting on was officially flagged as "manipulated media" by Twitter itself. 
"I retweeted a thread from Chrystia Freeland which included the entire video of Erin O'Toole's remarks, in which he clearly and unequivocally stated that he is in favour of privatizing aspects of our healthcare, thereby creating a two-tier healthcare system," said Kaiser. 
"Liberals will always protect our public healthcare system and fight against efforts by the Conservatives to privatize elements of healthcare delivery. Canadians need to know the Conservatives true intentions when it comes to privatizing healthcare, which is why I retweeted the entire video of his remarks. I have included a screenshot of the thread that I retweeted, which includes the link to the entire video of Erin O'Toole's comments."
While Kaiser – like her Liberal colleagues – did indeed retweet the entire thread (a series of tweets in direct succession) from Freeland, she did not, in fact, retweet in isolation the specific post (fourth of four tweets in the thread) linking the full video. Instead, Kaiser simply retweeted, with comment, the main post featuring the manipulated video. 
(For the uninitiated, putting an inconvenient/contradictory fact or full source link at the very bottom of a Twitter thread is sure-fire way to ensure the least number of people possible will see it, while still providing oneself the 'cover' of having provided the item.)
Some in the media are calling the doctored post an act of desperation, something Kaiser's Conservative counterpart in Niagara Falls Tony Baldinelli commented on.
"The actions of the Liberals just demonstrate the wheels are already beginning to fall off on their electoral campaign," said Baldinelli. 
"Not only do they lack a credible plan to present Canadians to get us to a recovery from this pandemic, they now resort to silly attacks, which have no basis in truth. In fact, the real threat posed to our health care system is by this Liberal Government. In the last budget, they promised more than $100 billion in new spending, but there was no increase in transfer payments to the provinces to assist with health care needs, in the middle of this pandemic. Under an Erin O'Toole led government, Canadians will be able to count on stable and predictable health and social program funding."
St. Catharines Conservative candidate Krystina Waler was similarly discontented by Freeland's post and the suggestion that Erin O'Toole opposes universal health care.
"I was very disappointed to see Chrystia Freeland not only post a doctored video, but indeed boast that she was doing so," said Waler. 
"Universal healthcare is not something that should be a wedge issue in a political campaign. But this week we saw Justin Trudeau and indeed his most senior lieutenants intentionally mislead Canadians about the Conservative platform. I was happy that Twitter finally called them out on it. To be clear: Conservatives support universal healthcare in Canada and we are committed to increasing provincial health transfers."
Niagara Centre Conservative candidate Graham Speck echoed Waler's sentiment, saying he was "disappointed but not surprised." 
"The Liberals have been trying to bring the divisive rhetoric of American style politics to Canada for years. If they had a solid platform for Canada's future, they wouldn't have to resort to this. While Liberals are busy trying to mislead voters and divide the public to distract from their failures, Conservatives are focused on our Recovery Plan to secure Canada's economy & future," said Speck.
Waler's Liberal competitor in St. Catharines Chris Bittle, who retweeted Freeland's manipulated video, did not respond to a request for comment from The Niagara Independent. 
Niagara Centre Liberal candidate Vance Badawey responded to The Niagara Independent with investments the Trudeau government previously made in health care, but did not respond directly to questions about Freeland's tweet. 
Liberal candidate for Niagara West Ian Bingham, who reposted Andrea Kaiser's "legitimately freighting" remarks, did not respond to a request for comment. 
At the time of writing, none of the abovementioned Liberal candidates deleted their retweets of or comments about the doctored content.
The NDP candidates for St. Catharines and Niagara Centre said that they stand behind their party leader's earlier comments that the entire incident was "really troubling".