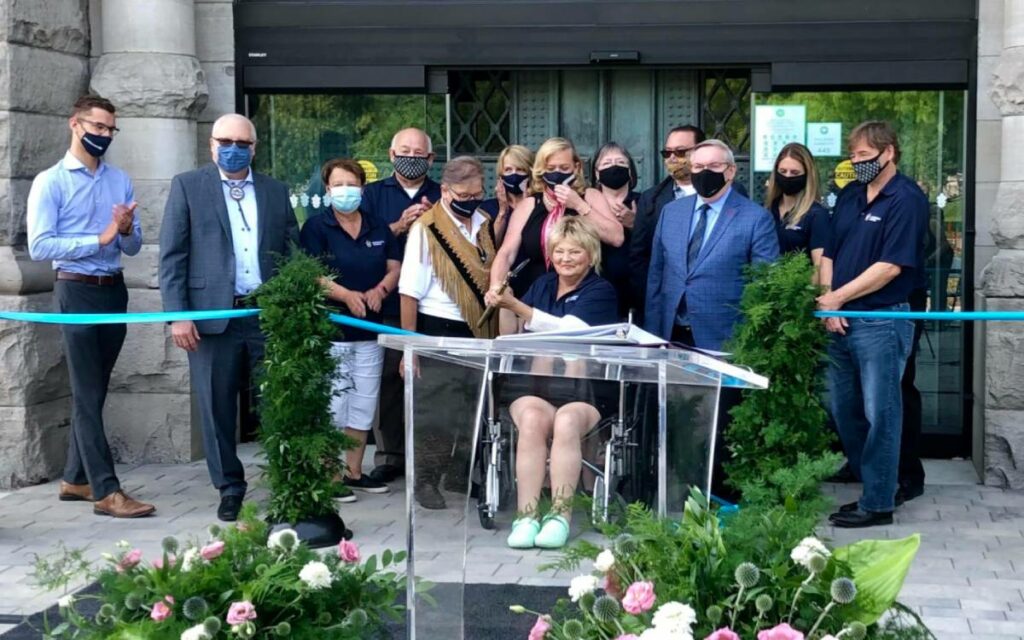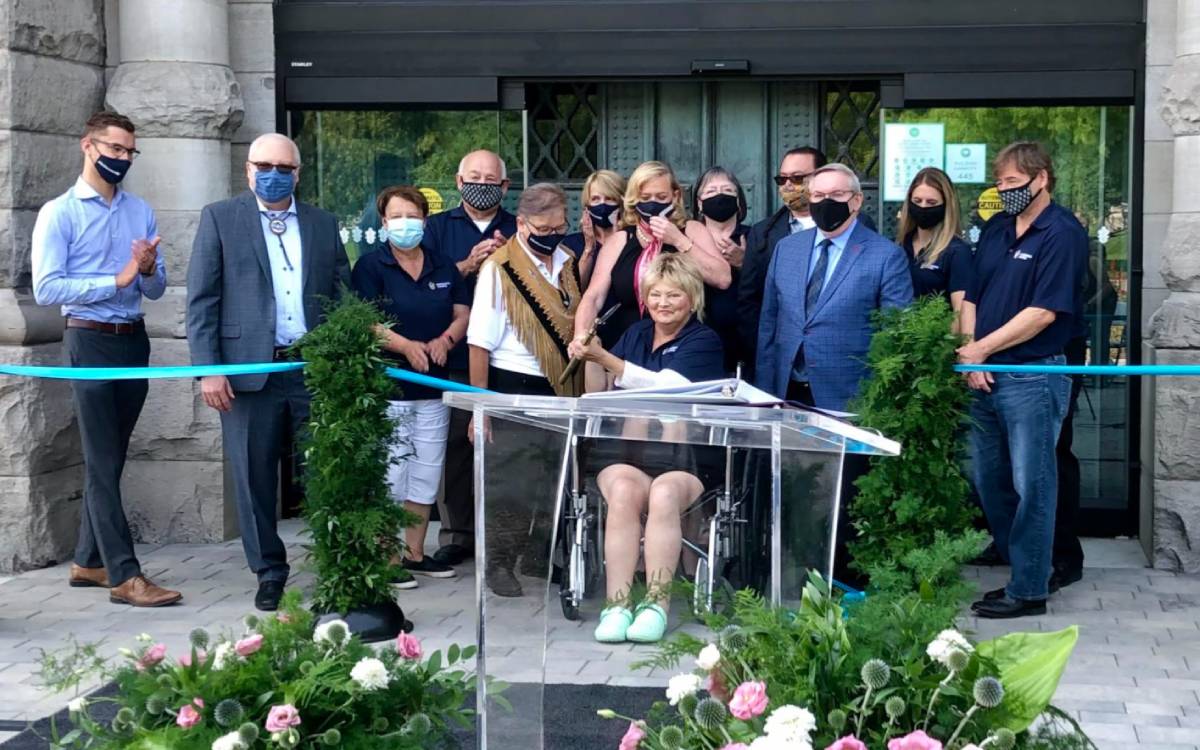 Sandie Bellows (seated in center) cuts the ceremonial ribbon at the grand opening of the Niagara Parks Power Station, July 28, 2021. Bellows died of cancer late Sunday evening. Photo credit: The Niagara Independent
On Sunday, Oct. 10, Niagara lost one of its leading citizens in Sandie Bellows.
Bellows, who at the time of her passing was chair of the Niagara Parks Commission (NPC) and regional councillor for St. Catharines, had quietly and courageously battled cancer for the last few years, all while continuing to serve the public. 
"Niagara has suffered a great loss with Sandie's passing," said NPC vice-chair and friend April Jeffs. "She was a true leader and her hard work and dedication in achieving significant goals throughout her career such as the new power station and her work with the Canada Summer Games will be her legacy. She was a wonderful mentor and friend and will be missed by so many."
As chair, Bellows was instrumental in making the Parks' newest, multi-million-dollar adaptive reuse power station a reality.
In addition to her work with the NPC and at the Region, Bellows was also an active member of the Canada Summer Games board, helping plan for the national games that will take place in Niagara August 2022. 
"Sandie Bellows was a remarkable citizen, community leader and friend. Her brilliance, determination and above all kindness drew so many people to her, including me," said Ontario's Minister of Heritage, Sport, Tourism and Culture Industries Lisa MacLeod. "She was my friend, my cheerleader, and my mentor. I'm devastated for her family, her constituents and for our entire team at The Niagara Parks Commission. Sandie was one of a kind and she left us way too soon."
"We will miss her leadership in the Ministry of Heritage, Sport, Tourism and Culture Industries. The fresh air, humility, and dedication she brought to the Niagara Parks Commission changed the agency for the better."
Bellows ran for the Ontario PC Party in the 2011 and 2018 provincial elections, narrowly losing both contests by less than 1,700 votes each time.
"Sandie was a strong and tenacious person. She was very proud of her hometown of St. Catharines, but also of the entire Niagara Region," said Bart Maves, fellow NPC commissioner and former two-time Niagara regional councillor and two-term Ontario PC MPP for Niagara Falls. "She led by example and provided great leadership to the Niagara Parks Commission and Niagara as a whole. She will be greatly missed."
Bellows worked as a senior executive with Telus and general manager for CNN Staffing Solutions. During her tenure at Telus, she was a member of the Presidents Club, excelling in top sales for Canada.
"My condolences to the family and friends of Sandie Bellows," said former tourism minister Michael Tibollo via Twitter. "Sandie was one of the first people I met at [the Ministry of Heritage, Sport, Tourism and Culture Industries], and it seems like only yesterday I announced her appointment as Chair of Niagara Parks. We've lost an amazing leader, a true friend, and strong voice for Niagara."
Prior to her term on Regional Council, Bellows served as a City of St. Catharines councillor from 2014 to 2018, representing Grantham Ward. 
"Sandie was hardworking, caring and a genuine team player. All she ever wanted to do was make people's lives better," said Mayor of St. Catharines Walter Sendzik. "She will be missed."
Following a 1990 attack and abduction, Bellows became an outspoken victims' rights advocate. In the succeeding decades, Bellows used her experience as a survivor to better the lives of countless victims, helping them cope with the grief and anxiety of their own circumstances. In recognition of her advocacy work, Bellows was invited by Prime Minister Stephen Harper to the Victims Bill of Rights ceremony in 2015. 
Bellows was 60 years old. She is survived by her two sons, Spencer and Colton.