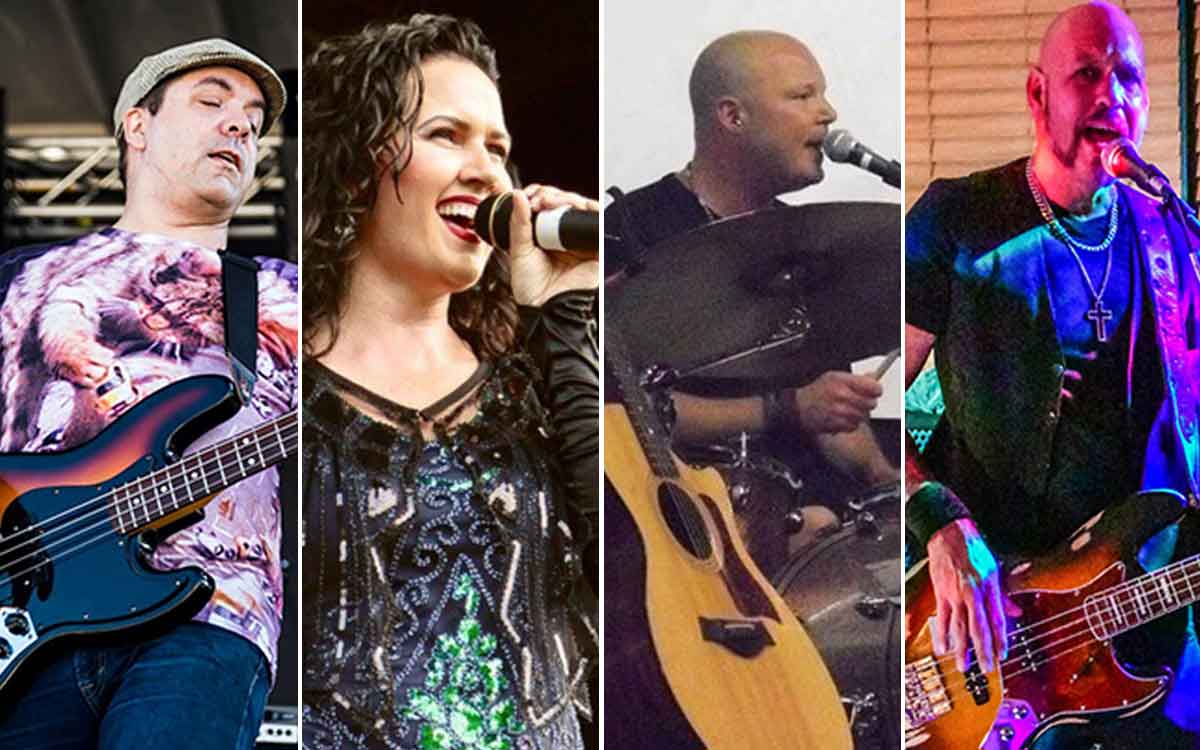 Niagara musicians from left: Brandon McPherson, Renee Bison, Kevin McCullough and Mark Stephenson.
Rehearsing, recording, and performing are the usual routines for musicians.
Over the past six months, because of the COVID-19 pandemic, things are not as routine as they used to be for area music artists.
Gone are the days of performing regularly in packed bars and outdoor concert festivals (for now).
But not all is doom and gloom.
With the down time, four local musicians are finding ways to get through these challenging times.
"I've used the time to write and record a solo CD that's been long overdue," said Brandon McPherson, bass player with The Ann Singer Band. It's in the process of being mixed at the moment, but I'm hoping to have it released before Halloween."
Multi-Niagara Award winning vocal artist and musician Geneviève-Renée Bisson, considers herself to be one of the lucky ones as well. "I've been very fortunate in the sense that I had already recorded a new album last summer titled "I Just Found Out About Love" with the legendary Jimmy Stahl Big Band, and we launched digital copies across all platforms in May."
Two other local musicians, Kevin McCullough, drummer and vocals with 'Barracuda Pretty', and Mark Stephenson, bassist and vocalist with 'Hard Rock Hooligans', have been busy learning new music for their respective bands.
"I always enjoy expanding my musical repertoire with new and exciting musical styles and percussion grooves" stated McCullough.
'Hard Rock Hooligans', who have been together for the past four years, always put an interesting spin on the cover songs that they perform. "We made up a whole new set list and took the time to learn these songs, however the biggest challenge for me is to enjoy playing the music with no audience" said Stephenson.
"I'm not really performing in the traditional sense – right now I'm just doing livestreams," said McPherson. I'm not in a hurry to go back, but I'm one of the fortunate ones that doesn't depend on it as a livelihood."
While some artists and bands have resorted to virtual concerts and streaming to keep connected in some way with their fans and followers, all four musicians agree that they miss getting out to play and perform 'live' in front of an audience, even if they have to do it from a new physical distance.
With the governments and health units' new guidelines that limit the amount of people allowed to attend a performance or concert, it has presented an immense challenge to Niagara's music scene.
"It will be interesting and stressful to see how long these measures have to stay in place." said Bisson. Connecting with my audience is something I draw from as an artist, it's what creates that necessary magic during a performance. Having to do so from behind a plexiglass shield is not something I'm looking forward to, and that may become a reality."
What will future concerts and festival look like?  "A Mad Max movie" quipped McPherson.
"I feel we can still do what we enjoy doing – just more carefully, and taking safe and proper precautions," said McCullough.
Right now it's all about using … sound judgement.